United Kingdom Sondheim, Sweeney Todd:  Cast, Chorus and Band of Northern Ireland Opera and Lyric Theatre / Sinead Hayes (Conductor), Lyric Theatre, Belfast, 6.2.2019. (RB)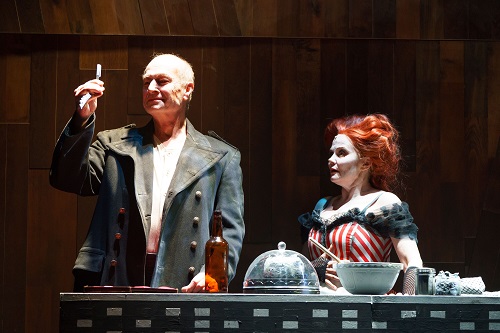 Production:
Director – Walter Sutcliffe
Set and Costume Designer – Dorota Karolczak
Lighting Designer – Wolfgang Göbbel
Sound Designer – Ian Vennard
Cast:
Sweeney Todd – Steven Page
Mrs Lovett – Julie Mullins
Anthony Hope – John Porter
Johanna – Jessica Hackett
Tobias Ragg – Jack Wolff
Judge Turpin – Mark O'Regan
The Beadle – Richard Croxford
Beggar Woman – Elaine Hearty
Adolfo Pirelli – Matthew Cavan
Northern Ireland Opera have joined forces with the Lyric Theatre in Belfast to present this new production of Stephen Sondheim's Sweeney Todd:  the Demon Barber of Fleet Street.  It is an excellent choice for this kind of collaboration as the work shows Sondheim at his most operatic.
The story of Sweeney Todd was first serialised in the Victorian Penny Dreadfuls in the 1840's.  It was taken up by and elaborated on by various musicians and playwrights in the ensuing years.  Christopher Bond's play, Sweeney Todd, the Demon Barber of Fleet Street opened in 1973 and it is this work which provides the source material for Sondheim's musical.  Bond's play provides a psychological backdrop to the character, presenting Todd as the victim of a ruthless judge who exiles him to Australia so that he can rape his wife.  At the start of the musical, Todd has returned from exile and meets up with slatternly Mrs Lovett.  She tells him that Judge Turpin raped his wife and she then poisoned herself ('poor thing').  This news provides the necessary catalyst to send Todd off on a killing spree.  Following a discussion about how to dispose of the first body, Mrs Lovett has the idea of turning all the victims into meat pies.  This is sound commerce to the amoral Mrs Lovett and is no biggie.  Sondheim's score mixes Wagnerian leitmotifs with humorous music hall numbers and moments of rich lyricism are underpinned by dissonance.  The work is an extraordinary slice of Grand Guignol, inhabiting the same dark world as Berg's Lulu or Wozzeck.
Walter Sutcliffe's cracking production captures the audience's attention from the outset.  In the opening scene the ghoulish Greek chorus stand in brown suits and white socks over mummified figures seated on barbers' chairs and covered with cellophane aprons.  The use of ultraviolet light creates a purple backdrop and giant white bloodied hand prints appear from nowhere.  Sweeney is then wheeled on to the stage covered in a cellophane tent and he cuts his way out of this with maniacal glee.  Dorota Karolczak's costumes convey brilliantly the seedy underbelly of Victorian London.  They are also used to signal social distinctions (the judge's suit and Johanna's elegant dress designate them as belonging to the upper class).  In the second act Sweeney and Mrs Lovett blur the social divide by wearing garish, glitzy costumes reflecting their new-found wealth.
Sutcliffe does not shy away from the extreme violence in this work.  At the end of Act I, following 'A Little Priest', two corpses fall hanging from the ceiling together with a huge chunk of meat.  The bloodletting in Act II is grisly and visceral as we see throats gashed and arterial spray gushing from the wounds.  We also see Mrs Lovett wheeling a meat grinder across the stage with a human leg protruding from it.  The production uses the Lyric Theatre's two storey backdrop to excellent effect.  A good example is when Sweeney dumps a body from the upper storey on to one side of the stage and a replica then falls on to the other side of the stage before being picked up and dragged away by Mrs Lovett.  The chorus and main cast spend a lot of time circulating among the audience, drawing us into the dramatic fabric.  A particularly effective moment was at the start of Act II when they served real meat pies to members of the audience (my companion was offered a slice but refused to eat it!).  In the final scene Wolfgang Göbbel's lighting creates a dank surreal environment where Sweeney's dark fantasies reach their deranged denouement.
The cast for the most part does a superb job in bringing Sondheim's cast of ghouls and grotesques to life.  Julie Mullins was absolutely terrific in the role of Mrs Lovett.  She injected a deranged manic humour into Sondheim's music hall numbers.  She sang, 'The Worst Pies in London' with guttural panache relishing words such as 'disgusting' and 'revolting' in her broad cockney twang.  She cackled with irrepressible glee in 'A Little Priest', delivering Sondheim's witty lines with brio.  Steven Page has a dark deep voice which was perfect for the role of Sweeney Todd and he brought home the threat and menace of the character.  There were some intonation problems at the start of Act I but he got into his stride more as the act progressed.  Page's scene with Judge Turpin in Act I crackled with dramatic tension as dark shadows underpinned the seemingly light and carefree exchange between the two characters.  John Porter is a terrific singer and his rendition of 'Johanna' in the first act was meltingly beautiful.  He brought the love-struck Anthony winningly to life although I wondered if there was scope for him to flesh out the character a little more (with so many crazed misfits in this work the straight characters have to work a bit harder).  Jessica Hackett handled Sondheim's high vocal line well and she sang 'Green Finch and Linnet Bird' with a light bright vibrato which worked well.  Occasionally, her diction could have been clearer but for the most part she dealt well with the demands of the part.
Jack Wolfe was superb in the role of Tobias Ragg.  He first emerged wearing an enormous top hat straight out of Lewis Carroll.  He sang 'Pirelli's Miracle Elixir' with all the gusto of a grown up Artful Dodger.  His rendition of 'Not While I'm Around' was a triumph and was deservedly greeted with enthusiastic applause from the audience.  Matthew Cavan (who is perhaps better known in Belfast by his drag alter ego Miss Cherrie Ontop) brought a camp flamboyance to the role of Pirelli.  One of the comic highlights of the evening was when he announced in a broad Irish brogue that his real name was Daniel O'Higgins.  Elaine Hearty brought pathos and vulgarity to the role of the Beggar Woman and she sang beautifully.  Mark O'Regan sang well although his portrayal of Judge Turpin could have brought out more of the menace and spite of the character.  Richard Croxford's Beadle Bamford was pure Dickensian caricature.  He displayed comic flair but I would have liked to see more bully boy aggression.
Sinead Hayes and her small band of instrumentalists performed extremely well.  The balance with the singers was spot on and they moved seamlessly from aching lyricism to raucous music hall numbers.  The dissonant elements in the score were sufficiently prominent to underscore the disturbed psychological landscape without drawing the audience's attention away from the unfolding dramatic events.  Individual instrumentalists blended with the singers seamlessly providing us with an evolving psychological backdrop to the action.
This is a superb production of Sweeney Todd with first rate performances from cast, chorus and instrumentalists.  Go and see it!
Robert Beattie   
For more about NI Opera click here.