United States The Met: Live in HD – Bizet, Carmen: Soloists, Chorus and Orchestra of Metropolitan Opera, New York / Louis Langrée (conductor). Broadcast live from the Metropolitan Opera, New York, to Cineworld Basildon, Essex, 2.2.2019. (JPr)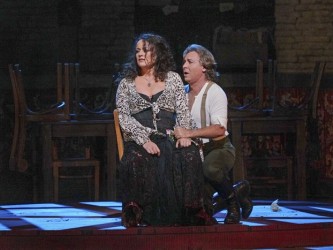 Production:
Production – Sir Richard Eyre
Stage director – Paula Williams
Set and Costume Designer – Rob Howell
Lighting Designer – Peter Mumford
Choreographer – Christopher Wheeldon
Cast:
Carmen – Clémentine Margaine
Don José – Roberto Alagna
Micaëla – Aleksandra Kurzak
Escamillo – Alexander Vinogradov
Frasquita – Sydney Mancasola
Mercédès – Samantha Hankey
Remendado – Scott Scully
Dancaïre – Javier Arrey
Zuniga – Richard Bernstein
Moralès – Alexey Lavrov
Solo dancers – Maria Kowroski & Junio Enrique
Live in HD Director – Gary Halvorson
Live in HD Host – Ailyn Pérez
It is astonishing to recall when watching a wonderful Carmen like this from the Met how Bizet's opera – arguably the world's most popular – disappointed the composer so much that some of his own words during its first night were 'I see a definitive flop … this time I am really lost'. In his own mind, Bizet considered that he had written 'a work that is all clarity and life and full of colour and melody': yet on 3 June 1875, just three months later, on the evening of its 33rd performance Bizet died desolate and disappointed at only 36. It seems he had invested too much of himself in what he believed to be his masterpiece and the tragedy he wrote turned out to be a step too far for Paris's Opéra Comique. In 2019 Carmen – with its story of soldiers, gypsies, smugglers, bullfighters, sex, immorality, and strong-willed feminism – is at the centre of the #MeToo movement. Because of the explicit sexuality when the strong-willed gypsy sings of 'l'amour' to soldiers outside the cigarette factory and then fast forwarding to Act III where tarot cards predict her death, the debate rages whether Carmen should accept her fate for the life she has led, or should she live another day and kill the man she has (so ruthlessly) discarded, as some productions now show.
Sir Richard Eyre's Carmen predated #MeToo by a long while and premièred on New Year's Eve 2009 but it still seems to hang heavy over what we saw. Mostly this was in the Act I mauling of the brave, virginal, Micaëla when she comes looking for Don José, and especially in the depiction throughout of Carmen which – thanks to Clémentine Margaine – was more French chic (stylish) than overtly sexual, perhaps suggesting that if men get drawn to her that is not her fault. She just wishes to live the life she wants and what is so wrong with that? Carmen's famous first act Habanera and Seguidilla reveal her philosophy for life and loving and all her seductive powers. Margaine's phrasing had considerable allure though she did very little but play provocatively with a red carnation, ruffle her skirt and cool herself down; yet it was clear she could transfix all around her – as well as cinema audiences worldwide – with the come-hither sparkle in her eyes: that was all she needed it seems! Admittedly when Carmen later wraps her legs around Don José she shows where she believes her true control lies. You never lose any sense of the character Margaine is portraying and she proved to be a consummate singer-actor. Her nuanced tones fixed attention on Carmen's rebelliousness, fickleness, passion and fatalism right through to her death at the hands of a rejected and desperate lover.
Eyre has updated the action to 1930s Seville during the Spanish Civil War to highlight an ongoing rebellion against a society that was politically – and sexually – repressive. Eyre and his set and costume designer, Rob Howell, give us basically large sections of distressed masonry that can be moved with consummate fluidity on turntables to open up or shut down the stage area to provide – along with suitable stage furniture – the appropriate backdrops for all the personal dramas the characters are going through.
A blood-red diagonal gash – later echoed by a red diagonal slash on the dress Carmen wears when she is killed – opens in the front curtain during the Preludes to Act I and III and there are Christopher Wheeldon's balletic duets performed by Maria Kowroski and Junio Enrique. The first one concerns Carmen's fate and the second is about love but, though engaging, they are somewhat superfluous. (However, Wheeldon does contributes a very authentic flamenco-style number for the Act II tavern scene.) Other minor issues with Eyre's staging are that for an opera involving cigarettes there was little realistic smoking going on and certainly no smoke seen! Additionally, the final image seemed to be overstating the obvious. Bizet's Carmen was also controversial in its time for having the 'heroine' die on stage, but Eyre has the curtain come down with the set turned around to show us the inside of the arena where Escamillo is standing over the bull he has just killed and not with Don José kneeling beside Carmen's body. On the plus side, the tradition at the Met is to use Ernest Guiraud's 1875 Vienna recitatives and this is a significant improvement on all the spoken dialogue that often holds up the drama … pace Bizet. Only a few sentences of dialogue were heard in Act III and this approach could profitably be used more often elsewhere.
On this form Roberto Alagna must be peerless as Don José and he sounded totally at ease with the role. His acting and singing were at its best from later in Act II through to the end of the opera with all his – more volcanic than smouldering – passion, lust, rage and murderous jealousy. On the other hand, Alagna was very slightly less convincing as the Act I 'mummy's boy' soldier. There was a beautifully floated high B flat to finish 'La fleur que tu m'avais jetée' ('The Flower Song'), a robustly added top C at the end of Act II and he had plenty of stamina left for the angst and anger of the final scene; though his emotions almost appeared to be getting the better of him.
Alagna's wife Aleksandra Kurzak is one of the best sopranos of her generation and she brought considerable charm, warmth, exquisite phrasing and a purity of tone to Micaëla, the girl from Don José's village, whose love for him never stands a chance once Carmen – as here – 'stabs' him to the heart with her flower. Her second act 'Je dis que rien ne m'épouvante' was a highlight of this Carmen and those who see and hear this compelling artist's first Cio-Cio-Sans soon in Napoli will be in for a treat, and surely it cannot be too long before Kurzak's role debut as Tosca.
As Don José's rival the bullfighter Escamillo, the Russian-born Alexander Vinogradov had much of the braggadocio the role demands but little of its essential charisma. His attraction to Carmen would be the status she would achieve by being associated with the popular toreador. Nevertheless Vinogradov sang authoritatively and firmly. The supporting cast was also exceptionally strong; bass Richard Bernstein was particularly effective as the arrogant Zuniga and Sydney Mancasola and Samantha Hankey were remarkably assured and engaging as Frasquita and Mercédès. Thanks to Gary Halvorson's 'in-yer-face' direction for the screen there was no room for any of the leading singers (or the Met Chorus) to hide and the naturalness of all the performances was a credit to the talent of this revival's cast, as well as, their stage director Paula Williams.
Playing a full part in the performance's success was the conducting of Louis Langrée (currently music director of the Lincoln Center's Mostly Mozart Festival and the Cincinnati Symphony Orchestra). There was a fast tempo right from the start and throughout it sounded – though the cinema's loudspeakers – as if he had a confident grasp on all the work's lyrical and dramatic elements. Everything built to a gripping climax from his splendid Met Opera Orchestra as the disastrous endgame of all the sexual desire we had witnessed reaped its two major victims.
Jim Pritchard