United Kingdom Rameau, Hasse, JC Bach, Zelenka, Purcell, JS Bach: Devon Baroque, Persephone Gibbs (director, violin), Andrew Wilson-Dickson (director, harpsichord), Great Hall, Dartington. 3.2.2019. (PRB)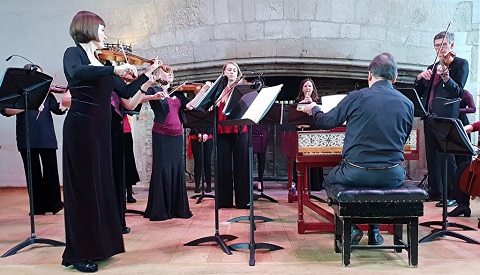 Jean-Philippe Rameau – Overture to Pygmalion (acte de ballet) and dances from Scene V
Johann Adolphe Hasse – Concerto in F from Op. 4
Johann Christian Bach – Sinfonia Concertante, C34
Jan Dismas Zelenka – Ouverture a 7 in F, ZW 188
Henry Purcell – Dances from The Fairy-Queen
Johann Sebastian Bach – Brandenburg Concerto No. 1 in F, BWV 1047
This latest offering from Devon Baroque was entitled 'Buzzing Baroque'. While the players certainly had the audience buzzing on occasions, co-director and harpsichordist Andrew Wilson-Dickson explained the title's real significance in his usual erudite yet equally light-hearted programme notes. The ensemble is currently embarked on a two-year cycle to feature all six Bach Brandenburgs. On this occasion it was the turn of No. 1 to share the limelight. Devon Baroque is basically a string outfit, but this particular Brandenburg highlights the 'buzzing' of double-reed instruments – oboes and bassoons – as well as the additional colour of a pair of horns. The pre-concert advertising also alludes to the programme's respective composers, which conveniently range from B to Z – or Bach to Zelenka.
With the current spell of inclement weather, there was a slight doubt whether the concert would even take place, or that there would be sufficient prior rehearsal time, something that, in fact, can never be overly generous, for reasons of logistics and, of course, funding. But such is the dedication and professionalism of the players, and the expertise and guidance of both directors – who foster the ideal learning environment, cajoling rather than chastising – that everything went on as planned.
Initial tempo-setting is one of the more difficult aspects to control with unfamiliar repertoire, but within a second or so, the players were locked into the usual impeccably taut ensemble. It was controlled with minimum fuss by Persephone Gibbs, and often involved no more than a little smile or nod in someone's direction, a sign of the eminent mutual respect and reassurance between players and director. The Overture to Pigmalion led seamlessly into a short set of dances played without a break, where Wilson-Dickson had prepared a set of cue-cards which the orchestral manager could flash up, like a subtitle, to indicate the current state of play as the music unfolded. It was a simple but most effective touch on the day, as well as a light-hearted thought to complement the nature of the score.
Johann Adolphe Hasse (1699-1783) was really popular at the time, but became just one of many composers now largely forgotten in revival, when the music by the likes of Bach, Handel and Vivaldi has tended to overshadow his achievements. Hasse's three-movement Concerto in F – which looks forward more to the world of JC Bach than back to that of his father, Johann Sebastian – was an attractive little offering. It was despatched with great aplomb, and deserves to be heard more frequently.
As if then seeming to prepare the way, the first half closed with a work by the 'London Bach' (Johann Christian) himself – his Sinfonia Concertante, C34. He first encountered the young Mozart in 1763, when they met at the court of Queen Charlotte, to whom Johann Christian was music master. The seven-year-old Wolfgang Amadeus was on a promotional tour in the company of his father and sister. The two composers remained good friends; for some years afterwards, their music is quite hard to tell apart.
JC Bach probably wrote this Sinfonia Concertante for violin and cello in 1775, for performance in the Hanover Square Concert Rooms. He had and Karl-Friedrich Abel had it built to satisfy the new taste for public concerts in London. Perhaps for this reason alone, Johann Christian took absolutely no prisoners as far as the two soloists are concerned. He gave each a highly virtuosic part, and nowhere more so than in their respective cadenzas. Gibbs, a superbly empathetic director, leads by example and clearly appears to cherish every single note she plays, which, in today's programme, will easily run into the thousands. She is also an absolutely superb violinist with an unerring ability for total accuracy and perfect intonation, to say nothing of a sound to die for. When leading the ensemble, these facets all come into play nicely, as they do, too, when taking the leading role in any solo concerto, or concertante work. But they can actually pose a problem in a work like a Sinfonia Concertante or Double Concerto, or any other essentially duet-style piece.
For the piece in question to come over as intended, Gibbs's partner in crime needs to have that same mercurial magic about them, and that self-same ability just not to put a foot wrong. That is a massive ask, even before you start to consider the score's specific demands itself. But then, factor in the really high tessitura of the violin part, which JC Bach then demands at least note-for-note from the cellist, and you are now performing on a decidedly uneven playing-field. Add in the rapid triple figuration, with scarcely a rest along the way, and the fact that there is nothing more than the pressure of the player's knees to keep the cello in check, there being no firm spike connection to the floor.
The principal cello soloist appeared to find the going very tough but, to their credit, managed to keep going and get back on track. That made things less noticeable, even if it is something rarely, if ever, encountered in the ensemble's history. Apparently everything went swimmingly in rehearsal. Still, as teachers, we have all been down that route. Rather like a Driving Test, it is the ability to produce the goods on the day that counts.
The second half opened with an Ouverture by Czech composer Jan Dismas Zelenka. It is good to read that Devon Baroque intends to feature his music in subsequent programmes, if this single offering is anything to go by. The string precision at the fugal start of the work was immensely impressive, again attesting to the high standard of playing from this section overall.
It was then good to enjoy a brief chronological step backwards to the earlier world of Henry Purcell. Devon Baroque would seem to favour extending the overall period from which it sources its programmes, rather than trying to extend its geographical reach in terms of concert venues. That, in today's less-than-secure economic climate, is probably the wiser option for survival, and onward progression. The Dances from The Fairy-Queen were delightfully rendered, with a wonderful delicacy and highly-apt fleetness of foot in the Dance for the Fairies – over in little more than a flash, but a pocket-sized gem on the day.
As mentioned earlier, Devon Baroque has just one more Brandenburg Concerto to deliver, No.6, later in the year, after today's ebullient and high-spirited performance of No.1. If there ever was a party spirit, then this was it. The woodwind had already made a tremendously effective contribution earlier in the programme, as had the two natural-horn players, but clearly they had really all wanted to augment the strings for this closing number. There were many great moments along the way. The horns' triplets in the first movement, on paper quite at odds with the rest of the writing, still came off so effectively. That was largely because, by their very nature, horns have nowhere to hide, so the best option is to give it all you've got, when required. If the odd split note or fluff does happen, then it becomes almost an expected piece of regular detritus along the way.
In the Allegro, in triple time, it was almost as if Bach had in mind a typical German folk-dance, or Ländler, such was the lilt of the music that might have seen some of the audience dancing – had the seats not been so necessarily close together to hinder one's spontaneous extraction. It was also an occasion to be introduced to Gibbs's violino piccolo – a slightly smaller-dimensioned violin, tuned somewhat higher than the regular instrument. Totally unfazed, Gibbs coped with the extra chore of transposition, as she soared so effortlessly above the orchestral texture now with slightly greater ease. A violoncello piccolo does, apparently, exists; if only this had been available to Gibbs's co-soloist in the earlier Sinfonia Concertante…
All in all, then, this has been another quality performance by Devon Baroque. They have already more than earned the right to describe themselves as the principal orchestra in the South West specialising in baroque and early classical music, played on period instruments and in appropriate style.
Philip R Buttall