United Kingdom Sibelius, Bruckner: Christian Tetzlaff (violin), London Philharmonic Orchestra / Robin Ticciati (conductor), Royal Festival Hall, Southbank Centre, London, 2.2.2019. (AS)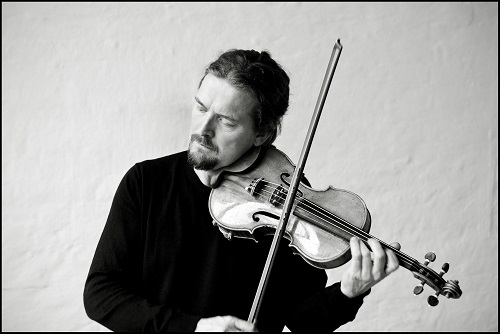 Sibelius – Violin Concerto in D minor Op.47
Bruckner – Symphony No.7 in E (ed. Nowak)
Tetzlaff and Ticciati have performed together on several occasions, and their rapport clearly showed in this performance of the Sibelius Concerto. Tetzlaff is nothing if not a powerful, zestful player, and the Sibelius suits him perfectly. With his superb technique and pungent tone quality he brought out the first movement's verve and passion brilliantly. At the work's reflective beginning he launched his solo part against the quiet orchestral background with a most affecting, yearning quality of sweetness and lyricism, and this made a perfect prelude to the virtuoso passages that the soloist soon encounters.
All seemed absolutely on course, but then a sharp crack indicated that a string on Tetzlaff's violin had broken. Often in such circumstances the player stops and retreats backstage to re-string his instrument, either beginning again or rejoining the work at a suitable point. But Tetzlaff employed the standard alternative emergency procedure of exchanging his violin with that of the leader, continuing to play the solo part on the leader's violin, while the leader then played on a colleague's instrument until that colleague had re-strung the soloist's violin. This procedure was carried out with such calm aplomb by Tetzlaff, the Leader Pieter Schoeman and Co-leader Kevin Lin that it almost seemed like an everyday occurrence. It is also a tribute to Tetzlaff's skill that he continued to play brilliantly on a new and quite different-sounding instrument as if he was perfectly familiar with it. For once applause after this movement seemed absolutely appropriate, and Tetzlaff acknowledged it with a bow and a rueful grin.
Seemingly unperturbed, Tetzlaff produced a lovely, pure solo line at the beginning of the slow movement, and his passionate response to the music's lyrical, soaring lyrical quality and its deep-seated strength was very affecting.
As if let go from the bounds of profound expression, Tetzlaff set off at a cracking pace in the finale, with Ticciati in close accord, and their strong, highly rhythmic account of this movement brought a most characterful account of the work as a whole to a most satisfying conclusion.
At the beginning of the Bruckner symphony one noted the attractive warmth of the string tone as the big opening melody developed, shaped with skill by Ticciati. And as the first movement progressed the conductor followed its twists and turns very faithfully and knowingly. But as time went on doubts began to arise. Why was the sense of grandeur and nobility in Bruckner's vision seemingly missing? These are qualities that are difficult to define positively, but they simply were not present in Ticciati's accomplished, skillful direction. We received an efficient guide to the music, plainly expressed and perfectly clear. But no more than that.
Hopes that the slow movement would produce something more distinguished were not fulfilled. Tension remained low, and phrasing, though perfectly idiomatic, had a kind of workaday generality about it.  Ticciati chose a fastish tempo for the Scherzo, which bounded along happily but inconsequentially, the trio nicely shaped.
And so to the Finale. This was again taken quite swiftly, as is the modern custom, and a highly experienced Brucknerian would still have brought fire and drama to the music. But on this occasion it merely seemed as if there was not quite enough time allowed for the music to breathe satisfactorily. The climactic ending of the work came off well: how could it not in the hands of a highly capable conductor?
As a whole it was a completely reliable account of the work, but one in which its greatness was not revealed. Leopold Nowak's unexceptionable edition of the Symphony was performed, complete with the single clash of the cymbals in the slow movement.
Alan Sanders