United Kingdom Schumann, Wagner and Mahler: Elīna Garanča (mezzo-soprano), Malcolm Martineau (piano), Wigmore Hall, London, 17.2.2019. (JPr)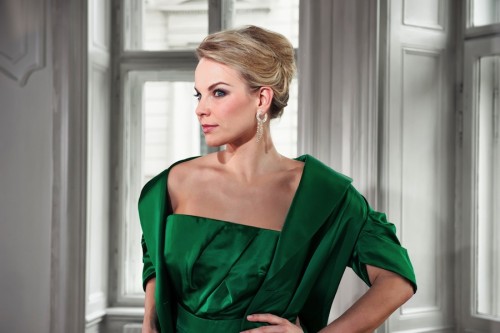 Schumann – Myrthen Op.25: 'Widmung', 'Der Nussbaum'; 'Jemand'; 'Lied der Braut I & II'; Frauenliebe und -leben Op.42
Wagner – Wesendonck Lieder
Mahler – Rückert Lieder
It was only after this recital that I checked and saw that the first half we heard was the same as in a previous visit Elīna Garanča made to London (review click here). That time one of the world's best mezzo-sopranos was greeting by a half-full Barbican Hall but now the venerable Wigmore Hall (much smaller of course) had been sold out for many weeks. Even her expression of relief of being able to sing her encore in her own language (after all the German) was the same as at the Barbican, as was that song, Jāzeps Vītols's 'Close Your Eyes and Smile' (translated title). After blowing the Wigmore Hall audience a kiss, she left me – and many others who had not already rushed for the exit – wanting something more, some opera perhaps?
Certainly in what were more intimate surroundings she revealed herself to be identifying with the music much more than at the Barbican and each of the songs she sang was the 'mini-drama' I prefer seeing and hearing. A voice should clearly express the meaning of the text so that the piece is not just notes to be sung; and this is what Garanča did extremely well. However full and rich her mezzo voice actually was, she did not easily find all the high or low notes she needed for some of the music.
Garanča's programme of Lieder began with five Schumann songs notable for the care she took to produce every note as beautifully as possible, as well as, her impeccable phrasing. The first was the often heard 'Widmung' ('Dedication'), a setting of a Rückert poem, to which Garanča brought restrained passion. 'Der Nussbaum' ('The walnut tree') followed and – as I remarked in my earlier review – when the text mentioned 'whisper' her voice did precisely that and so the pattern was set for the entire evening with a further display of the careful preparation and impeccable vocal control she had previously shown at the Barbican. She concluded with an exquisitely tender second 'Lied der Braut' ('Song of the bride'). Schumann might not have given her accompanist Malcolm Martineau much to work with, but he did little here but simply support his partner with his playing.
Schumann's Frauenliebe und -Leben is not always easy to put across successfully. Adelbert von Chamisso's eight poems are short yet intense vignettes; even if they over-sentimentalise obsessive love, courtship, marriage, childbearing and the heart-wrenching loss of a loved one. What redeems these songs is Schumann's music and an interpreter like Garanča who can chart the movement from one stage in love and life to the next with believable dramatic – and feminine – conviction. I particularly liked how in 'Susser Freund, du blickest' ('Sweet friend, you look') when her pregnancy is revealed she concluded with a deeply poignant 'dein Bildnis' ('your likeness). In 'Nun hast du mir den ersten Schmerz getan' ('Now you have caused me my first pain') when the husband has died, the line 'Die Welt is leer' ('The world is void') was sung as if the singer had herself lost the will to live: the connection of words and music was sheer perfection. Martineau's desolate postlude was equally sublime.
In a lecture I once gave about Richard Wagner I recalled how after his involvement in the failed Dresden revolution of 1849, he went 'on the run'. He ended up in Zurich taking advantage of the hospitality of Otto Wesendonck, a wealthy silk merchant, for both sanctuary lodgings … and his wife! Whether he was simply infatuated with Mathilde, or it was more than that, is debatable, but it brought the world Tristan und Isolde and his settings of five of her poems where two are clearly 'studies' for that 1865 music-drama. For him, Mathilde was Isolde!
It was during these Wesendonck Lieder that I had some minor doubts about the limitations of Garanča's voice. There was the all-important sense of transfiguration to 'Der Engel' ('The Angel') although I didn't really experience the Angel first descending before conveying a spirit heavenwards. 'Stehe Still' ('Stand still') was suitably impassioned and Garanča displayed a refined legato for 'Im Treibhaus ('In the greenhouse') an early study for the third act of Tristan. However, her voice failed to be 'on the air' for the 'sweet fragrance' to rise. Garanča brought out all the despair of 'Schmerzen' ('Agonies') and 'Träume' ('Dreams'), also a Tristan sketch, was compellingly sung, complemented by Martineau's well-judged piano postlude; although this time Garanča's notes were unable to sink far enough 'into their grave' at the end.
Garanča again had the profound emotional sensitivity for Mahler's Rückert Lieder if not always the wide vocal range required. 'Ich atmet' einen linden Duft' ('I breathed a gentle fragrance') had a perfumed ethereality to it; 'Blicke mir nicht in die Lieder!' ('Do not look into my songs!') was nimbly sung (whilst Martineau had the bees busying themselves as they must). Each solemn refrain of 'Um Mitternacht' ('At midnight') was pervaded with increasing despair and 'Liebst du um Schönheit' ('I love you for beauty') was rapturous. A highlight of this recital was the concluding 'Ich bin der Welt abhanden gekommen' because 'I am lost to the world' seemed to take on a compelling autobiographical poignancy as Elīna Garanča's voice made time stand still, with each of her words lingered over as if they were her very last.
Jim Pritchard