Germany Strauss, Daphne: Oper Frankfurt Chorus, Frankfurter Opern- und Museumsorchester / Sebastian Weigle (conductor), Opernhaus, Frankfurt, 1.2.2019. (JMI)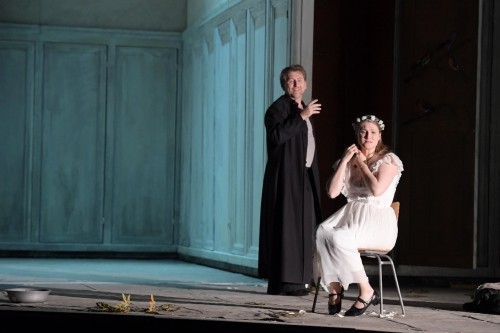 Production:
Director – Claus Guth
Sets and Costumes – Christian Schmidt
Lighting – Olaf Winter
Cast:
Daphne – Jane Archibald
Apollo – Andreas Schager
Leukippos – Peter Marsh
Gaea – Tanja Ariane Baumgartner
Peneios – Patrick Zielke
First Maid – Julia Moorman
Second Maid – Bianca Andrew
Shepherds – Dietrich Volle, Jaeil Kim, Barnaby Rea and Mikolaj Trabka
Daphne as an old woman – Corinna Schnabe
Frankfurt boasts one of the best opera companies in Germany. On this occasion, they performed Richard Strauss's seldom-seen Daphne; Handel's Xerxes follows, and a new production of La forza del destino will complete the weekend.
This Claus Guth production of Daphne premiered here in 2010. It is an outstanding staging, and on this occasion one could also enjoy excellent performances by both orchestra and cast.
Many people think that Strauss's three operas with librettos by Josef Gregor – Daphne, Friedenstag and Die Liebe der Danae – are unjustly forgotten. There is no doubt that they are all important works, and Daphne is particularly rich musically, although the libretto is somewhat tricky. The plot is taken from Ovid's Metamorphoses and tells of the nymph Daphne, daughter of Peneios and Gaea. She is loved by the young Leukippos and is also desired by the sun god Apollo, who comes down to earth in disguise to fetch the nymph. Apollo kills Leukippos, and he ends up turning Daphne into a tree, to be part of nature for all eternity. Indeed, it is not a very attractive plot, and one that is a bit confusing as well.
Frankfurt had bet heavily on Daphne and commissioned this staging by Claus Guth. It is an intelligent production by one of the best directors in recent years. He conceives the work as the flashback of an aged Daphne, who remembers the different events that she experienced as a young girl which left her traumatized. Guth takes advantage of the magnificent rotating stage of the Frankfurt opera house in Frankfurt to offer three different views, all of them decadent and old, which fit perfectly with Daphne's memories.
In the last decade, Maestro Sebastian Weigle has become one of the leading opera conductors in Germany, and this reading was one of the best I have heard from him. He was at the service of Strauss's wonderful music and offered it to us in all its splendor, with inspiring moments throughout. The orchestra was superb, as was the male chorus.
The role of Daphne was played by soprano Jane Archibald, who had to compete with the memory of Maria Bengtsson's great interpretation nine years ago. Her performance was very good, but she did not reach the level of emotion and enthusiasm shown by Maria Bengtsson. Jane Archibald has been one of the leading Zerbinettas in recent years, a character who requires a light soprano. Here, however, a heavier soprano is needed, and she may fall a bit short. Her performance was very appealing, but the memory of Bengtsson's previous Daphne in Frankfurt is still fresh in my memory.
Richard Strauss did seem to hate tenors – it is well known how he treated them musically. Perhaps one of the clearest examples of that is the character of Apollo, whose score appears to have been written by his enemy. Few tenors can face this part, much less tenors who can succeed in the role. One must congratulate the Frankfurt Opera for having engaged such an exceptional interpreter as tenor Andreas Schager, one of the great Wagner singers of the day. He was terrific, and one is left open-mouthed before so much vocal power.
Leukippos is also a tenor, but it is a more lyrical and less demanding part than Apollo. It was nicely covered by Peter Marsh, who can be heard frequently in Frankfurt.
Mezzo-soprano Tanja Ariane Baumgartner repeated in the role of Gaea. She is an outstanding singer and actress with an important career, and she did well on this occasion, although I prefer a contralto in the character. Good too was the performance of bass Patrick Zielke as Peneios, the father of Daphne. The secondary characters were well covered in all cases, particularly the two Maidens played by Julia Moorman and Bianca Andrew.
Finally, I should mention the excellent performance of Corinna Schnabel, present throughout the opera in the mute character of the old Daphne.
The audience gave a warm reception to the artists at the final bows, with the biggest ovations for Andreas Schager and Sebastian Weigle. Claus Guth also took a bow and was loudly applauded.
 José M. Irurzun
For more about Frankfurt Opera click here.