United Kingdom Mozart, Tchaikovsky: Ronald Brautigam (piano), Bournemouth Symphony Orchestra / Marta Gardolińska (conductor). The Lighthouse, Poole, 20.2.2019. (IL)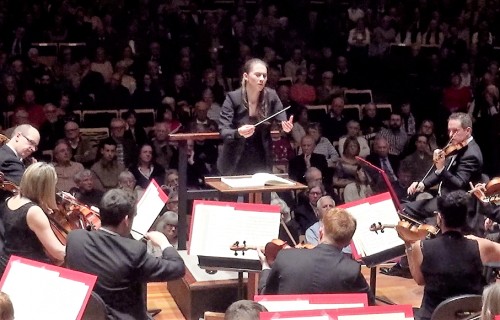 Mozart – Symphony No.26 in E Flat Major K.184, Piano Concerto No.21 in C Major K.467
Tchaikovsky – Symphony No.4 in F minor
Due to the indisposition of Kees Bakels who was to conduct this concert, the Bournemouth Symphony Orchestra's Leverhulme Young Conductor in Association, Marta Gardolińska, took over the baton. She won very enthusiastic approval from the full-capacity audience, particularly for her dynamic reading of Tchaikovsky's Fourth Symphony.
Marta Gardolińska was born in 1988 in Warsaw, Poland. She was a professional athlete before she took up her music studies in Warsaw and Vienna. She has won many accolades for her conducting – opera as well as orchestral works – and has been recognized for her efforts in popularizing Polish culture and music outside of the country.
Her conducting style was certainly very positive, quite athletic, one might say. Her Tchaikovsky Fourth Symphony was delivered in white-heat passion and urgency. This was no shrinking-violet reading, no restraint. This was Tchaikovsky really kicking against fate, shaking an iron fist at misfortune. At the end of the first movement, it was all that the audience could do to restrain themselves, realizing that this performance was really something special. There was certainly a great roar of approval at the end. On the way to a positively thrilling Finale, there was a beautifully shaped, wistful Andantino with the BSO woodwinds in fine fettle, and a crisp scherzo with those wonderful extended string pizzicatos and attendant snappy brass figures.
But one cannot discount Gardolińska's reading of the Mozart works, at all, in the first half of this concert.  The highlight was an elegant and dignified performance of the popular Piano Concerto No.21. Gardolińska gave sterling support, lightly but tellingly shaded and nuanced. For instance, she did not allow the sweet dreaminess of the Andante middle movement (celebrated in the Swedish film, Elvira Madigan), ever to cloy. The Dutch soloist, Ronald Brautigam, looked like some latter-day Liszt, with his shock of longish grey hair. He delivered a refined reading, full of delicacy and graciousness in that Andante and dexterous in the scintillating final Allegro.
The concert had begun with Mozart's early Symphony No.26, written when the composer was just seventeen but already foreshowing the compositional mastery of his later years. The little Symphony No.26 lasts only ten minutes but includes some interesting fiery figures as well some enchanting lyricism. It was a beguiling introduction to an outstanding concert.
On this evidence it is to be hoped that the BSO will welcome Marta Gardolińska back to the podium again in the not too distant future.
Ian Lace