United Kingdom Handel: Rowan Pierce (soprano), Matthew Brook (bass), Dunedin Consort, John Butt (director), Queen's Hall, Edinburgh, 5.2.2019. (SRT)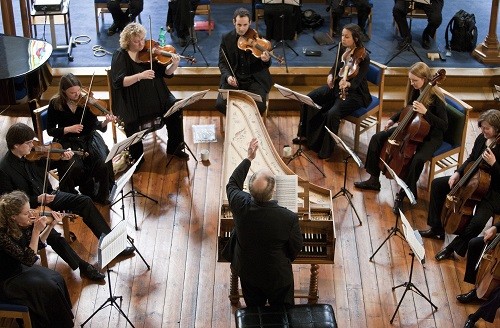 Handel – Water Music, Suite No.1; Silete Venti, HWV 242; Apollo e Dafne, HWV 122
In some important ways, Handel has always been with us. His oratorios are perennially popular – especially that one – and his orchestral music is never far from the airwaves.
In another sense, however, we uncover something new about him every generation. Until recently, the great undiscovered corner of Handel's output was his Italian operas, but that voyage of now discovery is now all but complete: they have all been recorded, and some have become cornerstones of the repertoire.
Ask Handelians nowadays what the next big discovery will be, and most will tell you it is the Italian cantatas. They date from the young Handel's three year sojourn in Italy when he wrote for the influential, rich and powerful, learning all the while, and becoming flavour of the month in the process. Umpteen cantatas date from this period, and they are still dawning on the world only slowly.
Apollo and Daphne is the best known, and it is a cracker. The fizz and crackle of the orchestral writing could only have come from a young genius on the make, and that jumped out of this Dunedin Consort performance, playfully directed from the harpsichord by an exuberant John Butt. The band of players was small (three first and three second violins, two violas and cellos, one bass, with winds) which led to transparent textures and an airy feel. Furthermore, the musical energy of the classical story was buoyed along by some gorgeous obligati, none more sensuous than the gorgeous flute that accompanied Daphne's first aria.
The singers were perfectly chosen, both for their musical strength and their dramatic sensibilities. Matthew Brook's bass voice has the ability to fill a room, but to do so with a sound both commanding and sweet, inhabiting a full range of emotions in Apollo's arias. He oozes character, too, and had a great time hamming up the action of the drama, even drawing some laughs as he did so. Good for him. Soprano Rowan Pierce cut a more statuesque figure on stage, but her beautiful soprano voice was perfect for Daphne's chaste refusal of her pursuer.
She also sounded marvellous in Silete Venti, a cantata which Handel probably wrote much later while he lived in London, in which the soul faces down the ravages of life thanks to the love and security of Christ. Pierce's rich, lovely soprano made a gorgeous foil to the fizzing orchestral accompaniment, making me marvel at the range of colours Handel manages to draw from his restricted orchestral palette. The first Water Music Suite benefited from the same strengths, this time offset by a splendid pair of natural horns that did a great job of treading the thin line between cultured refinement and explosive bad behaviour.
The same artists repeat this programme in Birmingham and Glasgow. For full details click here.
Simon Thompson