United States Mason Bates, The (R)evolution of Steve Jobs: Soloists and Chorus of the Seattle Opera, Seattle Symphony / Nicole Paiement (conductor), Seattle, Washington, 23.2.2019. (ZC)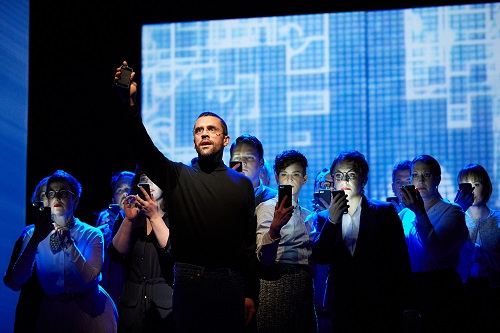 Cast:
Paul Jobs – Morgan Smith
Steve Jobs – John Moore
Laurene Powell Jobs – Emily Fons
Kobun Chino Otogawa – Adam Lau
Steve Wozniak – Garrett Sorenson
Teacher – Sarah Mattox
Chrisann Brennan – Madison Leonard
Young Steve Jobs – Thomas Gomes
Production:
Librettist – Mark Campbell
Director – Kevin Newbury
Set Designer – Vita Tzykun
Costume Designer – Paul Carey
Lighting Designer – Japhy Weideman
Video Designer – 59 Productions, Benjamin Pearcy
Choreographer – Chloe Treat
Chorus master – John Keene
It is no secret that our technologies tend to become heavily integrated into our daily lives. But this is particularly true of smartphones, which in less than 15 years have become so ubiquitous and heavily ingrained in our lives that in idle moments, many of us habitually reach for them in our pockets. They connect us 24/7. But increasingly, these same devices are implicated in social isolation and addiction. Technology designed to bring the human family closer together can end up pushing it apart.
The (R)evolution of Steve Jobs, Mason Bates's Grammy Award-winning opera, tackles the man responsible for many of the devices that leave people simultaneously connected and isolated. (R)evolution is not just about the innovations that Steve Jobs unleashed on the world over the course of his decades-long career. Bates has also built an opera that explores the volatile relationships at the center of Jobs's revolution.
A series of 17 scenes, a prologue and epilogue tell Jobs's story, opening with a dulcet aria set in his father's garage. Ninety minutes later the opera closes with Jobs witnessing his own memorial service. In between, a wife, a girlfriend, a spiritual advisor, a business partner, friends, and subordinates enter and exit at a frenetic pace. Jobs isn't portrayed as a hero, nor is he portrayed as a villain. Yes, there are scenes which present the man at his monstrous best. It is easy to hate Jobs, for example, when he is tormenting his pregnant girlfriend by demanding that she get an abortion. But there are just as many scenes that soften and humanize him, such as a touching back-and-forth between Jobs and his future wife Laurene or when he finally confronts the dire state of his health near the end.
Bates's score is both traditional and contemporary. Electronics and post-minimalism washes of music — his trademarks — dominate his captivating language. The score pulses along relentlessly; reminiscent of Strauss's Elektra or Salome, ideas flow without interruption from beginning to end. Bates employs leitmotifs to give each major character a unique call sign: trailing saxophones signal Steve 'Woz' Wozniak, a wavering guitar indicates Steve Jobs, while high flutes represent Laurene. The score is it at its best when these themes collide and mix.
If there is a flaw, it is that there is very little time for the audience to digest these fast-moving phrases and catch a breath between scenes. Mark Campbell's libretto mitigates this somewhat. His words shape myriad interactions that are intimately human. There is vulnerability between Jobs and his wife when they first meet, for example, and later, Jobs bubbles with anger and exasperation when he is fired by the company he founded. Youthful exuberance — anticipating a world of possibility — flows freely through an early scene in which Jobs and Woz, through richly layered duets, tinker with gadgets.
The strong cast brings Bates's masterpiece to life. Here John Moore, the baritone who portrays Jobs, deserves special mention. Moore is present in nearly every scene and is terrific throughout, expansively encompassing Jobs's complex personality, hopes, desires, and fears. Also strong are Adam Lau as spiritual advisor Kobun, and Garrett Sorenson as Woz; the latter was in the opera's Santa Fe premiere. Sorenson's interpretation was noticeably mellower than in Pentatone's recording of (R)evolution. Emily Fons masterfully balances Jobs's intensity as his wife Laurene. Chrisann, Jobs's girlfriend in his youth, is performed sympathetically by Madison Leonard.
Vita Tzykun's sets were a good example of the principle that less is more. Scenes were framed by glowing white rectangles, an obvious nod to the iconic style of Apple products. The set pieces were modular, shifting as necessary to create a variety of spaces from garage to boardroom. Projections onto the surfaces added additional complexity — occasionally surreal — while at other times they simply displayed the year, a helping hand to orient the audience in an opera that seesaws through Jobs's life.
Zach Carstensen