United States Various: Joélle Harvey (soprano), Allen Perriello (piano), Weill Recital Hall, Carnegie Hall, New York, 13.2.2019. (RP)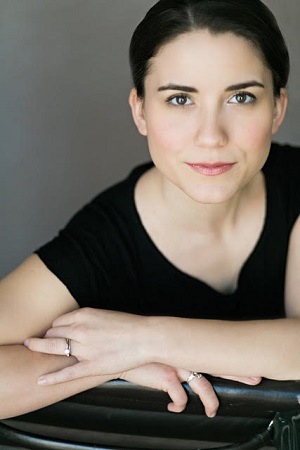 Purcell – 'Come All Ye Songsters of the Sky' (The Fairy Queen), 'If music be the food of love' Z.379a, 'See, even Night herself is here' (The Fairy Queen), 'Sweeter than roses' (Pausanias, the Betrayer of his Country)
Mozart – 'Ridente la calma' K.152, 'Oiseaux, si tous les ans' K.307, 'Die Zufriedenheit' K.473, 'Die kleine Spinnerin' K.531
Clara Schumann – 'Liebeszauber' Op.13 No.3, 'Die stille Lotosblume' Op.13 No.6, 'Was weinst du Blümlein' Op.23 No.1, 'Liebst du um Schönheit' Op.12 No.2
Grieg – 'Spring Showers' Op.49 No.6, 'To Springtime my Song I utter' Op.21 No.3, 'Easter Song' EG146, 'Hope' Op.26 No.1, 'A Birdsong' Op.25 No.6
Michael Ippolito – Vanitas for Soprano and Piano (World Premiere)
In Joélle Harvey's sole encore, 'Remember Me' from the animated Pixar film Coco, the voice that has garnered so much attention finally emerged. There had been evidence of it earlier in the program, but the recital got off to a rocky start. In a set of Purcell songs that should have been smooth sailing for her, she had trouble settling her voice and a flutter clouded her upper range. Even her English diction, which was so precise and fluid in the second half of the program, was iffy.
The beauty of her voice was fleetingly evident in the tender phrases of Purcell's 'See, even Night herself is here' and 'Sweeter than roses'. My hunch, however, is that if she had reprised them as encores, they would have been stunning. Harvey fared better in the Mozart group. In 'Ridente la calma', her singing was steadier and her interpretation heartfelt. (She later explained that both it and 'Remember Me' were songs that she sings to her daughter.) 'Oiseaux, si tous les ans' was charming. Nonetheless, there was still a tentativeness to her singing.
Clara Schumann's songs were mostly written as gifts for her husband. Robert Schumann encouraged his wife to compose and arranged for several of her songs to be published together with his. While he was still alive, Clara had to balance composing with the competing demands on her time occasioned by her husband's illness and caring for their children. After his death, she returned to the concert stage to earn a living. Her songs remained in the repertoire into the early twentieth century, sung by leading singers in concert halls across Europe. In recent decades, her music has been rediscovered and championed.
With these songs, Harvey's voice blossomed. In 'Liebeszauber' there was a consistent warmth and sparkle to her voice, as well as a heightened sensitivity to textural and dynamic nuances. Her tone was shimmering in 'Die stille Lotosblume', and she brought lightness and joy to 'Was weinst du Blümlein'. Schumann's setting of 'Liebst du um Schönheit' is a direct, understated declaration of the power of true love, which Harvey instilled with a still intensity,
Songs by Grieg, all relating to springtime, and the premiere of a new work by Michael Ippolito made up the second half of the program. Harvey sang the former in Norwegian, except for 'Easter Song' in which Grieg had set a German poem. It was in that song that Harvey sang full voice for the first time, and it made a startling impact. There was nothing tentative about that vibrant and ringing sound. Something in the Grieg started Harvey's juices flowing, or maybe it was just the anticipation of what was to come.
The climax of the recital was the world premiere of Ippolito's Vanitas for Soprano and Piano, co-commissioned by Carnegie Hall as part of its 125 Commissions Project, a five-year undertaking during which it will commission at least that many new works. Harvey and Ippolito met as students at the Cincinnati College-Conservatory of Music. He is currently Assistant Professor of Composition at Texas State University and the recipient of important commissions. His bio says that his works fuse classical and folk music, but Vanitas defies classification of that sort, although I did detect musical references to earlier American composers in it.
In a brief program note, Ippolito provided insights into the concept behind what he terms a musical-poetic still life. A vanitas is a painting that depicts the transience of life, the futility of pleasure and the certainty of death. Skulls feature prominently in such paintings, but Ippolito chose to focus on the ephemera that appears in them: candles, moths, timepieces and picked flowers. The final poem is about a book, which contains the essence, or ashes, of a writer.
The seven poems are by American women poets. Emily Dickinson, Gertrude Stein and Edna St. Vincent Millay are household names, while Adelaide Crapsey and H.D. are a bit more obscure. Cecily Parks is his colleague at Texas State University. On the printed pages, the juxtaposition of poems of only a dozen or so words with multi-stanza ones is intriguing. The score is a complex mixture of sounds – unaccompanied vocal lines, passages for prepared piano, virtuoso solo piano preludes and postludes – all of which must be fascinating to see in the printed score.
The introduction and postlude are mirror images of each other, or a form of retrograde. The cycle begins and ends with the piano playing tone clusters in the highest ranges of the piano. It is as if the songs had dropped from the heaven, and after they are heard the listener is again transported skyward. They too are ephemera, but of the aural sort.
Harvey captured the subtle moods of the poetry and was fearless in meeting the vocal demands of the score: the huge vocal leaps were amazing, high notes were thrilling, and the soft, unaccompanied passages were sung in a clear, steady voice. The buildup had been slow, but finally her artistry and voice were on full display.
At the piano, Allen Perriello displayed much the same temperament as did Harvey. His Purcell, Mozart and Schumann were polished and perfect, but the second half engaged him far more. It was evident immediately in the Grieg songs. In Vanitas, Perriello was not only called upon to accompany Harvey, but also to explore the sonorities of his instrument and play dramatic thundering passages unfetter by concerns of whether he was too loud.
I am not the greatest fan of pre-concert talks, but Ippolito's insights into the many strands that make up Vanitas would have been worthwhile to hear. And for the first time, I envisioned the day when the score of a new work is made available online before its premiere. There was just too much to unpack in the first go-round of Vanitas. It needs a second hearing.
Rick Perdian