United Kingdom Chopin, Schumann, Debussy and Scriabin: Evgeny Kissin (piano), Barbican Hall, London 6.2.2019. (CSa)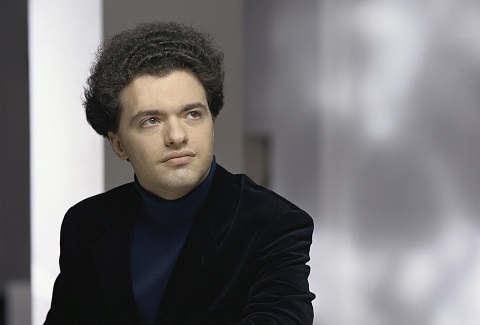 Chopin – Nocturnes in F minor, Op.55 No.1, in G major, Op. 37 No.2, and in E major, Op 62 No.2
Schumann – Piano Sonata No.3 in F minor, Op.14
Debussy – Préludes Book I, Danseuses de Delphes, Les Collines d'Anacapri, Ce qu'a vule vent d'Ouest, La fille aux chevaux de lin, La sérénade interrompue, La cathédrale engloutie, Préludes Book II, Général Lavine – eccentric, Feux d'artifice
Scriabin – Piano Sonata No.4, Op.30
Daniel Barenboim was once asked what it was like to be a child prodigy. 'Although I was a child prodigy, I haven't met many others…but I've met many mothers', he replied. He obviously had not met Evgeny Kissin, who was the real deal. Born in Moscow in 1971, this legendary artist could hum a Bach fugue when he was 11 months old, and he began to play by ear and improvise at the age of two. Until relatively recently, he was always accompanied when on tour by his mother and his teacher. Such an unusually cossetted arrangement suggests that this internationally famous artist remains unworldly. As Mark Zilberquit (musical critic and author of Russia's Great Modern Pianists) puts it, Kissin is 'partly on earth and partly somewhere else'.
No longer the child prodigy, there is brilliance but also an awkward distance which affects his ability to connect to the audience. This was best illustrated when at the beginning of the second half of the recital, a selection from Debussy's Danseuses de Delphes from his Préludes Book I, a high-pitched alarm bell started to ring at the front of the auditorium and continued for around eight minutes. Concertgoers called out on several occasions for the noise or the playing to stop, but Kissin doggedly pressed on, seemingly oblivious to events. Was this a display of Myra Hess-like intrepidness as wartime bombs fell close to the National Gallery? Even she waited for the sirens to die down before playing on. Four further Book I Préludes – Les collines d'Anacapri, Ce qu'a vu le vent d'Ouest,  La fille aux chevaux de lin, and La sérénade interrompue, were then resonantly played without interruption, but right in the middle of La cathédrale engloutié, a medical emergency in the house required two Barbican assistants to rush Kissin from the stage and temporarily halt the performance.
There is no question that once at the piano, Kissin's mastery and technical skill are unsurpassed, yet there is emotional detachment in his playing. This made the three Chopin Nocturnes with which he opened his recital – Op.55 No.1, Op.37 No.2 and Op.62 No.2 introverted and severe. A forceful performance of cool precision certainly, but lacking that suggested quality of improvisation and textual lightness so essential to these pieces.
Schumann's Sonata No.3 in F minor fared better. Passionate and heartfelt, Kissin captured the unbearable pain of the composer's enforced separation from his future wife Clara Wieck, particularly in a rapturous Scherzo and a shimmering Quasi variazioni. The final Prestissimo possible, in the hands of a lesser performer, would have been impossible, but here Kissin's note perfect account positively flew off the keyboard.
An edgily energetic account of Scriabin's iconoclastic Fourth Sonata – involving a Nietzsche-inspired journey to a far-off star brought the formal recital to a close, and left those of us who remained with three delicious encores: Träumerei from Schumann's Kinderszenen, a rather glum-faced Golliwog's Cakewalk by Debussy, and a glittering Grande valse brillante, Op.18 by Chopin. An ocean of applause and a chorus of cheers rewarded a technically brilliant performer who only occasionally touched the soul.
Chris Sallon