France Dvořák, Rusalka: Soloists, Chorus of the Opéra national de Paris (chorus master: Alessandro di Stefano), Orchestra of the Opéra national de Paris / Susanna Mälkki (conductor). Opéra Bastille, Paris, 29.1.2019. (MB)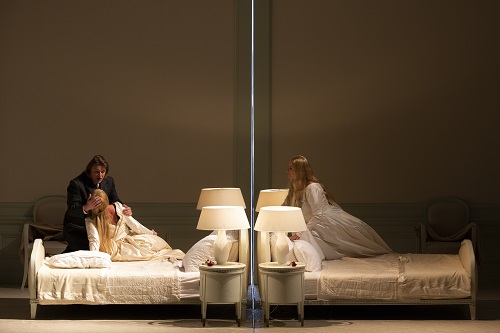 Production:
Director and Lighting – Robert Carsen
Designs – Michael Levine
Lighting – Peter van Praet
Choreography – Philippe Giraudeau
Cast:
Prince – Klaus Florian Vogt
Foreign Princess – Karita Mattila
Rusalka – Camilla Nylund
Vodník – Thomas Johannes Mayer
Ježibaba – Michelle DeYoung
Huntsman's Voice – Danylo Matviienko
Kitchen Boy – Jeanne Ireland
Nymphs – Andreea Soare, Emanuela Pascu, Élodie Méchain
Gamekeeper – Tomasz Kumiega
And so, the third and final opera from this visit to Paris: Dvořák's Rusalka. Whilst the first two, Il primo omicidio (an oratorio, albeit staged) and Les Troyens, garnered their principal interest from their respective productions and, in the latter case, singing too, Rusalka, once over a problematical first act, offered largely musical riches and little enlightenment from the director. To be fair, Robert Carsen's production is old, dating from 2002. Age, however, does not really seem to be the problem. It does not look tired; indeed, it looks 'stylish', 'beautiful', etc., fresh too, so that it might have been premiered today; it just does not seem to have anything particular to say.
It is not exactly 'traditional', although it is difficult to imagine 'traditionalists' minding it, their ideology and practice often proving not quite so consonant as they imagine. Indeed, so long as 'pretty' or 'beautiful' designs are present, they are unlikely to notice a Konzept one way or another. Credit where credit is due: Michael Levine's designs and the lighting from Praet and Carsen himself are splendidly realised. If you like large, ultra-minimalist hotel bedrooms, furnished in exquisite silk and satin – or fabric that resembles them from afar – you may be happy. (I should happily stay in one, but that is a different matter.) There is a coup de théâtre, a literally blinding flash of fire, at the moment of fateful transformation; it promises a great deal, yet alas, that is that. What instead we have is an oh-so-elegant paddling pool as the setting for the first act; in the second, the bed that has been suspended in the air finds itself in that hotel room, reflected in a mirror image. Ježibaba installs herself in that bed, newly suspended in mid-air for the third act, with the return of water perhaps – if we are to be charitable – also suggesting a visual dissolution of themes; that scene is followed by a return to the hotel room, after which presumably the Prince and Rusalka will die – or perhaps not. Is that a directorial twist, a feminist criticism? Perhaps, although it does not seem to be presented as such. It seems more a matter of simply not listening to either words or music, without actively attempting to criticise them.
There are likewise mild, 'stylish' confusions in the second act. What to make of that mirror image (until someone neglected to replicate a gesture, presumably by accident rather than on purpose)? I assume it was intended as a play on the bifurcation of human and spirit world, yet the placing of different characters, the Foreign Princess and Rusalka dressed identically, seems merely arbitrary in that respect. Is the lack of sense the point? It could be, might be; again it does not seem to be. Much of this could readily contribute to something more interesting; it is a genuine pity that it does not, remaining more at the level of opera as a 'luxury product' that barely registers as drama. If, for instance, at ENO, you favoured Carsen's similarly 'beautiful' Midsummmer Night's Dream, with a not dissimilar bed centre-stage, to Christopher Alden's gripping piece of theatre with the same work, this will certainly be for you. By contrast, Barrie Kosky's brilliant production for Berlin's Komische Oper truly penetrates to the dramatic heart, in more than one way, of the work.
As a framework for fine musical and indeed stage performances, the production nevertheless worked well. Susanna Mälkki started fitfully, rendering the first act somewhat puzzling. However, in the second and third acts, she came increasingly into her own, drawing a variety of tone and phrasing, not to mention formal dynamism, seemingly unimagined by Philippe Jordan the previous night in Les Troyens. For her, the third act was undoubtedly the climax, motivic development truly working itself out horizontally and vertically in ways that Brahms and Schoenberg would surely have admired.
Mälkki's two compatriots onstage proved outstanding throughout, Camilla Nylund offering an unfailingly differentiated performance equally attentive to the needs of words and music. Nothing was taken for granted; everything sounded – and looked – fresh. Karita Mattila announced undefinable, unmistakeable star quality as soon as she strode on stage as the Foreign Princess. One was left in little doubt whose musical wiles would win out, at least in the here and now. It was interesting, moreover, to hear voices one 'knew' from Wagner in this music, not at all inappropriately. Michelle DeYoung proved a formidable Ježibaba in every way. Thomas Johannes Mayer and Klaus Florian Vogt are known quantities. The former impressed once again, rather as a Wanderer on location; whether one 'likes' the latter is largely a matter of taste, though I shall admit to feeling that that once ethereal – if highly controversial – Lohengrin voice wears somewhat thin nowadays. All other parts were taken with great musical and dramatic skill, the three nymphs, Andreea Soare, Emanuela Pascu, Élodie Méchain, worthy of especial mention.
Mark Berry