Belgium Hindemith, Cardillac: Soloists, Koor Opera Vlaanderen, Symfonisch Orkest Opera Vlaanderen / Dmitri Jurowski (conductor), Opera Vlaanderen, Antwerp Opera House, 10.2.2019. (SS)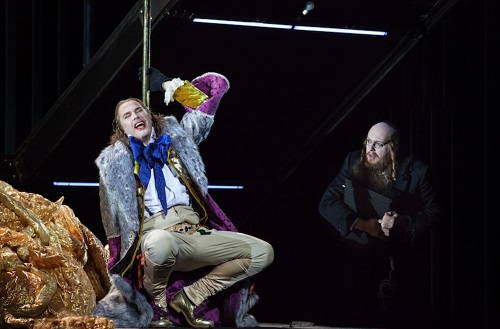 Cast:
Cardillac – Simon Neal
His Daughter – Betsy Horne
The Officer – Ferdinand von Bothmer
The Lady – Theresa Kronthaler
The Cavalier – Sam Furness
The Gold Merchant – Donald Thomson
Provost Marshal – Donald Thomson
Production:
Director – Guy Joosten
Set and costume design – Katrin Nottrodt
Lighting – Jurgen Kolb
Europe has seen an encouraging handful of Cardillac productions over the last decade and many directors have followed the same blueprint of staging the opera as an Expressionist film. Even at the 1926 premiere in Dresden, German critics wrote about the work's 'cinematic effects', such as the amorous rendezvous in which Cardillac's first victims are required to perform more like silent film actors than singers. Guy Joosten's new production for Opera Vlaanderen also incorporates filmic elements, but at the same time touches upon possibilities of staging and seeing the work that go beyond the silent screen treatment.
Where the production begins to diverge is in that love scene. The Lady's aria, sung by Theresa Kronthaler in a confident role debut, is choreographed as a pole dance complete with spins, sultry lighting and a blonde wig. Sam Furness's vocally overparted Cavalier gazes voyeuristically before claiming his side of the bargain. His 'love' is simply an erotic fixation and the sex a transactional arrangement, offered in exchange for one of Cardillac's creations. Following their murder, the pair are buried under a mass of stuffed golden tentacles dropped from the fly.
The heap of lamé is used as Cardillac's atelier in the next scene, putting an ironic spin on his line about gold 'growing' in crevices darker than the night. When he sings 'Nun schwimm ich selig mit dir', talking to his gold, he literally swims in it. We never see him working. He has neither a compulsive drive to perform artistic labor nor an aesthetic fascination with the objects he produces, which Joosten vulgarizes (although the garish belt he retrieves from the Cavalier still looks like something that obscenely rich people would actually buy). When he lies in his gold there are overtones of Fafner's 'ich lieg und besitz', and it is the sheer quantity of the wealth he has amassed that fuels his possessive instinct.
Cardillac's one-sided conversation with a taciturn Louis XIV is done without a king or a stand-in for the crown, as the goldsmith has crowned himself. He is omnipresent, roaming the margins of the set during scenes in which he doesn't sing and nursing his gold or prancing regally in those where he does. He needs to feel in control, to get his own way, and if he doesn't his facial expression of choice is a sneer. When the crown turns on him, he mocks them and administers his own death, untouchable to the very end.
With this portrait, it's almost as if Joosten is drawing parallels to our modern billionaire class, to figures like the repulsive Elon Musk. Everything the staging appears to be saying about gold and its copious symbols, about private wealth and economic hoarding and megalomania, however, is left inchoate. As in the last Joosten production I saw, of Salome, interesting ideas and visual flamboyance are dogged by an underlying reluctance to give free imaginative rein to a strong concept. Still, it's by no means an unsatisfying presentation of the material, and one that will hopefully persuade other directors not to cling so tightly to Weimar tropes. Joosten shows very convincingly that Cardillac has broader potential than this. Another pointer for future productions of an opera about a burly man's obsession with golden jewelry is that set and costume designer Katrin Nottrodt doesn't miss the opportunity to mine the work's camp potential.
Simon Neal was previously seen at the Opera Vlaanderen in a Calixto Bieto Mahagonny and, perhaps owing something to that experience, his performance burned with the kind of intensity more commonly seen in a full-blooded Regie production. This staging would have been much flatter without his Cardillac. His voice doesn't quite have fullness and roundness to match his stage presence, but he has the right timbre for the role and even sounds a bit like Michael Volle (when will he sing Cardillac?).
The tenors were the weak spot of the casting and Ferdinand von Bothmer's Officer didn't project well despite relatively singer-friendly conducting. Betsy Horne put in a despondent, vibrato-free turn as Cardillac's daughter. The vocal highlight was the soaring lines of the Act III quartet with Cardillac, his daughter, the Officer and Donald Thomson's Gold Merchant, while the chorus, kept more to the sidelines than usual for Cardillac, were superb.
Hindemith's music often has to contend with the 'Bruckner problem' of being saddled with the baggage of its early reception. The premiere review from 1926 that pegged Cardillac as a cinematic opera also declared that its composer 'operates more mathematically than musically'. The score, in truth, can be made to sound motoric and drab, and neither of the conductors I heard do it in Vienna (Franz Welser-Möst and Michael Boder) gave it much color. It is apparently also possible, however, to conduct it with unfaltering musicality, as Dimitri Jurowski did here. I had no idea what to expect from the orchestra, this being my first visit to the house, but the playing was extremely impressive and responsive to Jurowski. If you're in the vicinity of Ghent, where there are a further four performances over the next ten days, you should be seeing Cardillac anyway because it's a scintillating work that doesn't have a very stable place in the repertory, but absent a partiality for Hindemith, it's worth going for Jurowski's revelatory interpretation of the score alone.
Sebastian Smallshaw