United Kingdom Offenbach, La vie Parisienne: Soloists, Chorus and Orchestra of Opera Warwick  /  Laurie Duncan (conductor). Warwick Arts Centre Theatre, Coventry, 7.1.2019. (RD)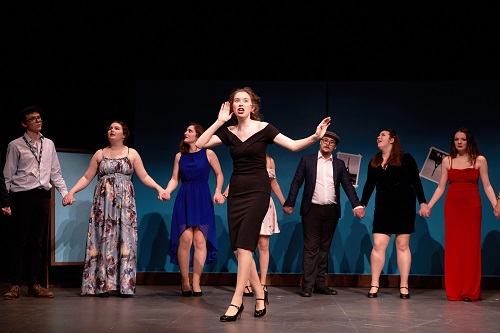 Production:
Director – Aphra Hiscock
Co-Producers – Katharine Wilson-Jarvis & Caroline Smith
Cast:
Gardefeu – Charlie Cooper
Bobinet – Dominic Sterland
Baron de Gondremarck – Jules Jackson
Baroness de Gondremarck – Jane Burns
Pauline – Rebekah Lally
Gabrielle – Naomi Awre
Metella – Niamh Murphy
Urbain – George Booth
Prosper – Ruth Page
Frick – Reuben Wilmshurst
The Brazilian – Edward Daly
Henri Meilhac and Ludovic Halévy generated almost a dozen comic opera scripts for Offenbach over the period 1860-75. Their best-known include La belle Hélène, Barbe-bleu, La Périchole and La vie Parisienne – the last named (1866, with some changes and trimming down in 1873) being their third joyous collaboration, here given a distinctly lively and impudent staging by the performers of Opera Warwick, one of the most capable such University ensembles in the country.
It is worth mentioning that, there being no longer an absolutely full Music Department at Warwick, although it has a Music Centre, a Director of Music (Paul McGrath), a concert hall, theatre and more (it can seemingly boast the largest such Arts complex outside London's Barbican, plus individual tuition, and scholarships. Despite all drawbacks, Music continues to flourish.
All of these spiky young thespians and vocalists hail from other subjects – Physics, Classics, English, Politics Mathematics and Engineering. In other words, their achievement in mounting – over many seasons now – a series of vivid, finely crafted all-student productions is all the more impressive. The company has as much verve as it does imagination. The kind of fizz and cheek – and raw, or not so raw, talent – on show here reflects a tradition, which animates all their stagings, from La Cenerentola and Don Giovanni, the first two I was fortunate enough to light on.
Of the staging, for which the director Aphra Hiscock, an obvious talent, dreamed up a constant host of natty ideas, often ingenious, only occasionally missing the mark, more anon. But the engine of Opera Warwick's productions has always been what goes on in the pit. It has turned out a series of far more than competent Musical Directors, who have made sense even of subtle scores like Monteverdi's Poppea, one of their most eloquently sung and inspired stagings to date.
La vie Parisienne may seem to need little driving force: it fires along under its own steam, much of it like an express train. But it would be wrong to think this. The band – and here there was an excellently marshalled ensemble, with everything from trombone and side drum to piccolo somehow coming up trumps – pretty much excelled. I heard only one obvious fluff, which was briefly infectious. But what is crucial is pacing, coordination and attack. Lose these, and a comic opera like Offenbach's flounders. It can easily be merely clumsy.
Enter Laurie Duncan, nearing the end of a Maths degree and one of the most commanding young conductors I have seen this extraordinarily motivated company generate. He uses a longish baton, and it might be inviting to suggest his main gesture was an upward surging beat with the stick like a kind of juvenile Toscanini: bandmasterish. But no such thing. It's what Duncan extracted within this strong beat, and the sudden input of left hand, that so struck one.
His decisions about pace felt right every time – without exception; his focus on the stage performers, leads, surge and fall, fade and roundoff. But within that he could hold the attention of the orchestra ultra-firmly or indicate to one or other section (the brass, for instance, which was superb and under control), by a sudden twist of the wrist or inward retraction of the beat, totally moderating the volume. The test is whether they followed Offenbach's crucial and often sudden, almost inadvertent time changes. They did. The ritenuti, a marvellous addition, seemed to happen like clockwork. There was only one late moment when things drifted between stage and pit for a bar and a half (no more); and that was a moment of uncharacteristic inattentiveness by the singers, not the orchestra. In short, Duncan kept the show marvellously on the road. It whizzed and sizzled, as Offenbach must. But as a reading, it was also endlessly perceptive. And polished. Utterly thought through. Fully digested. Duncan's was a thoroughly professional achievement.
The fizzing, a welter of outrageous and outré comedy, must largely come from the cast, of course. As a staging it took off almost straight away, with an almost instinctive interplay (and similar pitch) between Charlie Cooper's hyperactive and irrepressible Gardefeu, not convincingly amorous but utterly persuasively daredevil, and Dominic Sterland's Bobinet, the latter of whom grew vocally as the evening progressed. He also, it transpired, has a voice, but one different issue arising early on was that none of the deployed voices really impressed. There was a feeling of suck-it-and see, a hesitancy, possibly brief first night nerves, rather than of the refined vocal preparation one associates with this company (that, happily, was to change admirably later).
Baron and Baroness – his role (Jules Jackson) gets endlessly involved, and is central, hers (Jane Burns) feels oddly attenuated – yielded mixed results. She was the most elaborately dressed of all the characters, very funnily, as if wrapped up in an enormous muff – for Scandinavian, not Parisian, weather (did she choose it herself?). He was dressed in, well nothing really, apart from a suit – the same suit, passim – in which he managed to entangle himself without realising. The singing was adequate rather than alluring. It was when the chorus (numerous girls) entered, that colour and the flair as well as the seediness of Pigalle and Montmartre came alive. And my, how well the small chorus sang. One girls' semi-chorus later on was ravishing. And when the ensemble started interacting with the soloists, the onstage musicality acquired a vivid power and vital impact all of its own.
Oddly, amid all Offenbach's and his librettists' mayhem – one singer (how timely her burst into prominence) took the role by the horns. This was Pauline. Rebekah Lally, a Warwick University first year and former member of the National Youth Choir (it showed) produced the kind of voice one would more likely encounter at the Royal College, Academy or Guildhall. Her timbre was alluring, her stage assurance – remarkable and comic for a mere maid – utterly secure, and she was, for me, a perfect hit. We only hear her in two main sequences, and my goodness, she made a difference. The miking, incidentally, would have been quite unnecessary for her. Luckily, to their credit, the technical team kept it to a minimum, and made some smart, intelligent tweakings and adjustments in several places.
But she was not alone. The coloratura – little snatches here, a couple of fuller sequences – came from, if I am right, Naomi Awre's Gabrielle; this was the part that perhaps came closest to Strauss's Die Fledermaus (1874, and also based on a Meilhac and Halévy stagework). One of the company's veterans, she can certainly soar, but it is always done with style, rising effortlessly above the crowd, as impressive in the ensemble bits as in her two or three pretty scintillating late explosions of solo. I liked Niamh Murphy's Metella: she has a limited role, but even in this context she had dramatic presence, and brought a kind of style others perhaps missed.
Prosper, cast as a soprano not a baritone (Ruth Pugh), a bit hesitant initially, though not for long (a technical adjustment resolved this), came really good in one late contribution. Reuben Wilmshurst brought some of the most entertaining comedy as Frick, the dotty bootmaker. Edward Daly, a New London Children's Choir and Chapel Royal alumnus, had no trouble in making a good fist of the curious Brazilian – the voice is good, perhaps a bit forced: the role is more clumsily inserted than Escamillo in Carmen.
The voice that captured my attention, however, only added in late, was University engineer George Booth as the (latterly) ubiquitous manservant, Urbain. I detected something interesting, perhaps significant, on the quite gentle bass line of one semi-chorus (all the girls, incidentally, have specific names and nominal roles: might more have been made of that?) It is rather as in a modern musical: something Warwick also excels at, with a separate company and repertoire, but sharing some of the singers). Booth, ex-Edinburgh Academy and a member of the CBSO chorus, some six-foot-six tall, towering over the rest yet fast establishing himself, unveiled a voice and a tone that felt worth treasuring. Like Pauline and Gabrielle, he brought an extra something of quality: quite a lot, in fact. Provided well cast, he could be an asset to any company.
Director Aphra Hiscock had the full measure of the piece. There was some very good blocking (not all). She managed the moves with remarkable dexterity. This was well defined: something always seemed to be afoot, as it must be: from the opening banter between Sterland's Bobinet (whose voice blossomed with the pomp of his assumed military role) and Cooper's elastic-bodied, bandy-legged and knock-kneed, effervescent bespectacled, just slightly repetitious Gardefeu, Hiscock seemed totally – well, virtually – in control. Often amateur choruses are left to just jig around. Not here. This medley of subtle directorial touches didn't always clarify; but it certainly entertained.
With bizarre changes of role, pretty minimalist set, and a measure of switched costumes (the 'pretend' guests' outfits were only sporadically amusing, though a handful were), it was sometimes tricky to be sure what precisely was going on. Which is, surely, the very point of a host of enduring hits of opéra bouffe: a hopeless but lovable shambles. In that case, Opera Warwick captured La vie Parisienne to a 'T'.
Roderic Dunnett