United Kingdom 2018-19 Orchestral Concert – Stravinsky, Rachmaninoff, and Tchaikovsky: Anita Rachvelishvili (mezzo-soprano), Orchestra of the Royal Opera House / Sir Antonio Pappano (conductor), Royal Opera House, Covent Garden, London, 8.2.2019. (JPr)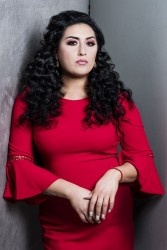 Stravinsky – Feu d'artifice, Op.4
Rachmaninoff – 'Christ is risen', Op.26 No.6; 'All things depart', Op.26; No.15; 'So dread a fate I'll ne'er believe', Op.34 No.7; 'As fair as day in blaze of noon', Op.14 No.9; 'Midsummer nights', Op.14 No.5; 'When yesterday we met', Op.26 No.13; 'Do not sing for me, fair maiden, those sad Georgian songs' Op.4 No.4
Encores: 'How fair this spot', Op.21 No.7; 'Vocalise' Op.34 No.14
Tchaikovsky – Suite No.3 in G major, Op.55
The Orchestra of the Royal Opera House took to the stage for its annual concert that this year was an all-Russian programme. It included some songs by Rachmaninoff, a composer whose music Sir Antonio Pappano – their music director and conductor for the evening – admitted is not otherwise heard at Covent Garden. Pappano has already held his position for 17 years and his contract has recently been extended through 2022/23 with a year's sabbatical for the 2020/21 season. The orchestra showed a desire for making great music and setting a very high standard which could only result from their long association together with Pappano.
There was undoubtedly evidence that this was a gala occasion because it had attracted an audience that was considerably more diverse than is usually found at many Covent Garden performances. However with a programme routinely no different to something you would hear at either the Barbican or the Southbank, it was a showy if rather lowkey affair.
The orchestra began with Stravinsky's blink-and-you'd-miss-it explosively short orchestral fantasy Feu d'artifice (Fireworks), the composer's wedding present to the daughter of his musical mentor Rimsky-Korsakov. (Pappano spoke about how Rimsky-Korsakov influenced in some way all we would be hearing during the concert.) It has long been the most popular of Stravinsky's pre-The Firebird works and with its colourful writing and off-beat accents there were signs of things to come in his Firebird, Petrushka, and Rite of Spring for Serge Diaghilev's Ballets Russes. Stravinsky got the commission for The Firebird in part because Diaghilev was impressed by the orchestration of Feu d'artifice. Pappano and the ROH Orchestra gave it a suitably rampant and luminous performance, even if they sounded rather duller – here and elsewhere – in the Barbican Hall-like wooden concert setting than they do from the pit.
Rachmaninoff left us three underperformed operas but much other music including all his songs composed between 1890 and 1916 prior to his emigration to the West. Through their range of mood and colour they are redolent of his superb pianism and possibly volatile emotional temperament. Many we heard on this occasion reflected Rachmaninoff at his most mournfully romantic; there was often a deep sense of regret and farewell and they were permeated with the spirit of his homeland. Leaving Russia severed this connection and he never wrote another song.
The songs were in arrangements by Vladimir Jurowski (the grandfather of the LPO's Vladimir) and Zoltán Kocsis and they showcase the soloist though their honesty and, to be truthful, plainness. Anita Rachvelishvili, one of the most exciting young singers of her generation, seemed to have the ideal voice for this repertoire with an ability to exhibit heightened fervour (such as for her impassioned opener 'Christ is risen') or pare it down to display a fluid legato and refined gracefulness (as in her second encore, the famous wordless 'Vocalise'). All credit to Pappano for his sensitive accompaniment and never putting Rachvelishvili under pressure so that the beauty of her interpretations could shine through. She has an incredible mezzo range and clearly her upper reaches suggest that one of the world's go-to Carmens and Amnerises will be able to explore any number of dramatic soprano roles in future years should she wish to. For a Georgian singer being able to perform 'Do not sing for me, fair maiden, those sad Georgian songs' (Op.4 No.4) undoubtedly meant a great deal to her and the depth of feeling Rachvelishvili brought to her Rachmaninoff songs was at its peak here.
Tchaikovsky's Third Suite was given a non-Russian sounding performance – at least to my ears – though nonetheless the virtuosic ROH Orchestra made the music their own; taking to what is an unfamiliar work with evident commitment and enthusiasm. It was inspired in part by Tchaikovsky's infatuation with his 13-year-old nephew Vladimir 'Bob' Davydov and the opening Élégie was well-shaped without sounding fussy and the phrasing was totally idiomatic. The Valse mélancolique had an appropriately muted rhythmic lilt and this led to a dazzling account of the Scherzo, taken at a tightly controlled fleet-footed Presto, yet with no feeling of breathlessness. The Theme and Variations can rarely have sounded  so appealing in their breadth of ideas. Concert master Sergey Levitin especially excelled with his solo in Variation Nine, but the playing throughout was immaculate from all concerned. Pappano ideally balanced all the balletic and dramatic elements of the variations before – with brass blaring – he jubilantly brought the work to a rousing conclusion.
Jim Pritchard
For more about what is on at the Royal Opera House click here.