A statement from the London Symphony Orchestra about André Previn (1929-2019)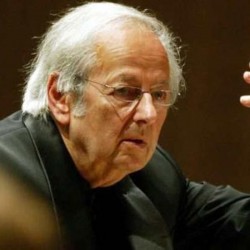 The London Symphony Orchestra is deeply saddened to hear of the death of its Conductor Emeritus André Previn. His relationship with the LSO spanned over 50 years, with his appointment as Principal Conductor in 1968 marking the start of a new era for the Orchestra. Under his leadership, the LSO performed to large audiences in the concert hall and on television, through André Previn's Music Night, the show that turned Previn into a star and the LSO into a household name. He introduced new repertoire to the Orchestra, and many of the recordings made together remain definitive versions today.
André Previn stepped down as Principal Conductor in 1979 after eleven years – the longest term at the time – becoming Conductor Laureate in 1992 and Conductor Emeritus in 2016. As a pianist, conductor and composer, working in jazz, classical and film music, there was not a single area of music in which he did not excel. He will be deeply missed by everyone at the LSO and remembered with great affection.
Kathryn McDowell, Managing Director of the LSO said, 'André Previn is a hugely important part of the LSO story, long before LSO Discovery was established André Previn was reaching out to new audiences far and wide through television. A particular highlight for those of us lucky to be in the audience or listening on BBC Radio 3 in June 2015 was his glorious performance of Rachmaninov No.2 his final concert with us.'  [For Alan Sanders's review for Seen and Heard click here.]
Gareth Davies, Chairman of the LSO: 'Like the majority of players in the present-day LSO, André's time as Principal Conductor had ended before I'd begun, but it was the stuff of legend and I was fortunate enough to be able to perform with him several times over the last twenty years. I will never forget hearing the 1970s recording of Previn conducting the LSO in Rachmaninov's 2nd Symphony when I was about 15. It had me hooked. The sound, the phrasing, the passion. It changed the way I thought about orchestral music. When I got to play it a few years ago with André conducting, it was really a dream come true.  André was one of a kind and a real friend to the LSO. We will all miss him.'
Andrew Marriner, principal clarinettist LSO and life-long friend: 'André's music making thrilled me long before I was lucky enough to play with him: but when I did, it was the extraordinary sound he conjured from an orchestra, unmistakably his own, that dazzled. In Strauss, Walton, Rachmaninov and so much more, he drew the players into a deeply moving collaboration. His touch on the piano in Mozart concertos and in chamber music was divine, his compositions fabulously crafted. Never one to suffer fools, his wicked sense of humour could be sharp, always hilarious.'
André Previn's Biography
André Previn's early musical career took place in Hollywood. Growing up in Los Angeles – after leaving Nazi Germany with his parents in 1939 – he found work in the Hollywood studio system, arranging and composing for films, and winning four Oscars for his work. Alongside this, he worked as a jazz pianist, touring and recording with some of the greatest names of the 1950s. During military service in the early 1950s, he met and took conducting lessons with Pierre Monteux, who would himself become LSO Principal Conductor a few years later.
Previn first conducted the LSO in 1965 for a recording for RCA, and became Principal Conductor three years later, after a tenure as Music Director of the Houston Symphony Orchestra. His wit, enthusiasm and the ease with which he moved within the broader entertainment industry brought a new energy, and he introduced the Orchestra to a broad repertoire, much of which was new to them, most notably his passion for 20th-century English music.
For many, Previn's era at the LSO is defined by his broadcast appearances with the Orchestra, chiefly on André Previn's Music Night, which ran weekly in a prime-time slot on Saturday evenings during the early- to mid-1970s. More people watched the LSO on Music Night in one week than in 65 years of concerts, and Previn's appearance on the 1971 Morecambe and Wise Christmas Special is still among the most popular moments of British TV comedy history.
Previn's extensive discography, which runs to many thousands of entries, includes recordings still held up as the standard today, including the 1966 recording of Walton's First Symphony – only his third appearance with the LSO – and Messiaen's Turangalîla-Symphonie, recorded in 1977.
Following his tenure as LSO's Principal Conductor in 1979 Previn concentrated on his work with the Pittsburgh Symphony Orchestra. He later also held positions with the Royal Philharmonic Orchestra and the Los Angeles Philharmonic. In recognition of his work with the LSO, he was invited to become Conductor Laureate in 1993, a position he held until 2016, after which he took up the newly created post of Conductor Emeritus. Throughout these years, Previn regularly appeared with the Orchestra.
He continued composing throughout his long career, and many of his works were given UK or European premieres by the LSO, including: the Cello Concerto (Douglas Cummings) in 1970; the Violin Sonata (Alexander Barantschik) in 1998; Diversions in 2000; the Violin Concerto 'Anne-Sophie' (Anne-Sophie Mutter) in 2002; the opera A Streetcar Named Desire in 2003; the Double Concerto for Violin, Contrabass and Orchestra (Anne-Sophie Mutter & Roman Patkolo) in 2008; and the Concerto for Violin, Viola and Orchestra (Anne-Sophie Mutter & Yuri Bashmet) in 2012.