United States George London Foundation Awards Competition Finals – Various composers: Soloists, David Holkeboer (piano), The Morgan Museum & Library, New York, 22.2.2019. (RP)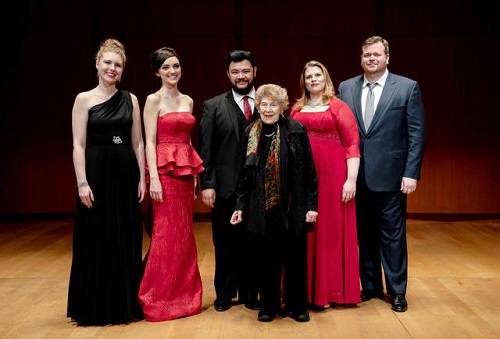 'I know I need not worry about the future of opera'. With these words, Nora London, the guiding force behind The George London Foundation for Singers, greeted the soloists who had just performed in the final round of its 48th annual competition. The sixteen finalists had all done splendidly, and each would receive a prize, as the Foundation was in the position to award five George London Awards of $10,000 each and 11 Encouragement Awards of $1,000 each.
Established by the late bass-baritone George London, the Foundation supports professional opera singers early in their careers, a frequently challenging time for them financially. Since 1971, the competition has given some 300 awards and more than $2 million to an outstanding roster of young American and Canadian singers who have gone on to international stardom. The list of past winners includes Christine Brewer, Joyce DiDonato, Renée Fleming, Christine Goerke, Catherine Malfitano, James Morris, Matthew Polenzani, Sondra Radvanovsky, Neil Shicoff and Dawn Upshaw.
2019 was an unusual year in that the competition between the tenors was just as fierce as among the sopranos. Two were awarded top prizes, Charles Sy (27) and Kyle van Schoonhoven (30). Sy displayed his formidable technique and consummate musical taste in 'Ich baue ganz' from Mozart's Die Entführung aus dem Serail. He has a classic lyric tenor that hearkens back to an earlier era; it would seem that he had been weaned on Richard Tauber and Fritz Wunderlich recordings.
Wagnerians' hearts fluttered, not once but twice, during the second half of the finals. Rebecca Pedersen (27) poured out 'Dich teure Halle' from Wagner's Tannhäuser with her luminous, soaring soprano. Van Schoonhoven, no stranger to the stage of the Morgan Library, was the last to sing. His voice effortlessly filled the hall with a perfectly scaled and passionately sung 'Mein lieber Schwan' from Wagner's Lohengrin, all the more intense for the restraint with which he sang. Both were recipients of top prizes.
The two mezzo-sopranos who received George London Awards have voices from different ends of the spectrum. Samantha Gossard (30) has a lyric voice of great clarity and expressiveness. A stylish singer, she imbued 'Connais-tu le pays' from Thomas' Mignon with sincerity and longing. Carolyn Sproule (30) has a voice of equal clarity, but it is cut from more dramatic cloth, which she displayed in 'Deh! proteggimi o Dio' from Bellini's Norma.  From the first notes she sang, Sproule immediately gave voice to Aldagisia's desperation over breaking her vows.
David Holkeboer, a collaborative pianist who has performed with many well-known artists, not only played well, but his efficiency and professionalism were essential in keeping the proceedings moving. The judges were soprano Harolyn Blackwell, tenor George Shirley, John Hauser, who serves as the Artistic Director of the Foundation, and Mrs. London.
There was no second-guessing their choices, but five of the singers are my watch list. A brief comment on each in descending age order: Matthew Swensen (26), already engaged by Opera Frankfurt, sang 'Ecco ridente in cielo' from Rossini's Il barbiere di Siviglia with ease, beautiful sound and impeccable musicianship. The allure of Vartan Gabrielian's dark, sparkling bass-baritone is heightened by his dashing appearance. Gabrielian (25) performed Ralph's drinking song, 'Quand la flamme de l'amour', from Bizet's La jolie fille de Perth with panache. As he relaxed, his lower range expanded in depth and richness.
The three youngest singers displayed exceptional talents. Polixeni Tsiouvaras (23) has a fascinating mezzo-soprano with a truly distinctive sound. She gets under the skin of an aria, acutely capturing the dramatic urgency in 'Se Romeo t'uccise un figlio' from Bellini's I Capuleti e i Montecchi. Tenor Joseph Tancredi (21) has a glorious lyric tenor and melted hearts with 'Dein ist mein ganzes Herz' from Lehár's Das Land des Lächelns. Finally, soprano Olivia Smith (20) instantly summoned the wonder of young love and the mysteries of nature in 'Deh vieni non tardar' from Mozart's Le nozze di Figaro. She has a unique gift, and her singing was truly magical.
Rick Perdian