United States Fiddler on the Roof (Music by Jerry Bock, Book by Joseph Stein, Lyrics by Sheldon Harnick): The National Yiddish Theatre Folksbiene / Zalmen Mlotek (conductor), Stage 42, New York, 20.2.2019. (RP)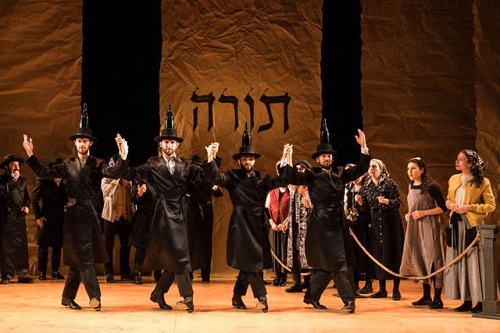 Cast Includes:
Golde – Jennifer Babiak
Sheyndl – Joanne Borts
Pertshik – Michael Einav
Bobe Tsatyl – Lisa Fishman
Avrom – Kirk Geritano
Beylke – Samantha Hahn
Yente – Jackie Hoffman
Fyedke – Cameron Johnso
Motl Kamzoyl – Ben Liebert
Hodl – Stephanie Lynne Mason
Sasha – Evan Mayer
Khave – Rosie Jo Neddy
Shprintze – Raquel Nobile
Yosl – Nick Raynor
Leyzer-Volf – Bruce Sabath
Der Rov – Adam B. Shapiro
Tevye – Steven Skybell
Frume-Sore – Jodi Snyder
Mendl – James Monroe Števko
Der Fidler – Lauren Jeanne Thomas
Der Gradavoy – Bobby Underwood
Nokhum/Mordkhe – Mikhl Yashinsky
Tsaytl – Rachel Zatcoff
Production:
Director – Joel Grey
Choreographer – Jerome Robbins
Musical Staging and New Choreography – Staś Kmieć
Sets – Beowulf Boritt
Costumes – Ann Hould-Ward
Sound – Dan Moses Schreier
Lighting – Peter Kaczorowski
Wigs and Hair – Tom Watson
Why tinker with success? The original Broadway production of Fiddler on the Roof was the first musical theatre run in history to surpass 3000 performances, won nine Tony Awards and has been revived on Broadway five times. The 1971 film adaptation met with critical acclaim and garnered three Oscars. There are about 500 amateur productions a year in the US alone. Forty-five years on, Fiddler on the Roof would seem to be humming along just fine as is.
Yet someone came up with the bright idea to present it in Yiddish. Flying in the face of perceived wisdom in this era of short attention spans, not a single number was cut (which amounts to over three hours in the theater). And yet, it's a hit. The National Yiddish Theatre Folksbiene's production, a sell-out last year at the Museum for Jewish Heritage, is now on Broadway.
What does Yiddish bring to the equation? One thing, certainly, is authenticity. The Jews of Anatevka speak in Yiddish, the Russians communicate in their own language and, on the rare occasions when they address each other, they resort to German. (The text is projected in both English and Russian.) Language emphasizes the religious and cultural fault lines in the town and signifies the insularity of its Jewish community. Most importantly, Yiddish is the language in which Tevye muses and does battle with himself, as well as addresses his God. It is the language of love, faith and, yes, tradition, for the Jews of Anatevka.
It also subtly lifts Fiddler on the Roof above the razzamatazz associated with most Broadway musicals nowadays. Improbably, perhaps, in that Broadway legend Joel Grey directed the production, and Jerome Robbin's choreography, albeit updated by Staś Kmieć, is intact with all its edgy, angular brilliance. Don Walker's orchestrations play a role too in this regard, as does conductor Zalmen Mlotek, who repeatedly whipped the orchestra into whirlwinds of klezmer-infused frenzy. The Yiddish, nonetheless, meant less schtick and more mettle, with perhaps one exception, the wonderful Jackie Hoffman as the matchmaker Yente.
The set could not be simpler. Long strips of crumpled, brown wrapping paper hang from above. The one in the center has the Hebrew letters – תורה (Torah) – on it. When the Russians interrupt the wedding celebration and create havoc, it is torn asunder. For the second half, it has been sewn together with heavy black stitches. The stage elements are spare and simple: a wooden cart, a few tables, chairs. The Jews' most treasured possessions – Torah scrolls, candle sticks, wine glasses and goblets, as well as Motl Kamzoyl's shiny Singer sewing machine – are the real thing. They take these treasures, and little else, with them when departing Anatevka forever.
Steven Skybell discovered the show as a child, performing in a local production at the age of 11. His first Tevye came at 17, and again when he was a student at the Yale School of Drama; in 2015, Skybell was cast as Leyzer-Volf in a Broadway revival. By chance, he picked up Yiddish along the way. His Tevye is lean and grizzled, as well as earthy and virile. Yiddish trips off his tongue beautifully, but it is with his eyes that he communicates most effectively. They sparkle in rage, triumph or joy, but softly glisten when his heart is breaking.
Jennifer Babiak's Golde is a pretty woman, even after 25 years of marriage and giving birth to five daughters. She also sings beautifully. No nonsense, of course, and as wise as her husband, Babiak is the perfect foil for Skybell as she ponders how to respond to his question, 'Do you love me?' It's a thought that never crossed his mind until their three eldest daughters challenged tradition. They are words that Tevye can barely utter.
The daughters – Rachel Zatcoff as Tsaytl, Stephanie Lynne Mason as Hodl and Rosie Jo Neddy as Khave – are spunky and endearing as they forge ahead guided by love. Michael Einav was the brash, insolent idealist Pertshik, He senses that empires are tottering and there are opportunities to be seized, including the love of a spirited, beautiful girl. In a cast where strong singing was the norm, Cameron Johnson as Fyedke stood out. It was Ben Liebert as the tailor Motl Kamzoyl, however, who won your heart, as he did that of his childhood sweetheart, Tsatyl.
Most people around me teared up one or twice during the final scenes. Their sighs were audible. For me, the breaking point came when Tevye refused to speak to Khave and told his family to consider her dead for marrying a Russian. The emotional rawness of the scene was overpowering. Tevye could not yield: neither love nor tradition played a role, it was a matter of faith.
Joel Grey's deft directorial touch never faltered with this mostly young cast. Staś Kmieć wove movement and dances seamlessly into the fabric of the drama, and the dancers executed their moves faultlessly. The same can be said of many a Fiddler on the Roof, but don't miss the chance to experience it in Yiddish, let alone Steven Skybell as Tevye in a performance not to be missed.
Rick Perdian
For more information on the Yiddish Fiddler on the Roof, click here.