United Kingdom Mozart, The Magic Flute: Soloists, Chorus and Orchestra of Welsh National Opera / Damian Iorio (conductor), Wales Millennium Centre, Cardiff, 15.2.2019. (GPu)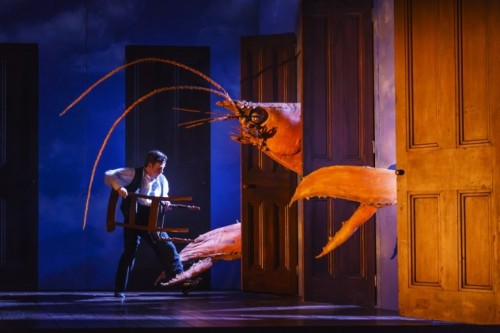 Production:
Director – Dominic Cooke
Revival director – Caroline Chaney
Set designer – Julian Crouch
Costume designer – Kevin Pollard
Lighting designer –  Chris Davey
Original Movement director – Sue Lefton
Cast:
Tamino – Ben Johnson
Pamina – Anita Watson
Papageno – Mark Stone
Queen of the Night – Anna Siminska
Sarastro – James Platt
Monostatos – Howard Kirk
Papagena – Claire Hampton
First Lady – Jennifer Davies
Second Lady – Kezia Bienek
Third Lady – Emma Carrington
First Priest – Simon Crosby Buttle
Second Priest / Speaker – Phillip Rhodes
I saw this Dominic Cooke production of The Magic Flute (sung in Jeremy Sams witty English translation) when it was premiered by Welsh National Opera in 2005. I have seen it, I think, on two further occasions before this 2019 revival. Though my attitude towards the production has mellowed a little over the years, there is still a good deal about it which I find irritating or frustrating. It is, of course, a difficult opera to 'get right', not least because of its mixture of the comic and the sublime. A successful production has to find a theatrical language in which the two idioms can co-exist without, as it were, 'contaminating' one another. Cooke's decision to clothe most of Sarastro's followers in appallingly bright orange suits (and bowler hats) and then to have some of them sing while poking their bowler-hatted heads up through trap doors in the stage, during some solemn moments in the second act, provoked, predictably enough, some giggling in  the audience. It is puzzling that Cooke didn't anticipate such a response, didn't recognize that this strange stage picture would create a distraction and, presumably unintentionally, go some way towards subverting a particularly beautiful passage.
The set doesn't work well. It consists of three sides of  a large box-like hall, each wall having three doors (the number three does, indeed, run repeatedly though the opera, from the three chords which open the overture, through the Three Ladies, the Three Boys and so on). The libretto, it is worth remembering, specifies several changes of scene – here every scene takes place within the same set (though the back wall is sometimes raised) – with quite a bit of the action specified as taking place outdoors. The opening stage directions (I quote from an anonymous English translation at www.murashev.com) read thus: 'The scene is a rocky area, here and there overgrown with trees, on both sides are smaller hills; there is also a round temple'. Here the curtain opened on the aforementioned anonymous hall. I suppose it might have been surprising to find therein a 'serpent' large enough to chase a man, but it was hardly an improvement to find Tamino defending himself against what appeared to be (insofar as we could see it) a giant lobster poking its claws, from offstage, though two of the doors. In the libretto the Queen of the Night's first scene has her entering 'from beneath the mountains' and Monostatos makes his first assault on Pamina within 'a splendid chamber in the Egyptian style'. Here both scenes took place in the same confining hall – of which one soon grows rather weary.
But rather that continuing to enumerate such problems, let me say, more positively, that if my memories of my previous experiences of this production can be trusted, this was, vocally speaking, the best. It had a tremendous Queen of the Night in the person of Anna Siminska, a Polish soprano who, according to her brief biography in the WNO programme first sang this role in 2015 at the Opera Bastille. She has gone on since then to sing the 'Queen of the Night around the world, for companies including Vienna State Opera, Royal Opera House, Hamburg State Opera, Komischer Oper Berlin, Washington National Opera,  Berlin State Opera and Dresden Semperoper'. The list might be longer – she has also sung the role for Oper Frankfurt and Tokyo Opera (and doubtless for other companies I don't know about). It was easy to understand why she has been in such demand, as she produced her high notes with impressive clarity and precision, while moulding her coloratura lines with considerable panache. Anita Watson was a delightful Pamina, singing quite beautifully and possessed of a strong and attractive stage presence. Her Tamino (Ben Johnson) has an attractive lyrical tenor but doesn't quite convince in his characterization of the Prince, the romantic lover and the aspirant wisdom didn't quite cohere into a plausible unity. Still, he makes a good counterweight to the Papageno of Mark Stone (who seems equally adept in sung and spoken passages) – the relationship between these two characters, thrown together in the 'quest', always strikes me as one of the most important in the opera. Papageno, whose wishes (apart from survival) are circumscribed by wine, women and birdsong, alongside Tamino – immediately struck full of idealizing love at the sight of Pamina's portrait and, it seems, inspired by Sarastro's promises of truth and wisdom – seem, taken together, a perfect statement of the range of human feelings and attitudes, each the complementary opposite of the other. The relationship worked well here, each at times exasperated by the other but generally tolerant of one another.
Claire Hampton's Papagena was an engaging stage presence and was very decently sung, though I found her forced Northern accent, in the spoken dialogue, unattractively false (I write as an exiled Yorkshireman). James Platt's Sarastro commanded the stage and was able to reach the profoundly deep notes which mark him out as the antithesis of the Queen of the Night with her high-end acrobatics. But the line of Mozart's music did sometimes falter as he reached these notes. The Queen's Three Ladies – Jennifer Davies, Kezia Bienek and Emma Carrington – were vocally sure and pertly acted (dressed as chamber maids). The lovely music of the Three Boys (sung on this occasion by two boys and a girl) was as beautiful as it should be, despite one or two momentary uncertainties of intonation. At the opposite pole, morally speaking, Howard Kirk was a suitably, and intentionally, crude Monostatos.
The conducting of Damian Iorio (who was new to me) I found a little characterless. Some few moments of ragged ensemble apart, it was a 'correct' performance – all the notes were there (and in the right order!), but there were times when Mozart's music didn't quite have the fullness of life and humanity one hopes for in this opera.
So, a somewhat limited, and limiting, production which, fortunately,  didn't inhibit some very fine singing.
Glyn Pursglove