United States Sibelius, Salonen, Bartók, López, Stravinsky: Truls Mørk (cello), Ana-María Martinez (soprano), UC Berkeley Chamber Chorus (Dr. Wei Cheng, music director), Volti (Robert Geary, artistic director), Philharmonia Orchestra / Esa-Pekka Salonen (conductor), presented by Cal Performances, Zellerbach Hall, University of California, Berkeley. 15 & 17.3.2019. (HS)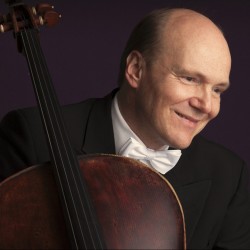 15 March
Sibelius — Oceanides
Salonen — Cello Concerto
Bartók — Concerto for Orchestra
17 March
Jimmy López — Dreamers, Oratorio for soprano, mixed chorus and orchestra (world premiere)
Stravinsky — The Firebird (complete)
Presented by Cal Performances, Esa-Pekka Salonen's weekend visit with the Philharmonia Orchestra was part of a tour planned long ago. Even so, San Francisco audiences no doubt saw it as an extended tease of what Salonen's tenure portends when he takes over the San Francisco Symphony next year.
The four-day weekend in the Bay Area was the longest stay for the London-based orchestra, on a tour that included stops in New York and smaller towns in southern California (interestingly, but not Los Angeles, where Salonen led the L.A. Philharmonic from 1989 to 2009). Some moments provided a glimpse of what Salonen's long Philharmonia tenure looks like after 10 years as the orchestra's principal conductor and artistic advisor — Bartók's Concerto for Orchestra, Stravinsky's Firebird, and a puzzling new politically-charged oratorio for outsized forces.
This ensemble combines muscularity, richness, power, and flexibility. The level of musicianship is high. Technically it feels like the orchestra can play anything thrown at it. With carefully honed  sound, no flaws were apparent. Demonstrative on the podium, Salonen was given to expressive body language in climaxes — such as in the buildup to the final measures of Firebird — and he likes to punctuate endings with his baton pointing in unexpected directions.
If there is one element of concern it is that the musicians looked bored, or at least unrelentingly serious. They seldom cracked smiles, even when basking in rapturous applause.
On the first evening, Salonen's own Cello Concerto made the biggest impression. It is a stunning work, which the Chicago Symphony premiered in 2017 with Yo-Yo Ma. A sort of of free-association take on cosmology and spirituality, the concerto delivers a dazzling combination of ever-fascinating sounds, powerful emotions, and virtuosity for the soloist.
Truls Mørk was up to the task, emerging from the swirl of overlapping gestures at the beginning to spin out a rapturous melody, with ethereal lines high in the cello's register against Salonen's sometimes angelic passages for the ensemble. The finale boasted jaw-dropping articulation in pedal-to-the-metal passages.
In a program note and talk to the audience, Salonen said he thought of the opening as a sort of chaos out of which a melody emerges, and imagined a particularly beautiful sequence of high-range chords in the second movement as lying in the snow looking up at the stars on a clear wintery night. At the climax of the finale, he pictured the cello's highest note as piercing the membrane the ancients thought represented the end of the universe.
He introduced these astronomical allusions while the stage was reset for Mørk, to include electronics, and a set of various-sized bongos and conga drums. (The latter, not normally part of an orchestra's concerto arsenal, set the rhythmic tone in the upbeat finale.) Percussionist Emmanuel Curt used a deft touch to weave the drum gestures into the fabric of complex goings-on, and to add smile-inducing accents to Mørk's unaccompanied lines.
But no, the piece wasn't about bongos. And if Salonen hadn't made a point of it, outer space wouldn't necessarily come to mind. His concerto stands on its own as an abstract expression of disparate sounds coalescing into coherence.
If anything, most fascinating was electronic looping. Introduced in the slow second movement, snippets of musical gestures echo back, only for Mørk to weave in additional layers of harmony or countermelody. Without overdoing the effect, sound designer Ella Wahlström created ravishing textures, a fascinating tangle of melodic strands.
As the finale gained momentum in wave after wave, it finally spun into an apogee of ever-higher cello gestures. As Mørk held the final note, loops from the second movement returned like fireworks in the far distance, morphing into seagull cries. It is a stunning effect, and made an enormously satisfying conclusion.
Sibelius' Oceanides made for a surprisingly placid opener. Its pastel colors and unconvincing evocations of waves and a storm demonstrated why this tone poem is less often performed than some of the composer's others.
In Bartók's Concerto for Orchestra, Salonen tied up all the parts into a neat package. A few highlights: the spacious feel of the opening, with the sonorous cellos and basses stating the kernel of an idea, and the second movement, with pairs of woodwinds bouncing merrily through their duets. He zipped through the finale at a crisp pace. If he missed those extra elements of surprise that come from subtle hesitations or anticipations, the result demonstrated the ensemble's skills.
Heard Sunday afternoon, Dreamers: Oratorio for Soprano, Mixed Chorus, and Orchestra addresses the ongoing immigration crisis, a topic sure to find resonance in Berkeley, one of the most politically liberal locations in America. Peruvian-American Jimmy López, composer of the 2015 opera Bel Canto (based on Ann Patchett's 2001 book), earned his doctorate in music at UC Berkeley in 2012. Nico Cruz, who wrote the libretto, based the lyrics on dozens of interviews with actual 'dreamers', the children of immigrants, whose undocumented innocence has kept them in a sort of limbo. (Recent actions by the U.S. government have put these children at greater risk.)
Though the piece began as a celebration of hope, it ultimately emerged as six sections of seething anger. A history lesson on immigration moves on to delineate the frightening experience of sneaking into the U.S., spotlights a young adult learning to hide in plain sight, and concludes with an accusatory final section that tries to balance a smidgeon of hope with tough reality.
Unfortunately, López's score tells listeners what to feel rather than making them feel it through humanity and beauty. Where is the song that breaks hearts when someone rips a child from her mother? How does a story of Latino immigration sidestep any musical gestures or references from that very culture, instead providing the soloist with jagged melodic lines that can't touch souls? How does music for a line — in Spanish — translated as 'dreams that leap over rivers and mountains' come off as angry instead of hopeful?
Undaunted, soprano Ana María Martinez delivered impressive intensity and accuracy. And there are moments that suggest López is capable of better. The piece opens Martinez singing, a capella, a sustained note of the word 'before', followed by winds, which quietly pick up the note and carry it forward. The writing for chorus revels in overlapping lines and unexpected interjections. A soft chorale that ends on the words 'a dream' creates a rare moment of balm.
The biggest problem with all this was the unrelentingly loud, dissonant palette. López also shares a shortcoming with too many contemporary composers: an unwillingness to give a singer melodies worth singing. Octave skips and declamation underline the understandable anger on display, but nuance is missing.
Stravinsky's Firebird brought the weekend to a rousing finish, with its range of dynamics, timbre, and tone color a needed change from Dreamers. There was a sense of occasion in the opening quiet gestures from the cellos and woodwinds, with Salonen's pace letting things unfold in their own time. This reluctance to push matters early paid off with a thrilling account of the finale, which showed off the ensemble's supple expressivity.
The encore, Ravel's 'Enchanted Garden' (from the Mother Goose Suite), cast a welcome glow over the afternoon.
Harvey Steiman