Switzerland Various: Anja Harteros (soprano), Wolfram Rieger (piano), Opernhaus Zürich, Zurich, 4.3.2019. (RP)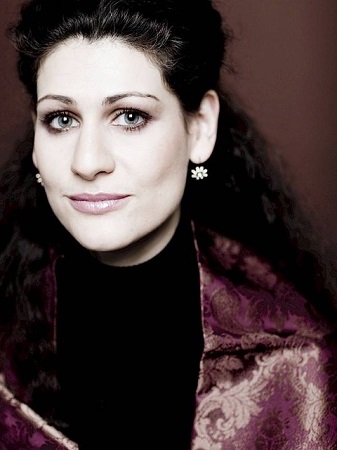 Beethoven – 'An die Hoffnung' Op.32
Schubert – 'Rastlose Liebe' D.138, 'Im Frühling' D.882, 'Der Jüngling an der Quelle' D.300, 'Litanei' D.343
Schumann – 'Stille Tränen' Op.35 No.10, 'Was will die einsame Träne?' Op.25 No.21, 'Ich wandelte unter den Bäumen' Op.24 No.3, 'Der Hidalgo' Op.30 No.3
Brahms – 'Der Strom, der neben mir verrauschte' Op.32 No.4, 'Liebestreu' Op.3 No.1, 'Auf dem Kirchhof' Op.105 No.4, 'Wie rafft' ich mich auf' Op.32 No.1, 'Am Sonntag Morgen' Op.49 No.1, 'Der Gang zum Liebchen' Op.48 No.1, 'Meine Liebe ist Grün' Op.63 No.5
Wolf – 'Gesang Weylas', 'Verschwiegene Liebe', 'Verborgenheit', 'Storchenbotschaft', 'Er ist's'
This recital was my first opportunity to hear Anja Harteros live. Regarded as one of the most compelling opera singers of the day, she is equally captivating in the realm of Lieder. Unlike many other eminent proponents of song, however, the size and quality of Harteros's voice make her one of today's most sought-after sopranos in Puccini, Verdi, Strauss and Wagner roles. Yet that was deployed sparingly in a program devoted entirely to German song.
Her rich, vibrant sound was heard in the opening phrases of Schubert's 'Rastlose Liebe', Schumann's 'Ich wandelte unter den Bäumen' and Brahms's  'Auf dem Kirchhof'. It was generously lavished on the Wolf songs, from the intense emotions of 'Verborgenheit' to the humor of 'Storchenbotschaft' and the rapture that greeted the first sweet breezes of spring in 'Er ist's'. Harteros sings as an artist paints: her voice a palette from which she creates beguiling hues and shadings.
Harteros's inclination to express emotion in tones devoid of vibrato, at times practically white and parched, came as the biggest surprise. She left her voice bloom often enough to leave no doubt that vocal sheen and beauty were readily and easily summoned, but more than any singer of comparable vocal endowments I have ever heard, her sound was subservient to the drama of each individual song.
It was not only through her voice that Harteros delineated the text and established mood, but also through her musicianship. There were long phrases carried effortlessly, as in the final verse of Schubert's 'Im Frühling'. Judicious use of staccato emphasized textural nuances. Lilt and lightness in a phrase could suddenly turn the mood coquettish, as in Brahms's 'Der Gang zum Liebchen'. A brief flutter in her voice on a single word in his 'Meine Liebe ist Grün' evoked the scent of lilacs.
The judicious use of movement likewise underscored the dramatic impulses of the texts. In Schubert's 'Litanei', Harteros's physical poise was mirrored in the stillness of her voice. Her long fingers fluttered like a Spanish fan in Schumann's 'Der Hidalgo', while a few measures later she strummed an imaginary zither. Harteros shuddered with despair when an ominous chord sounded during the postlude of Brahms's 'Wie rafft' ich mich auf': a movement so fleeting, that if your eyes had wandered for a second, it would have been missed.
The Wolf songs not only summoned up some of most dramatic singing, but also the widest range of gestures. 'Storchenbotschaft' saw her making the sign of the cross as protection from the supernatural and later flapping her arms like the wings of a stork. In 'Er ist's', just as her voice radiated joy, so her arms were raised in exultation. The movements were quickly executed and rare enough that each one was a surprise. Mostly she stood still, the emotions portrayed only in her voice and on her mask-like face.
The simple dress she wore – flowing black velvet with a satin cowl neck – also metamorphosed depending on the mood of a song. When Harteros sang of love or despair, it was the robes of a maiden lifted straight out of the Middle Ages. In a different pose, it could suggest sensuality and glamour. When Harteros sang of lost love or hope, it became a shroud.
Wolfram Rieger is one of the masters of his craft. His involvement with the drama and text was as evident of that of Harteros: he sang to himself, breathed with her, and every emotion was telegraphed on his face and in his flashing eyes. At times the sounds were startling, such as the intensity of the chromaticism in 'Storchenbotschaft' or the softest of pianissimos in Schumann's 'Was will die einsame Träne?' Fire emanated from the keys in 'Rastlose Liebe'. The arpeggios that accompany the singer in Wolf's 'Gesang Weylas' hardly sounded as if they were coming from a piano.
For encores Harteros turned to Richard Strauss. When she sang of raising the goblet of freedom that comes with true love in 'Zueignung', each word was articulated with jewel-like precision in a voice of utmost clarity. In contrast, the final words of thanks rang out full-voiced but with restraint, the gratitude she expressed being too profound an emotion to be conveyed by a mere outpouring of beautiful sound.
'Morgen' followed, with each note of the exquisite prelude building to the moment when the voice entered. Harteros sang with her head bowed and her eyes closed. It's a pose she maintained for the postlude and for some time after the final note had sounded, the silence and absolute stillness that she commanded more revealing than the applause that followed.
Rick Perdian