Germany Puccini, La fanciulla del West: Chorus of the Bayerische Staatsoper and Bayerisches Staatsorchester / James Gaffigan (conductor), Nationaltheater, Munich, 26.3.2019. (JMI)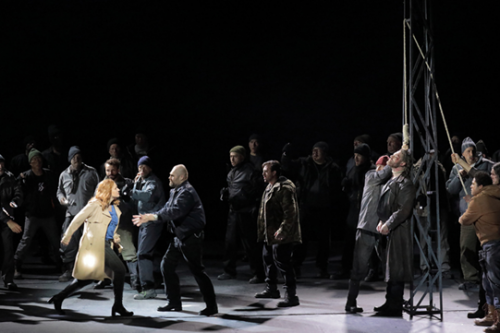 Production:
Director – Andreas Dresen
Sets – Mathias Fischer-Dieskau
Costumes – Sabine Greunig
Lighting – Michael Bauer
Cast:
Minnie – Anja Kampe
Dick Johnson – Brandon Jovanovich
Jack Rance – John Lundgren
Nick – Kevin Conners
Ashby – Bálint Szabó
Sonora – Tim Kuypers
Trin – Manuel Günther
Sid – Alexander Milev
Bello – Justin Austin
Harry – Galeano Salas
Joe – Freddie De Tomamaso
Happy – Christian Rieger
Larkens – Norman Garrett
Billy – Oleg Davydov
Jake Wallace – Sean Michael Plumb
José Castro – Ogulcan Yilmaz
Wowkle – Noa Beinart
Postman – Ulrich Ress
This trip to Munich offers many attractions: a new production of La fanciulla del West; a Roberto Devereux with which Edita Gruberová will bid farewell to the opera stage; and Parsifal conducted by Kirill Petrenko with a cast led by none other than Nina Stemme and René Pape. Few theaters in the world, if any, can offer such an appealing program.
The new production of La fanciulla del West is by to Andreas Dresen, who has done other operas here, including Arabella which was dominated by a huge staircase. As it happens, this Puccini work – as with other operas of his such as Tosca – does not give modern directors much opportunity to show their creativity or imagination since the libretto makes changes almost unthinkable. On this occasion, Mr. Dresen's originality involves moving the action from the nineteenth to the twentieth century and placing it in a mining town. The Polka is no longer a bar or saloon typical of the Wild West but a canteen where the miners go to relax and enjoy themselves. Nor can there be much originality in the second act which takes place in Minnie's cabin. The size of the cabin here seemed too small, considering that most of the action in Act II occurs inside it. In Act III, a dark and almost empty stage holds a metal tower where the gallows will be placed. The costumes are suited to the setting, and the lighting is good.
The direction is effective – the numerous secondary characters that the opera requires move well on stage – and the plot is ably narrated, notably the interpretation of the opera's protagonist.
James Gaffigan was in charge of the musical direction. I had heard him conducting Don Giovanni in this theater and was not overly impressed, but his reading here was much better, and he gave solid support to the singers. The beginning of the opera was rather worrisome since the volume from the pit was too great, but things moderated and there were no problems going forward. Both the orchestra and the chorus gave strong showings.
Anja Kampe gave life to Minnie, and she once again proved that she is a singing actress of great importance. She really triumphed here, offering a wonderful performance in terms both of singing and acting. There is sometimes a problem in the highest part of her tessitura which can get out of control, but here she seemed more comfortable, and there were no difficulties of that kind.
Dick Johnson (alias the bandit Ramerrez) was played by tenor Brandon Jovanovich who, I confess, has never been a favorite of mine. His voice is ample in the middle, but at its highest the timbre changes color and gets rather narrow, clearly losing quality. However, he still did very well in the Act III aria 'Ch'ella mi creda'.
Sheriff Jack Rance was interpreted by baritone John Lundgren, who gave a convincing interpretation. His voice is nicely suited to the part, although he lacks what has been called italianitá.
The numerous secondary characters were well-covered both vocally and on stage. I would single out Kevin Conners as Nick, the bartender of the Polka, and Tim Kuypers, who made a good Sonora.
José M. Irurzun