United Kingdom Damase, Hindemith, Poulenc: London Winds (Philippa Davies [flute], Gareth Hulse [oboe] Michael Collins [clarinet] Richard Watkins [horn] Sarah Burnett [bassoon]), Catherine Milledge (piano). Dora Stouzker Hall, Royal Welsh College of Music and Drama, Cardiff. 15.3.2019 (GPu)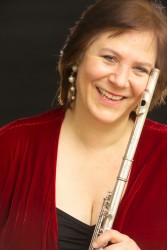 Jean-Michel Damase – Dix-Sept Variations, Op.22
Hindemith – Kleine Kammermusik, Op.24 No.2
Poulenc – Sextet for piano, flute, oboe, clarinet, bassoon and horn, FP 100
The advance publicity for this lunchtime concert told us simply that 'joined by pianist Catherine Milledge, London Winds pair Poulenc's Gallic charm with Hindemith's altogether more satirical sense of humour', from which I deduced that we were to hear Poulenc's sextet for piano and wind quintet and Hindemith's Kleine Kammermusik, for wind quintet. This sounded (purely in terms of time) rather short measure (surely less than 40 minutes in total). Yet, picking up the printed programme on the day of the concert, these were, indeed, the (only) two works listed, the Hindemith first. When the house lights went down and the members of London Winds walked on stage, I assumed that we were, indeed, about to hear the Hindemith Quintet. Without any kind of announcement London Winds began playing and it was immediately obvious that what we were hearing was not Hindemith's piece. After a moment or two I realized that the music was familiar to me or that, at least I had heard it before. I realized (guessed?) fairly soon that this was a a theme and a set of variations by Jean-Michel Damase, the exact title of which eluded me for the moment. The music itself was delightful, full of wit and playfulness, elegance and charm mingled with the occasional moment of impudence. At the close of this work, flautist Philippa Davies told the audience the concert would consist of 'three of the major twentieth-century works for wind quintet, the piece by Damase which they had just played, and works by Hindemith and Poulenc'. A little more care over the production of the printed programme would have been worthwhile – I raise the matter only because, post-concert, a couple of acquaintances told me that they had been puzzled by things and had listened to the first work wondering why it didn't seem to fit the division into five movements of the Hindemith, billed as the first work in the programme.
The 1951 Damase work, his Dix-Sept Variations, starting with a theme of almost childish simplicity and elaborating it in all kinds of imaginative ways, is a real delight. (Checking up later, I found that it seems to be the only work he wrote for wind quintet, which is a shame!) The variations follow one another in bewilderingly vertiginous fashion so that one readily becomes 'lost', but very pleasurably so, in a work which sparkles with harmonic sophistication and rapid alterations of tempo between (and within) variations. Damase's writing constantly foregrounds different solo instruments or different instrumental combinations. I must say, I wish we heard more of his music this side of the channel.
One might say almost the same things about the music of Hindemith, though the situation is better than it once was. Yet the British seem to find it hard to 'love' Hindemith's work; 'Do not analyse  my music, love it!' said Poulenc, and while it would be very hard to imagine Hindemith saying that, I do think we should be learning that there are more than a few things to 'love' in Hindemith (1895-1963), especially amongst his early works. Certainly, London Winds played the Kleine Kammermusik with evident love. The adroitness and understanding with which Hindemith writes for the resources of each instrument and the panache with which he compares and contrasts (as schoolteachers always asked one to do!) their characteristic timbres must surely make this very enjoyable (though not easy!) to play. Viewed in terms of his whole career, Hindemith was, in Norman Lebrecht's words (Companion to 20th Century Music, 1992) a composer who was 'German by ancestry and attitude, who mined the national heritage for musical inspiration'. But in the 1920s Hindemith was widely eclectic in the 'sources' he drew on – he was listening to jazz, Bartók, Stravinsky and Les Six (perhaps Milhaud in particular); he had played in dance hall bands and he was, naturally, familiar with the music of figures such as Strauss and Schoenberg. The first movement of the quintet –  all movements, unsurprisingly, carry markings in German –  which is marked Lustig. Mässig schnell Viertel (Humorous/Merry. Moderately fast quarter notes) –  actually feels almost more Gallic than German, bringing, as it does, the works of some of Les Six to mind. The air of 'happiness' has, as a counterweight, the pseudo-march rhythms in the movement, which are often quite forceful. The contribution of bassoonist Sarah Burnett here (as elsewhere in the concert) was particularly impressive, her rhythmic patterns elegantly insistent, her phrasing perfect. The second movement (Walzer: Durchweg sehr leise [Waltz: very quiet throughout]) feels like a waltz either remembered drunkenly or perhaps danced a little tipsily. The Germanic tradition of the form is problematized by moments of polytonality and, again, by some 'French' touches, at times reminiscent of Milhaud. London Winds respected both the movement's delicacy and its waltz rhythms, while doing something (but not too much!) to subvert both, in part.  The third movement (Ruhig und Einfach [Quiet and Simple]) has something elegiac about it – perhaps remembering the death of the composer's father in the First World War. London Winds seemed to achieve and sustain just about the right tone in this movement. The very brief fourth movement – it takes less than a minute in performance – is, nonetheless a joy, with necessarily brief cadenzas for each instrument in turn, embedded, as it were, in some relatively dissonant ensemble writing. I don't think I have heard a more successful reading of this deceptively simple fourth movement than this one by London Winds. In the final movement the motif of the march returns, though once again it doesn't ask to be taken too seriously, so that the result is exhilarating without being at all militaristic in its implications.
If there any readers who still accept the long-held received opinion (at least in Britain) that Hindemith's music is dry, or even arid – they should seek out a performance of this scintillating quintet; I choose that adjective deliberately, since the work seems to sparkle with a constantly changing light, like the different facets of a diamond.
For the final part of their concert, London Winds were joined by the excellent young pianist Catherine Milledge, now based at the RWCMD and active on the Welsh musical scene, for a performance of Poulenc's Sextet for Piano and Winds – which was drafted in 1932 and revised in 1939. This has, quite rightly, come to be one of the most frequently performed works of Poulenc (1899-1963). Whenever I hear it  – or indeed any of the composer's very best works – I remember words by Poulenc which I first read in Derek Watson's 1994 Wordsworth Dictionary of Musical Quotations: 'You will find sobriety and dolour in French music just as in German or Russian. But the French have a keener sense of proportion. We realize that sombreness and good humour are not mutually exclusive'. That sense that 'sombreness and good humour are not mutually exclusive' permeates much of this fine sextet, not least in its remarkable last movement, in which vivacious and boisterous music is succeeded by something much more intensely reflective, even melancholy ('sombre', might one say?). The first movement of the sextet begins 'noisily' (as if representing the sounds of the hectic Paris streets), before that opening evolves into a stunning passage in which the solo bassoon 'speaks' of being solitary in the city. The movement comes to a close, via some lyrical writing for the piano (played with great sensitivity by Catherine Milledge), in a far more relaxed idiom than the one in which it opened. Clarinet (Michael Collins) and oboe (Gareth Hulse) are especially prominent in the second movement (Divertissement: Andantino), a movement in which the balances of instrumental sonorities, dynamic and textures were well-judged by all six musicians involved (not least Ms. Milledge who is not, of course, a regular member of this ensemble. By being initially exciting and then prompting reflection, Poulenc's closing movement (Finale: Prestissimo) made a very fitting close to a rewarding concert.
I feel sure that the five members of London Winds must have played these three works a good many times. It was much to their credit alongside the certainties that such experience brought to their work, their interpretations in this recital had a delightful freshness too.
Glyn Pursglove