United States Barber, Gershwin, Ravel, Varèse: Augustin Hadelich (violinist), Cincinnati Symphony Orchestra / Louis Langrée (conductor), Music Hall, Cincinnati, OH. 15.3.2019. (RDA)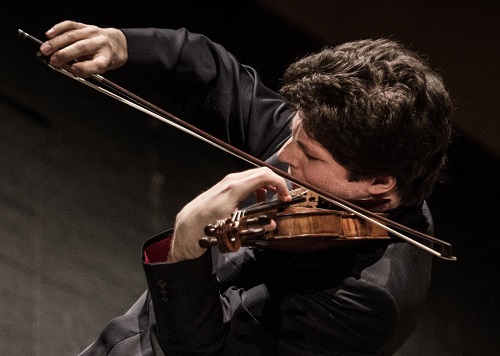 Gershwin – An American in Paris (1928)
Barber – Violin Concerto (1939)
Ravel – Tzigane (1924)
Varèse – Amériques (1926)
For the 15 March concert of the Cincinnati Symphony Orchestra, the focus was the past century. Gershwin's overture to An American in Paris opened the concert in a rousing version given unrestricted energy. Louis Langrée offered intelligence and led the members of the CSO with panache, honoring the original, uncut version first conceived by Gershwin as a stand-alone concert piece. The ballet, the film, and the musical were to come years later, but in this tour de force, the American composer succeeded in finding memorable melodies, giving them room to breathe, and expanding and enriching them with inventive orchestration. Not surprisingly, the Music Hall audience rose to its feet at the end.
Barber's Violin Concerto was given a superb reading by violinist Augustin Hadelich. The opening Allegro had heartfelt intensity, before the violinist moved on to a soulfully executed Andante. The Presto finale was dazzlingly executed, with sobriety and a total absence of stage antics. Completely committed, Hadelich elicited a gorgeous singing tone throughout, over the entire range of his instrument.
After intermission the young violinist returned for Ravel's show-stopping Tzigane, and once more earned a rousing ovation from the Cincinnati audience. This listener wished the concert had ended right there. Unfortunately it did not.
Edgard Varèse's Amériques calls for a massive orchestra that includes a good number of what seems to be every percussion instrument known to man. After its 24 minutes, I am afraid I didn't respond to the composer's grab bag of 20th-century clichés: tone clusters, dodecaphonic tricks of the trade, fleeting quotes of Stravinsky and Mahler, repetitive rhythms following each other in randomly illogical succession all to no avail. It gave an otherwise beautiful concert an ending full of sound and fury and, as the Bard might have described it, signifying nothing.
Rafael de Acha