United Kingdom Holmès, Schumann, Tower, Price: Miriam Batsashvili (piano), BBC National Orchestra of Wales / Valentina Peleggi (conductor). Hoddinott Hall, Cardiff, 8.3.2019. (PCG)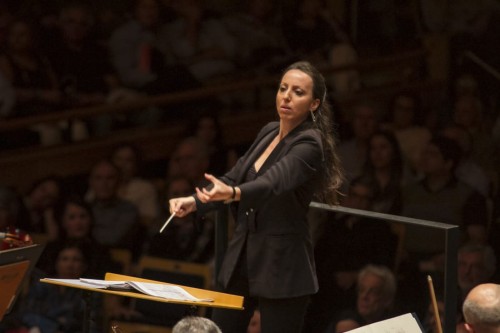 Augusta Holmès – Roland furieux (world première)
Clara Schumann – Piano Concerto in A minor, Op.7
Joan Tower – Fanfare for the Uncommon Woman No.2
Florence Price – Symphony No.3
This concert, staged and broadcast live by the BBC as part of their International Women's Day celebrations, was also part of a recording project by the organisation Forgotten Female Composers. Augusta Holmès (1847-1903) and Clara Schumann (1819-1896) may indeed be largely forgotten today, but they were both major figures in their day. Clara Schumann in particular, as an internationally renowned concert pianist, would certainly have had plenty of opportunity to promote her own music as indefatigably as she did that of her contemporaries (including, of course, her husband Robert).
Augusta Holmès too carved out a considerable reputation for herself in late nineteenth century Paris, with a number of large-scale commissions for prestigious international events. Her fame, like that of Vincent d'Indy and others of the school that gathered around César Franck, was first overshadowed by the more iconoclastic figures of Debussy, Ravel and their fellow-impressionists, and then condemned by the even more iconoclastic Les Six who castigated the style of the Franck circle as 'neo-Wagnerian' and therefore by implication unpatriotically anti-French. It was not until the 1980s that her orchestral music began to emerge from obscurity, and her posthumous reputation as merely a sort of femme fatale whose function was to provide inspiration for 'greater masters' such as Franck and Saint-Saëns began to recede.
It is nevertheless amazing that the very substantial three-movement symphonic poem Roland furieux seems until now to have never received a complete performance. Admittedly it was a relatively early work, written shortly after Holmès had begun the studies with Franck in her twenties, but she was a remarkably early developer, and there is little sign in the score of immaturity or inexperience. The orchestration in particular shows superlative assurance, with an attractive characteristic use of flute and clarinet playing in octaves in melodic lines which have a solidly romantic appeal. This is most notable in the extended middle movement which depicts the love scene in the forest between the Roland's faithless Angelique and the Saracen knight Médor. The piece clearly drew inspiration from Berlioz's Roméo et Juliette but equally clearly proved an inspiration in its turn for Franck's erotically charged Psyche et Eros some ten years later. Indeed the whole idea of a multi-movement symphonic poem seems have been a model for Franck when he came to write Psyche, although Holmès here eschewed the use of a choral narration and restricted her scope to three movements. At the outset of the first of these, depicting Roland's search for Angelique, I identified something very familiar in the brass fanfares which I eventually tracked down in my memory to the hunting scene in Massenet's Esclarmonde – but that too was written over a decade later! One wonders if Massenet ever encountered Holmès's score. In any event Holmès makes more of the thematic material than did Massenet, allowing herself a longer time-span to develop it and building to a ferocious climax. Even the romantic melodic transports of the forest scene in the second movement had an ominous undertow in the shape of a muttering timpani rhythm, serving to bind the material together. The last movement too, depicting the fury of Roland, had an overwhelming sense of tragedy and indeed barbaric force. It is all the more astounding that the score – student work or no – had remained unknown for so long. One imagines that Beecham, who delighted in French tone-poems such as Franck's Chasseur maudit and Saint-Saëns's Le route d'Omphale, would have loved it. The energetic conductor Valentina Peleggi and the orchestra clearly enjoyed themselves in a work which I have no hesitation in proclaiming a major discovery. There is plenty here, too, for other orchestras to get their teeth into, and the work would certainly benefit from a wide variety of interpretations. All the more thanks to BBC Wales for their rescue mission.
The symphonic cogency of the Holmès score served to throw into unfortunate contrast the essentially short-winded nature of the inspiration in Florence Price's Third Symphony which concluded the programme. Price (1887-1953), born in Arkansas into a mixed-race family, suffered in her lifetime from discrimination not only on account of her gender but also because of her race, but at the age of thirty she settled in Chicago where, the programme note by Richard Bratby informed us, 'she played an influential role in a lively and progressive musical scene'. Like Vaughan Williams, she employed idioms derived from her surroundings without actually resorting to deliberate quotation or adaptation; but unlike Vaughan Williams, the various ideas seem in this 1940 symphony to jostle together in a series of contrasts rather than cohering into an organic whole. The most effective of the four movements, a Juba in triple form, almost seemed to be like a movement from one of Ferde Grofé's characteristic suites. There were also some lovely moments elsewhere, not least in the relaxed second movement, but these all too often seemed to run out of momentum especially in the more conscientiously 'symphonic' structures of the first movement and finale. The latter concluded with what I think was a fleeting reference back to the opening motif of the symphony, but it was too brief to provide a satisfying peroration before the work's somewhat abrupt ending. When one compared the score with some of the similarly neglected American symphonies, such as Randall Thompson's Second or Piston's Sixth, which the BBC National Orchestra of Wales gave us in their 'Americana' season five years ago, it was easier to understand the fact that this music seems to have lain fallow for so many years until the Naxos recording appeared a few months back.
Clara Schumann's Piano Concerto has never faded totally from the repertory (there are six recordings in the current catalogue), although it was a product of the composer's precocious teenage years and the orchestration of the finale was undertaken by her husband-to-be Robert – to, it might be added, better effect that in his similar labours for his own later piano concerto. Clara's treatment of the orchestra in the first movement was characterful as well; in the slow movement she daringly reduced the orchestral contribution down to a solo cello which acts as a sort of commentator on the piano's meditative romanze with a mere couple of soft timpani contributions to make the listener aware of the presence of the other players waiting for the high-spirited finale to begin. And that movement, which might have threatened to seem over-long, rang the changes throughout; more contemplative passages interrupted the rondo material and led to a delightfully offbeat series of closing chords. Miriam Batsashvili's playing sparkled throughout, and her colloquy with Alice Neary's heartfelt cello in the slow movement was pure chamber music.
The six compositions by Joan Tower (b.1938) entitled Fanfare for the Uncommon Woman, the fourth and sixth are scored for full orchestra. It seemed rather perverse, then, to select the second, for brass and percussion only, to open the concert after the interval. In fact, the scoring lays considerable emphasis on the percussion and rather less on the brass, a tribute not only to Aaron Copland's Fanfare for the Common Man but also to 'women who are adventurous and take risks'. The work was an interesting novelty and proved an effective curtain-raiser for the Florence Price symphony; even so, the real highlight of the evening had been the première of a major score by Augusta Holmès, and this would have been a hard act to follow.
Those who missed the live broadcast should make every effort to hear the relay online in the usual way. I trust that a recording of the Holmès score is already in the pipeline. Incidentally, the programme note also mentioned a Holmès opera Lancelot du Lac. (A 1903 book by Arthur Elson Women's Work in Music described the score as still 'in manuscript'.) If it is anything as good as Chausson's Le roi Arthus, it needs to be reclaimed.
Paul Corfield Godfrey