Spain Handel, Rodelinda: Liceu Orchestra / Josep Pons (conductor), Gran Theatre del Liceu, Barcelona, 8.3.2019. (JMI)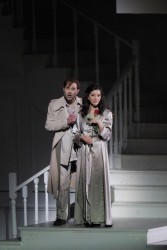 Production:
Director – Claus Guth (original), Marcelo Buscaino (revival)
Sets and Costumes – Christian Schmidt
Lighting – Joachim Klein
Cast:
Rodelinda – Lisette Oropesa
Bertarido – Bejun Mehta
Grimoaldo – Joel Prieto
Eduige – Sasha Cooke
Unulfo – Gerald Thomson
Garibaldo – Gianluca Margheri
Flavio – Fabián Augusto Gómez
This is the first time that Rodelinda has been staged at Barcelona's Liceu – almost 300 years after its 1725 premiere in London. In fact, until 1964 no opera by Handel had been performed here; the first one was Giulio Cesare, which was later followed by five more titles.
This Rodelinda was a co-production with the operas houses of Lyon and Frankfurt and the Teatro Real, where it premiered in 2017. It features an excellent staging, and is beautifully directed by Claus Guth. The performance worked very well in musical terms too, including superb performances by the two main protagonists.
The story is told through the memories of Flavio, the son of Rodelinda and Bertarido, who is always present on stage. The sets consist of a rotating stage with a mansion, all in white, on two levels. On one side, there is a dining room with Rodelinda's room above it; as the stage turns, one notes interior staircases that lead to corridors and other rooms, and at the last turn we are at the front of the house. One advantage of this rotating stage is that it kept things lively, avoiding a certain lack of action which can be a problem in Baroque opera. The costumes have been brought up to modern times, and are particularly suitable in the case of Rodelinda. The lighting was handled well, and good use was made of video projections.
I was initially surprised that the musical direction was in the hands of Liceu's music director, Josep Pons, since in recent years Baroque music is often performed by specialized orchestras and conductors. Mr. Pons's reading seemed a bit flat in the first part of the opera but got much better as the evening continued. It was not at the level offered by Ivor Bolton at the Teatro Real, but things worked quite nicely overall.
The character of Rodelinda was interpreted by soprano Lisette Oropesa, who gave a most convincing performance. I have written before that, for me, the part demands a heavier voice than that of a light soprano, which is what one had in the Madrid performance. Lisette Oropesa is more than a pure light soprano, singing with gusto and perfectly solving the coloratura issues of the score. Her voice is perfectly projected, and there was no problem hearing her in a theatre as large as the Liceu. To this one must add that she is also a remarkable actress.
Bertarido, the King of Lombardy who has disappeared, was sung once again by countertenor Bejun Mehta, whose performance was outstanding from beginning to end. With an interpreter like Bejun Mehta, the opera could be entitled Bertarido since the character acquires a special dimension. Mehta's singing was great, full of emotion, and he has an excellent vocal technique. A terrific performance.
Grimoaldo was interpreted by tenor Joel Prieto. His voice is attractive, and he is a good singer though somewhat tight at the upper end. His biggest problem has to do with coloratura, so demanded in these Baroque operas. I think his voice is better suited to Mozart operas. Eduige, Bertarido's sister and Grimoaldo's fiancée, was mezzo-soprano Sasha Cooke, who was correct in the part, though I prefer a contralto in this character.
Unulfo, the counselor of Bertarido and Rodelinda, was sung by countertenor Gerald Thompson, whose performance was convincing in every way. More modest was Italian baritone Gianluca Margheri in the part of Garibaldo. Finally, I should mention the performance of actor Fabián Augusto Gómez as Flavio, who was repeating his performance in Madrid from two years ago.
José M. Irurzun