Germany Mussorgsky, Boris Godunov: Deutsche Oper Chorus and Orchestra / Kirill Karabits (conductor), Deutsche Oper Berlin, 9.3.2019. (JMI)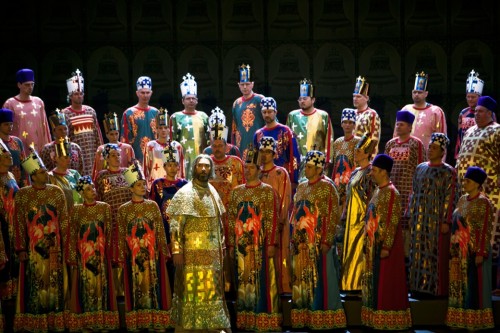 Production:
Direction – Richard Jones
Sets – Miriam Buether
Costumes – Nicky Gillibrand
Lighting – Mimi Jordan Sherin
Cast:
Boris Godunov – Bryn Terfel
Pimen – Ante Jerkunica
Shuisky – Burkhard Ulrich
Grigory – Robert Watson
Varlaam – Alexei Botnarciuk
Shchelkalov – Dong-Hwan Lee
Fyodor – Philipp Ammer
Xenia – Meechot Marrero
Maid – Maiju Vaahtoluoto
Missail – Jörg Schörner
Innkeeper – Annika Schlicht
The Fool – Gideon Poppe
When reviewing Boris Godunov, it's important to note which version one attended since there are two well-known ones: the so-called original from 1869 and the revised version of 1872, first performed in 1874, which adds the Polish act and the final Kromï scene. Berlin has staged the 1869 version ending with the death of Boris. I dare not say that this one is superior musically, but there is no doubt that it is cheaper since the protagonists from the Polish act, Marina and Rangoni, disappear, and the false Dmitri is reduced to an almost secondary character.
This stage production by British director Richard Jones premiered at Covent Garden in London three years ago (review click here). Its premiere at the Deutsche Oper Berlin took place in June 2017, and this was the tenth performance of the opera in Berlin since then.
The production, which works very well, features one simple set for the entire opera, with props added for the different scenes. There is an elevated additional stage, where the murder of the young Dmitry is repeated innumerable times (the first one occurs in the prelude), leaving no doubt that the person responsible for the murder is Boris Godunov.
Conductor Kirill Karabits, currently the musical director of the Weimar Opera, led a convincing performance. The orchestra of the Deutsche Oper did very well, as did the chorus once they got past some problems in the opera's first scene.
The main attraction was the presence of Bryn Terfel as Boris Godunov; the Welsh baritone sang the part in the Covent Garden premiere of this production on the occasion mentioned above. His performance here was irreproachable: he lived the role with great intensity, especially in the final scene of his death. I have had occasion to hear great interpreters of this tormented character in the past, and Bryn Terfel is definitely one of them, although I would say that the degree of emotion he transmitted was, for me, below two others: Ferruccio Furlanetto about five years ago and, especially, Ruggero Raimondi in Madrid more than thirty years ago.
Bass Ante Jerkunica gave life to Pimen, the monk, and he did it in a convincing way, especially while the tessitura moved in the middle range. Tenor Burkhard Ulrich was correct as Prince Shuisky, as was bass Alexei Botnarciuk as Varlaam. Tenor Robert Watson did nicely in the part of Grigory or the false Dmitry, while baritone Dong-Hwan Lee was well-suited to the character of Shchelkalov. Tenor Gideon Poppe as the Fool was also good.
The secondary characters were well covered. Fyodor, the son of Boris, was played by a child, Philipp Ammer. Meechot Marrero was Xenia, the daughter of Boris, and Maiju Vaahtoluoto gave life to the character of the Maid. Jörg Schörner did well as Missail, and Annika Schlicht played the Innkeeper in the scene at the Lithuanian border.
José M. Irurzun