United Kingdom Gilbert and Sullivan, The Pirates of Penzance: Sasha Regan's All-Male Hit at Wilton's Music Hall, London. 27.2.2019. (JB)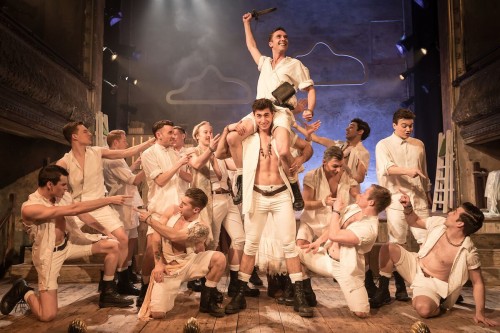 Production:
Director – Sasha Regan
Choreographer – Lizzi Gee
Designer – Robyn Wilson-Owen
Musical director – Richard Baker
Lighting designer – Ben Bull
Assistant director – Nicky Allpress
Associate choreographer – Lee Greenaway
Cast:
Mabel – Tom Bales
Frederic – Tom Senior
Ruth – Alan Richardson
Major-General – David Mckechnie
Pirate King – James Thackeray
Isabel – Dominic Harbison
Kate – Connor Hughes
Edith – Sam Kipling
Connie – Richard Russell Edwards
Sergeant of Police – Duncan Sandilands
Samuel – Benjamin Vivian-Jones
Ensemble: Daniel Miles, Adrian Bevan, Tom Duern, Patrick Coulter, Matthew Facchino, Jamie Chidzey, Kyle Anthony
William Schwenck Gilbert had to wait until Edward VII became King, for his knighthood.  Queen Victoria had been offended by Gilbert's pointing out that Her Majesty pronounced the words often and orphan in exactly the same way, as in the question, Were you often an orphan? HM was not amused. Interestingly, our present Queen has retained the same pronunciation.  An old Hanoverian habit? This starts to look like why the people of Spain lisp: because a certain king did. Thank ye Ma'am. No mischief intended.
But mischief  is in abundance in this all-male sparkling show: mischief which has its own unique charm – a quality which is frequently understood as incompatible with mischief.
And two further qualities which are unusual bedfellows: spontaneity and split-second precision.
There are musical excellences which would normally only be heard in the leading opera houses. Most notable of these is Tom Bales as Mabel. Sullivan writes some demanding coloratura for Mabel, but Richard Baker, musical director, has further embroidered these. And Tom tosses these challenges off with impudent ease.  Breathtaking!  Moreover, he seems to be the youngest in the cast. Like many coloraturas, the faster and higher the music goes, the better he gets. Remember the young Gruberová? He also seems to have a natural soprano voice which is absolutely unforced – and all the more dazzling for that. The voice is weaker in the lower register, where it lacks chest support. That will surely come.
But what Tom's amazing technique most brings to mind is the surprisingly powerful voice of Alessandro Moreschi (1858 -1922), the last of the castrati, whom the Gaisberg brothers managed to record in April 1902 for the Gramophone and Typewriter Company – later HMV. (The Gaisbergs had gone to Rome to record a message of the Pope, but their papers were not in order, and while this bureaucracy was being sorted, they found Moreschi living in retirement just outside the Vatican walls.) I'd better add that Moreschi was by then, short and fat; Tom is 6' 2'', slender, blond and in his early twenties, and just setting out on the most promising career. His athleticism combines with an unexpected grace of movement.  He also has the most astonishing technique of seeming to reduce his great height when the storyline calls for it.
Equally vocally accomplished is Alan Richardson as Ruth – a Pirate Maid of all Work says Gilbert in the Dramatis Personae. Alan already received the People's Choice Best Actor in the Off-West End Awards 2011 for this very role when it first opened at Wilton's. And I vote with the People here. He says he is delighted to be returning to it after a run as Mary Sunshine in Chicago in its 21st Anniversary production in the West End. There is very much the feeling of a well-tried professional treading through a comfortable role he has so thoroughly made his own.
There is an element of tragedy in Ruth's makeup, connected with her lack of awareness, and her total dedication to Frederic. Alan is comfortable in portraying these discomforts of Ruth's character. He makes no effort to reproduce the mezzo voice; this is an innocent soprano in the Richardson telling of the tale. And Sullivan more than Gilbert is making this humanity intelligible to the audience. Sir Arthur would have applauded you, dear Alan.
More sure-footedness is to be enjoyed in Tom Senior's Frederic. The character can easily come across as feckless. Mr Senior avoids this by leaning towards Frederic's all-too-disturbing vulnerability. Has he been watching Ben Whishaw's performances of vulnerable people? Eyes and shoulders get worked hard down this path. And most successfully. Tom Senior's voice is the admirable light lyric tenor for bringing these nuances to life. He is well-versed in the art of letting the music carry him, rather than his carrying the music.
David McKechnie is the best ever Major General, not least because his professionalism has taught him that what you withhold from the role is as important as what you give to it. Remember Anna Russell's quip in How to Write Your Own Gilbert and Sullivan: This character always does an encore and dance whether you want him to or not. No such thought would occur to David. Make the audience wait for it. Then give it to them or not, according to the feeling you are getting back:
I am the very model of a modern Major-General,
I've information vegetable, animal and mineral,
I know the kings of England, and I quote the fights historical;
I'm very well acquainted too with matters mathematical.
Looks round to see if everyone is bored blue. (Not an instruction printed by Gilbert in the text.) Long live David McKechnie!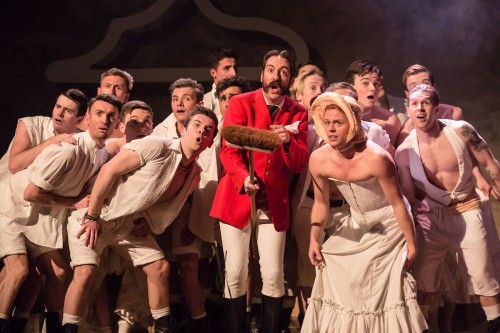 James Thackeray has all the right rough, comradeship as Pirate King: bluff but not tough, strikes the right note. Speaking to young, confused Frederic, he also delivers one of the best lines of the play: I don't think much of our profession, but, contrasted with respectability, it is comparatively honest. …………. I shall live and die a Pirate King. You can see how neatly charm gets introduced into this supposed drama.
Not a single word is ever heard when singers sing in chorus said Gilbert. No problem with that here, because there is no chorus. There is an Ensemble, each of them with a photo and biographical note in the handsomely produced programme. And each of them a vital building block of the musical drama. We respect and admire this approach. The action often freezes into an appropriate tableau, which invariably invokes audience ovation. I never felt audience involvement in a G&S so much as tonight.
This brings me to the choreography, in the capable hands of Lizzi Gee and Nicky Allpress. Just as Gilbert's words so neatly fit the music, so all the Gee/Allpress movement sparkles with pertinent expression for every minute of the two hours: slick but never trite, and comic and even sometimes risqué, but never vulgar.
Musical director, Richard Baker, who also plays the rhythmically arresting piano accompaniment, has drilled these young men into perfect expression. What a difference it makes when the music is delivered with the precision of the words. There is no other G&S to stand alongside this. Pure joy.
And I have saved the best till last. Sasha Regan's staging brings all these disparate expressions into a thrilling, gratifying whole. Ms Regan knows the strength of her team. She probably appointed each of them. No mistakes there evidently. Each one shines under her watchful eye. And just imagine the pleasure of being a participant in such an enterprise. The show feels like an ongoing experiment coming alive before your eyes and ears. Show business is all about communication, and here it is spelt with a capital C.
Gilbert was always furious with anyone who changed so much as a comma in his writing. Well this company have profound respect for the commas. I wondered to myself what he would have made of the all-male cast. I see a supressed smile on his huge, puzzled face.
Beg, borrow or steal a ticket to see this show. It runs until 16 March with matinees on Saturdays. But many performances are sold out.
Jack Buckley
For more about what is on at Wilton's click here.