United Kingdom Boito, Mefistofele (1881 version, concert performance): Soloists, Chorus of Chelsea Opera Group augmented by members from Opera Alegria and Highgate Choral Society, Chelsea Opera Group Orchestra / Matthew Scott Rogers (conductor). Queen Elizabeth Hall, London, 24.3.2019. (CC)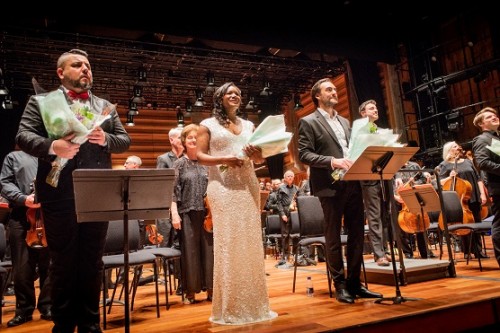 Cast:
Mefistofele – Vazgen Gazaryan
Faust – Pablo Bemsch
Wagner/Nereo – Aaron Godfrey-Mayes
Margherita/Elena – Elizabeth Llewellyn
Marta/Pantalis – Angharad Lyddon
It has been a long time – far too long – since Boito's Mefistofele appeared on these shores. ENO staged the piece in 1999 (I kicked myself at the time for missing it), and there seems to have been a long silence since then. Yet this work has real power and depth. Back in 2003, I reviewed a performance on Naxos Historical of the work with the Mefistofele par excellence, Nazzareno de Angelis, in a 1931 performance from La Scala (review) with Mafalda Favero as Margherita and Antonio Melandri as Faust. Boito was far more famous as a librettist than as a composer (he also translated Der Freischütz into Italian), and in fact only two operas exist, the other incomplete (Nerone). Chelsea Opera Group chorus member Simon Bainbridge gave an excellent pre-event talk, outlining the performance history of Mefistofele. We also learn that Mefistofele's whistling (slightly quiet in this performance) was an addition by Boito to this later version.
Boito's opera is cast in four acts with a Prologue and an Epilogue; the composer opts to include the scene set on the banks of the river Peneus in the Vale of Tempe, in ancient Greece. Introduced by a beautiful harp solo (Maria Beattie), this is beautifully scored. Boito, who was born in Padua in 1842, named his opera Mefistofele to distinguish it from Gounod's Faust and the first version was premiered at La Scala in 1868. It was a disaster, leading to a reworking of the score by the composer, including the dropping of the original spoken prologue and changing the range of the role of Faust from baritone to tenor. The return to La Scala, in 1881, was this time a success; it is in this form that the score survives.
Boito's writing varies from the colossal to the incredibly delicate: a passage for solo voice (Margherita) and cor anglais alone in the third act is representative of this imagination. Combined with voices, the results can be magical, nowhere more so than in the Act III duet for Faust and Margherita, 'Lontano, lontano'.
The large orchestra (including a cimbasso in the brass, plus extra offstage brass) was supplemented on this occasion by an equally large and imposing chorus. The voices' contributions to the Prologue (set in 'The Firmament of Heaven' were impressive as much in the balancing of parts as in the sheer sound; the final stretches of the Prologue have a decidedly Verdian aspect to them. The children's chorus was exemplary. The Prologue is dominated by Mefistofele (whose arrival, 'Ave Signor', is heralded by a diabolical woodwind-dominated Scherzo, beautifully – or should that be wickedly – done here). Armenian-German bass Vazgen Gazaryan set off as he meant to continue, with great vocal presence and – something that was to be a thread common to all the vocal soloists of the evening – superb diction. His dramatically gripping 'Ecco il mondo' in Act II was a real highlight of the evening.
The archetypal Romantic trope of Spring makes itself known in Act I, set at the city gates of Frankfurt on Easter Day. Here we meet Doctor Faust and his pupil, Wagner. Faust was taken by Argentine tenor Pablo Bemsch, His strength of delivery, ever ardent, reflects his past roles such as Alfredo in La traviata. His aria while dying ('Giunto sul passo estremo') was beautifully touching, and it was nice that his voice contrasted in that Act I duet with the lighter tenor of Aaron Godfrey-Mayes's fresh Wagner. Godfrey-Mayes, currently at the Royal Academy of Music on postgraduate detail (the MA course) has a lovely sound and clearly a successful career in front of him. Some bassoon and flute scoring around the Faust/Wagner duet seemed to point, not for the only time in the piece, towards Berlioz. The vocal quartet at the close of the first scene of the second act (Faust/Margherita and Mefistofele/Marta) was a true highlight of the evening.
The role of Margherita was taken by Elizabeth Llewellyn, who has previously impressed as Magda in Puccini's La rondine for Opera Holland Park and in Vaughan Williams's A Sea Symphony at the Barbican (review). She is a spectacular singer: she has great stage presence, a powerful voice which never seems to harden and, most of all, she absolutely inhabits the roles she takes on, always with the utmost musicality and integrity. The Act III aria in which she reflects on her fate ('L'altra notte in fondo al mare') was vocally beautiful as well as dramatically affecting; she also boasts a splendid vocal trill. In her alternative persona as Helen of Troy in the fourth act, Llewelyn was glorious in her duet with Pantalis her companion; her vision of the destruction of Troy, later in the act, was gripping in the extreme, and she soared easily and freely over the ensemble towards the end of the act.
The other female roles of Marta (Margherita's neighbour), and Pantalis, Helen's companion in Troy, were taken by the pure-voiced Angharad Lyddon, who previously gave a fine Kate in Pirates ENO and who most recently took the role of Sotopenre in Glass Akhnaten, again at ENO. She is returning to COG after singing Myrtale in their Massenet Thaïs. Lyddon's voice is smoky and resonant, the perfect foil for Llewellyn.
In short, a glorious performance of a piece that deserves far more attention than it is normally accorded.
Colin Clarke
For more about Chelsea Opera Group click here.