France Legrenzi, La divisione del mondo: Soloists, Les Talens Lyriques / Christophe Rousset (conductor). Opéra national du Rhin, Théâtre Municipal, Colmar, 9.3.2019. (RP)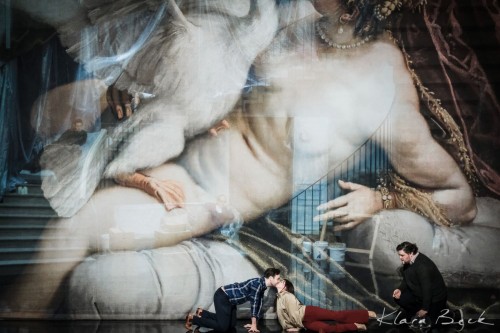 Production: 
Director – Jetske Mijnssen
Scenery – Herbert Murauer
Costumes – Julia Katherine Berndt
Lighting – Bernd Purkrabek
Cast:
Giove – Carlo Allemano
Nettuno – Stuart Jackson
Plutone – André Morsch
Saturno – Arnaud Richard
Giunone – Julie Boulianne
Venere – Sophie Junker
Apollo – Jake Arditti
Marte – Christopher Lowrey
Cintia – Soraya Mafi
Mercurio – Robert Enticknap
Amore – Ada Elodie Tuca
Discordia – Alberto Miguélez Ruoco
The Opéra national du Rhin has the perfect venue in which to perform Baroque opera in Colmar's Théâtre Municipal. Seating only 492 people, it is small even by the standards of Venetian theaters of the day; the Teatro San Salvador, now the Teatro Goldoni, in which Giovanni Legrenzi's La divisione del mondo premiered in 1675, seats 800. Such a small space affords an extraordinary environment in which to savor the sonorities of period instruments and voices seeking to approximate what a seventeenth-century audience might have experienced.
Colmar's theater opened in 1849 and was given a sensitive restoration in 2000. Designed in the Italian style with three galleries, the interior is cream and red and embellished with gilt. The ceiling is dominated by an imposing round mural from which a crystal chandelier is suspended. Built on the grounds of a former thirteenth-century Dominican convent, it is next to the Musée Unterlinden, home to the Isenheim Altarpiece, an attraction that lures many visitors to the Alsace.
This was the sole performance in Colmar of a Legrenzi rarity which had previously played in Strasbourg and Mulhouse. (For Colin Clarke's review of the 16 February 2019 performance in Strasbourg, click here.) It travels to the Opéra national de Lorraine in Nancy later this month.
Lifted from Roman mythology, the plot tells the story of the division of the world after the Titan deities were defeated by the Olympian gods. The three victorious brothers, Jupiter, Neptune and Pluto, are not consumed by power struggles but rather by lust for the beautiful Venus, who has recently left her husband, Vulcan, and is on the prowl. Mars is also besotted with her and seeks her favors. Juno, Jupiter's wife, all too aware of his proclivities, wants Venus gone and, in the end, she is sent packing back to her husband. That's the plot, but Jetske Mijnssen ends this production on a more ambiguous note with the men still staring lecherously at Venus.
Mijnssen updates the action to the present day. Gods have problems too, just like today's one percent, and exacerbated in this case by nicotine habits and swilling of copious amounts of champagne and wine. Judging from the high-end shopping bags, Juno regularly resorts to retail therapy as well. The action is set in a large room with two staircases. The deities and their progeny spend a great deal of time moving furniture about. The set serves well enough, but the plot is confusing, and with no visible change of location it becomes even more so.
Four generations of the family are involved in the various intrigues. Characters run the gamut from the nerdy Neptune and Pluto to their niece, Diane, dressed up in a naughty nurse's outfit. Discord and Amor could have stepped right out of Peter Pan, complete with a Native American headdress and toy bow and arrow. Jupiter exudes authority, attired in a crisp, blue suit. The funniest scene comes in the third act when Neptune sings of the tempest of the sea while holding a small fishbowl.
The stage is dominated by Veronese's 'Leda and the Swan', which generates more sexual tension than anything else on stage, although Venus and Mars going at it atop a table is pretty steamy. The painting depicts the myth where Zeus (the Greek mythological equivalent of Jupiter) disguised as a swan ravishes the beautiful Leda. It's just the type of painting that the late Sister Wendy Beckett would have described in titillating detail: the perfect breasts, the glistening skin and the aroused swan poised for coitus. (I just binge-watched Sister Wendy's Grand Tour series and couldn't get her out of my mind as the painting was ever-present.)
Musical considerations were entrusted to Christophe Rousset, the internationally renowned French harpsichordist and conductor who specializes in the performance of Baroque music, especially operas, on period instruments. In the pit was Les Talens Lyriques, the ensemble that he founded in 1991. He emphasized the continuo, and the small orchestra was dominated by three theorbos, two harpsichords and a viola da gamba. Woodwinds and brass were employed judiciously, most noticeably in the more celebratory music of the final act.
With the singers, there was less attention to perceived notions of historical authenticity, although the younger ones have performed with most of today's leading early music troupes. Tenor Carlo Allemano as Jupiter anchored the cast, although his voice thinned out noticeably in the upper range. As his vigilant and long-suffering wife, soprano Julie Boulianne as Juno was a high-fashion diva.
Raven-haired, rather than blond as was the Venus of myth, Sophie Junker was sensuous physically and vocally brilliant. Of the women, however, Soraya Mafi's Diana was not only the most sympathetic character on stage, but she sang her laments (she pines after Pluto) in a lovely soprano, demonstrating the most restraint in terms of vibrato.
Countertenor Christopher Lowrey as Mars was remarkably agile both physical and vocally: at one point, he was draped over a sofa and singing upside down. Two other fine countertenors made an impact. Jake Arditti as Apollo was more interested in his book than squiring Venus about as ordered, while Robert Enticknap as Mercury observed all, comforting Juno whenever possible.
Jupiter's brothers were as dissimilar vocally and physically as imaginable. The bearish Stuart Jackson as Neptune had a light lyric tenor, while compact André Morsch's Pluto displayed a particularly finely-grained baritone. Bass-baritone Arnaud Richard was a commanding, if elderly, Saturn, of the race of gods that his children had vanquished.
Apart from the opera's length (it runs almost three hours), Legrenzi's music is perfectly suited for the limited attention spans of our day: arias are short and recitatives succinct. He was a superb melodist, able to convey emotion clearly and economically, with enough imagination and creativity to pen engaging arias for a dozen characters. Togas and clouds might have been more to my liking, but the music was captivating. That is what undoubtedly prompted the prolonged rhythmic clapping and standing ovation that greeted the performers when they took their bows.
Rick Perdian