United Kingdom Lehár, The Merry Widow: Soloists, Chorus and Orchestra of the English National Opera / Kristiina Poska (conductor). London Coliseum, 1.3.2019. (JPr)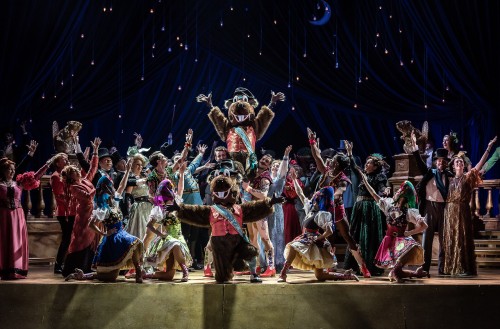 Production:
Director – Max Webster
Set designer – Ben Stones
Costume designer – Esther Bialas
Lighting designer – Bruno Poet
Choreographer – Lizzi Gee
English lyrics – Richard Thomas
English book – April De Angelis
Cast:
Hanna Glawari – Sarah Tynan
Count Danilo Danilowitsch – Nathan Gunn
Baron Mirko Zeta – Andrew Shore
Camille de Rosillon _ Robert Murray
Valencienne – Rhian Lois
Vicomte Cascada – Nicholas Lester
Raoul de St Brioche – Jamie MacDougall
Njegus – Gerard Carey
Bogdanowitsch – Paul Sheehan
Sylviane – Lydia Marchione
Kromow – Adam Sullivan
Olga – Deborah Davison
Pritschitsch – Trevor Eliot Bowes
Praskowia – Natalie Herman
As someone who is half-Viennese and has seen Lehár's 1905 The Merry Widow (Die lustige Witwe) at the Vienna Volksoper, as well as, performances elsewhere, it is clear that the operetta is just an entertaining piece of Viennese froth, even though some musicologists have thought they have found more to it. Some years ago Gavin Plumley (in a programme note) tried to imbue it with fin-de-siècle psychosexual depths that were – with respect to him – immaterial, and also suggested it is a step-up from Johann Strauss's Die Fledermaus (of some 30 years previous) because of the influence of Richard Strauss and Puccini on the music, though this is hardly discernible, if at all. The Merry Widow is merely a crowd-pleasing echo of the resonant energy of Vienna's Imperial heyday; mixing together self-aware nostalgia, slyness and sophistication with some glorious melodies, including waltzes, galops, the can-can and folk tunes.
The plot is typical of most other operettas: we are in Paris on the cusp of the twentieth century, when near-bankrupt European countries — like the fictional Pontevedro here — spared no expense to schmooze a wealthier nation like France. The source of Pontevedro's possible financial salvation is Hanna Glawari, who married a rich husband and is recently widowed. She is being wooed (for her money) by every eligible – and many ineligible – men in the French capital and should she marry anyone other than a Pontevedrin the country will lose her fortune and go bust. There is a party at the impoverished Pontevedrin Embassy – it can only afford 'cheap Prosecco' in place of Champagne – with an ensemble of cheating wives and philandering husbands. Even Valencienne, the wife of Ambassador Baron Zeta, is having an affair with Camille, Count de Rosillon. Unfortunately for the soon-to-be-bankrupt state, while Hanna still has feelings her country's most eligible bachelor Count Danilo Danilowitsch, to whom she used to be engaged, he is a roué unwilling to commit. Most of us will have already seen far too many clichéd musicals not to know where this – one of their antecedents – is going.
When The Merry Widow premièred, contrary to popular belief, it was a smash hit because word of mouth quickly ensured packed houses. Its music was also performed in Viennese cafés and concert halls widening its appeal, and there were also considerable sheet music sales. It was enjoyed by Gustav and Alma Mahler and she reminisced how – after they saw it the first time – they 'danced together when we got home and played Lehár's waltz from memory; but the exact passage defied our utmost efforts'. Claiming they were too 'highbrow' to buy the music they went to a famous music shop in Vienna and while Mahler asked about the sale of his compositions Alma 'turned the pages of the various piano editions of The Merry Widow and found the passage I wanted. I sang it as soon as we were in the street in case it slipped my memory a second time.'
Victor Léon and Leo Stein's original libretto is already full of broad humour, with its familiar themes of marital infidelity and unrequited love, and just about survives April De Angelis's updated book and some new English lyrics from Richard Thomas, best known for Jerry Springer: The Opera and Anna Nicole. To be honest there was so much opportunity for a far more radical – and topical – updating than we saw and there was only one Brexit-inspired comment about a country no other government will deal with! In the end there were a few too many obvious rhymes for words at the ends of phrases, frequent swear words and numerous Carry On-type double entendres (for instance, 'the count is a count' and about the fan hitting the shh you know what!). Also – in a very positive way – the #MeToo has influenced what we now see, and De Angelis and Thomas have emancipated The Merry Widow so that it bought to my mind a song from the great, late, George Melly 'Masculine Women, Feminine Men'. Something that is totally inspired is their 'Save the Pontevedrin beavers' – the country's national animal – subplot and at Hanna's Act II party all sing how Pontevedro is 'a land of high achievers, with a great deal of splendid beavers' as we see two Disneyfied ones joining in all the fun!
There are wonderful Belle Époque sets (Ben Stones) and colourful costumes (Esther Bialas) and it one of the best looking stagings English National Opera has put on for some time. To be honest, Act I did not work too well with everybody rushing about in French-farce style. Everything clearly has been given a filmic quality and at times it less resembled operetta than the Marx Brothers's Duck Soup; the basic premise of that 1933 film also involves a bankrupt state and a dowager millionairess. Hanna's first Monroe-esque entry is straight from Howard Hawks's 1953 Gentlemen Prefer Blondes. Throughout the first act there was an imbalance between the amount of speech and singing: also, if there was any amplification it wasn't enough and if there wasn't there should have been some – on this occasion – for both.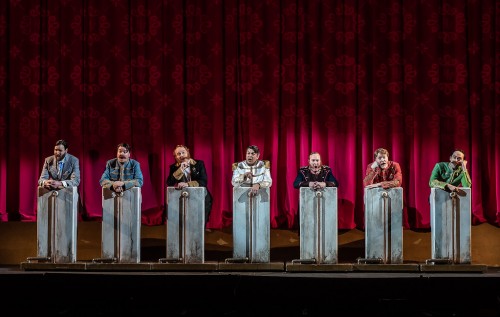 I enjoyed the other two acts a great deal more and there was lots of the joie de vivre from the talented ensemble that was somewhat lacking in Act I. Some of the highlights were Hanna singing her 'Vilja Song' on a large crescent moon suspended above the stage; then there was the men's septet – when they consider the fickleness of women – being sung when they are behind a row of urinals. (Here director Max Webster could be considered to be taking the pee but their antics – that are rather indescribable – are hilarious); and at the climax(?) to Act II, Valencienne and Camille's 'tryst' now takes place – not in a gazebo – but under a pair of trembling banqueting tables. Finally, in Act III the grumbling grisettes are another neat touch; though why it is Hanna who now joins them and not Valencienne was a little mystifying.
In its golden years ENO performed this sort of music very well and I first saw The Merry Widow at the London Coliseum over thirty years ago with Eric Shilling, Lesley Garrett, Alan Opie and Valerie Masterson. That it was now given a reasonably stylish and energetic performance from a cast of seasoned professionals suggests that the company is definitely on an upward trajectory from its recent well-publicised doldrums. From his first initial pratfall Gerard Carey's Njegus was a comic delight. As a specialist in buffo roles Andrew Shore was suitably buffoonish as the elderly Baron Zeta. Robert Murray's ardent Camille needed more charisma and the relationship with Rhian Lois's pert Valencienne – who he is pursuing – lacked chemistry. Nathan Gunn brought a somewhat world-weary, though debonair and raffish, charm to Danilo. Star of the show was Sarah Tynan's younger and sexier-than-usual 'Merry Widow' and she proved herself a fine light comedian and a very accomplished dancer in Act III. The show will undoubtedly benefit when everyone relaxes a little as the run of performances continues.
Kristiina Poska's conducting of her exemplary orchestra had plenty of idiomatic Viennese Schwung from the moment she raised her baton but was at times a little constrained by having to accompany some unamplified small-scale voices. Nevertheless I thoroughly enjoyed myself, and operetta performed like this – regardless of any updating – is an innocent and somewhat innocuous diversion for an opera company who took a very long while to live down an unenviable reputation when another of their productions once featured men in toilets! But operetta – like some musical theatre – is a diversion from real life too which can draw you into a fantasy world of romantic comedy and then steal your heart away. To be performed correctly it needs a full roster of principal artists with the personal charisma and vocal beauty to bring these hackneyed – yet well-loved – old tunes to life: Webster's new ENO Merry Widow can be considered a valiant and very entertaining near-miss, but hopefully will prove a box office hit.
Jim Pritchard
For more about the ENO click here.