Germany Donizetti, Roberto Devereux: Chorus of the Bayerische Staatsoper, Bayerisches Staatsorchester / Friedrich Haider (conductor), Nationaltheater, Munich, 27.3.2019. (JMI)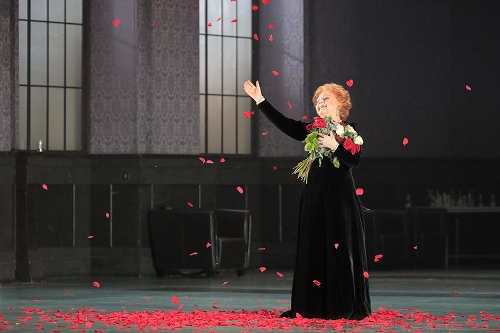 Cast:
Elisabetta – Edita Gruberová
Roberto Devereux – Charles Castronovo
Duke of Nottingham – Vito Priante
Sara – Silvia Tro Santafé
Lord Cecil – Francesco Petrozzi
Sir Gualtiero Raleigh – Kristof Klorek
Page – Boris Prygl
Production:
Director – Christof Loy
Sets and Costumes – Herbert Murauer
Lighting – Reinhard Traub
This was a very special occasion: the final opera performance of Edita Gruberová.  After a long career, she has decided at the age of 72 to focus now on recitals and concerts. Her enthusiastic fans filled the theater with banners and bouquets of flowers and were in no hurry to leave after the performance ended.
My being here for the farewell was a coincidence. Sondra Radvanovsky had originally been scheduled to sing, but she cancelled and was replaced by 'La Gruby'. I don't think a special occasion like this where a great artist is honored calls for a conventional critique. Suffice it to say that we gained in emotion with the cast change but lost some vocal quality.
Edita Gruberová is one of the few singers in history with such artistic longevity, and she has been able to direct her career, singing operas of her choice in certain theaters. There is not the slightest doubt about her strengths, but I have expressed reservations in recent years about her choice of repertoire: in particular, with regard to Elisabetta in Roberto Devereux. The part belongs to the purest and most complicated bel canto, and here Edita Gruberová triumphs, but it also needs a more dramatic voice than hers.
In any case, I admire and pay tribute to a major singer in the history of opera, one who will be a reference for future generations, and for whom the world of music and opera lovers have much to be thankful.
This was the well-known Christof Loy production. I reviewed it in 2015, and my opinion remains unchanged: (review)  On this special occasion, the conductor was once again Friedrich Haider, her companion at many operas over the years, and the Bayerisches Staatsorchester gave a strong performance under his baton.
Although the name of the opera is Roberto Devereux, there is no doubt that the true protagonist is Elisabetta, the Queen of England. However, the tenor who plays Devereux also has moments to shine, especially in the prison scene of Act III. Its interpreter in Munich was Charles Castronovo, whose light-lyrical tenor is nicely suited to the demands of the character. His voice is attractive, but I missed a more varied palette of colors in his timbre.
The Duke of Nottingham was played by Italian baritone Vito Priante, whose performance was not totally convincing. He seems to sing as if he were afraid that his voice would not reach the audience, so everything is uniformly in forte.
Mezzo-soprano Silvia Tro Santafé in the part of Sara gave the most satisfying performance of the cast. She possesses an ample, appealing voice, and I found her clearly improved from prior occasions.
In the secondary characters, Francesco Petrozzi had a well-suited voice for the character of Lord Cecil, and baritone Kristof Klorek as Sir Gualtiero Raleigh was good too.
The cheers at the end were spectacular. After some ten minutes of ovations, Nikolaus Bachler, the director of the Bayerische Staatsoper, came on stage and spoke emotionally of Edita Gruberová, to which she responded with gratitude. The ovations continued after that, and the house finally fell silent about an hour after the end of the opera.
José M. Irurzun