Argentina Verdi, Rigoletto: Soloists, Chorus and Orchestra / Maurizio Benini (conductor), Teatro Colón, Buenos Aires. 19.3.2019. (JSJ)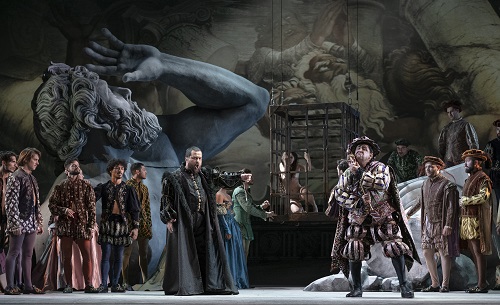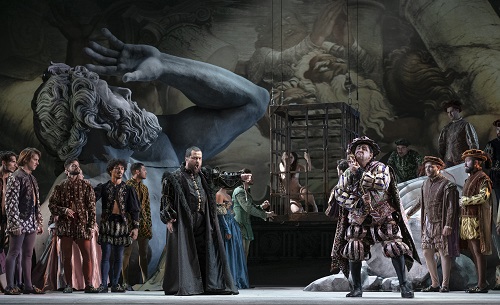 Production:
Direction – Jorge Takla
Sets – Nicolás Boni
Costumes – Jesús Ruiz
Lighting – José Luis Fiorruccio
Video – Matías Otarola
Chorus – Miguel Martínez
Cast:
Rigoletto – Fabián Veloz
Gilda – Ekaterina Siurina
Duke of Mantua – Pavel Valuzhin
Monterone – Ricardo Seguel
Sparafucile – George Andguladze
Maddalena – Guadalupe Barrrientos
Giovanna – Alejandra Malvino
Marullo – Christian Peregrino
Borsa – Gabriel Centeno
Ceprano – Sergio Wamba
Countess Ceprano – Mariana Rewewrski
Despite its popularity it is the better part of two decades since Rigoletto was last put on at the Teatro Colón and so its choice to open the house's – and Buenos Aires's – 2019 opera season was a good one.
The production by Brazilian director Jorge Takla is a new one and while traditional in concept, was interesting, if not groundbreaking. During the overture the irony was evident of presumably Monterone's daughter being brought in by Rigoletto for the party that was to follow and the set by Argentine Nicolás Boni was dominated by a giant fallen statue, both a parody of Rigoletto but also indicative of a decaying ducal lifestyle rather than the normal luxurious setting that is called for.
But most importantly it was engaging and whether one is a first timer or long-time viewer of this work, a measure of the success is that one is drawn in to the varying emotions of lust and love and the ultimate desire for revenge.
Of course, this also is due in no small part to the cast and the highlight was Argentine Fabián Veloz in the title role once again demonstrating his growing stature as a Verdi baritone. Commanding in presence he brought the right degree of drama and pathos to the role, and particularly notable was the long scene in the second act after reuniting with the by now defiled Gilda and vowing vengeance on the duke.
For her part Russian soprano Ekaterina Siurina was a fresh voiced Gilda with fine technique, appropriate both vocally and visually to the role of the young daughter.
Belarus tenor Pavel Valuzhin also has a youthful bearing, suitable for the young and student imitating duke. Expressive and vocally strong, however his phrasing was not always accurate.
Another highlight was Argentine Guadalupe Barrientos with her opulent mezzo as Maddalena, outshining the weaker Georgian bass George Andguladze as Sparafucile.
Maurizio Benini on the podium brought a decisive and well phrased reading, maintaining the rhythm and all the drama from the first notes filled with foreboding to their end fulfilment.
Some of the performances have had a mixed response, with boos reported at at least one. At this one the audience, initially cool, warmed during the evening and by the end was overwhelmingly enthusiastic.
Notwithstanding the imperfections, all in all it has made a good start for what promises to be a largely traditional 2019 season.
Jonathan Spencer Jones
For more about what is on at the Teatro Colón in 2019 click here.