Germany Tchaikovsky, Eugene Onegin: Deutsche Oper Chorus and Orchestra / Alexander Vedernikov (conductor), Deutsche Oper Berlin, 10.3.2019. (JMI)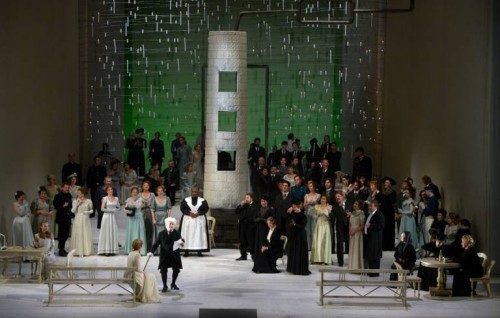 Production:
Direction – Götz Friedrich
Sets and Costumes – Andreas Reinhardt
Cast:
Onegin – Etienne Dupuis
Tatyana – Nicole Car
Lensky – Matthew Newlin
Gremin – Oleg Tsibulko
Olga – Vasilisa Berzhanskaya
Larina – Kirsi Tiihonen
Filippyevna – Maiju Vaahtoluoto
Triquet – Peter Maus
Zaretsky – Samuel Dale Johnson
Captain – Paull-Anthony Keightley
Götz Friedrich was, for many years, the artistic director of this house. His production of Eugene Onegin premiered in 1996, and it remains a work of great beauty within a very classical conception, as his stagings always were. There is just one set which consists of walls on three sides with props added in the center to present the different scenes.
The opera opens in the garden of Madame Larina's house, which becomes Tatyana's room for the famous Letter Scene, which is perhaps the least convincing of the production (the space is too large for a bedroom). The party scene in Larina's house, lit with a profusion of lights, is brilliant, and so too is the duel scene which takes place on a bare stage where white and black prevail. The party at Prince Gremin's mansion comes off very well, while the final scene works perfectly, with the duet of Tatyana and Onegin taking place at the front of the stage. The period costumes coordinate beautifully with the colors on the stage.
In short, it is a superb production, put at the service of the opera and not the other way around, as so often happens lately.
The conductor was Russian maestro Alexander Vedernikov, currently musical director of the Royal Danish Opera, who has often appeared at Moscow's Bolshoi Theater. It was the first time that I saw conducting, and he was splendid. There is no doubt that he knows the opera perfectly, and the result left nothing to be desired. Both the orchestra and chorus gave fine performances.
The part of Eugene Onegin was played by baritone Etienne Dupuis, who had the most appealing voice of the entire cast. He is a good interpreter as well. Soprano Nicole Car gave life to Tatyana and did it nicely. She had the right voice for a young girl in love in the first part of the opera, but I missed a voice of greater importance in the last act and, especially, in the final confrontation with Onegin.
Matthew Newlin was Lensky, but he has a rather light tenor for this role. Ante Jerkunica was initially announced to play Prince Gremin, but he canceled, in what I expect had to do with the fact that the day before he sang the part of Pimen in Boris Godunov. The substitute was bass Oleg Tsibulko, who lacked a certain vocal authority and was short at the top. Mezzo-soprano Vasilisa Berzhanskaya did well as Olga, with a suitable and well-handled voice.
In the secondary characters, Kirsi Tiihonen and Maiju Vaahtoluoto impressed as Larina and Filippyevna. Monsieur Triquet was sung by veteran tenor Peter Maus, who took refuge in parlando in his well-known couplets. Paull-Anthony Keightley was a sonorous Captain, and Samuel Dale Johnson an appropriate Zaretsky.
José M. Irurzun