United Kingdom Gala Evening with Juan Diego Flórez: Juan Diego Flórez (tenor), London Philharmonic Orchestra / Sascha Goetzel (conductor). Royal Festival Hall, London, 29.3.2019. (CC)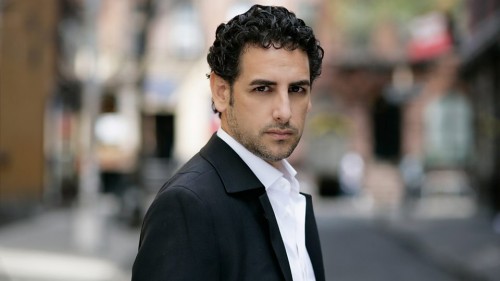 Rossini – La gazza ladra, Overture; 'Addio ai Viennesi'; 'Bolero'
Bellini – Norma, Overture;  I puritani, 'A te, o cara'; I Capuletti e I Montecchi, 'O di Capellio, generosi amici … È serbato a questo acciaro … L'amo tanto e m'è si cara'
Donizetti – La favorita, Overture; Rita, 'Allegro io son'; Lucia di Lammermoor, 'Tombe degli abe miei … Fra poco a me ricovero'
Verdi – Oberto, 'Questi plausi … Già parmi udire il fremito'; I Lombardi, 'La mia letizia infondere … Come poteva un angelo'
Bizet – Carmen, Prélude
Gounod – Faust, 'Salut! Demeure chaste et pure'
Massenet – Werther, 'Pourquoi me réveiller'
Puccini – Manon Lescaut, Intermezzo; La bohème, 'Che gelida manina'
'Popular tenor arias from world-famous operas' was the tagline for this evening. It was good that the title was not entirely accurate, as Flórez included arias from operas that are certainly less than 'world-famous' and certainly not 'popular': arias from Oberto, Rita and I lombardi. My colleague Jim Pritchard reviewed Flórez' LSO Gala at the Barbican a few years ago (review click here); there were no starry guests this time, this was solo Flórez with orchestral segments offering him respite. The result? Generous encores and another (fully deserved) standing ovation
A word first about the Austrian conductor, Sascha Goetzel. This was my first experience of this fine conductor (see Alain Matalon's review of Goetzel's Salomé to widen the picture), and impressions were uniformly positive. He is very clear of intention, non-flamboyant, and listens. He kept violin I and II on his left-hand side but placed the violas on the outside to his right, allowing their contribution to come forwards, earthed by the double-basses behind them. The cellos, therefore, pointed forwards so their contributions had an extra level of clarity. The Rossini Overture that opened the evening, La gazza ladra, was charming, light, with a well-placed off-stage side drum and some astonishingly agile wind and solo horn (David Pyatt); it was the perfect contrast to the Norma Overture later, which was stormy and dramatic and in which Goetzel seemed to have even a further level of control, and grasp of the piece itself, encouraging the LPO to passages of genuine beauty. The third overture included in the first half, Donizetti's La favorita, was a revelation, beautifully shaped and with its fair share of tragedy.
The entire first half was dedicated to Italian bel canto; the second part mixed Italian music (Verdi and Puccini) with French (Bizet, Gounod, Massenet) to good effect. It was a nice touch, too, to begin, vocally, not with opera but with song, with a trip to the salon, as it were.
The Rossini song 'Addio ai Viennesi' is exactly what it says on the tin: a farewell to Vienna (Gazza ladra had been a hit there, which ties in nicely), and found Flòrez in splendid form immediately, the lower passages negotiated well. The 1835 'Bolero' skipped along, slurs taken with utterly remarkable ease, Flórez's voice just perfect for the repertoire. His voice is at heart light, but capable of taking on the larger arias with no sense of compromise.
The slow, impassioned love aria 'A te, o cara' from Puritani (obviously sans participation from a chorus and fellow contributors in the opera) found one admiring the sensitivity of Goetzel's accompaniment as much as Flórez's lines – and the first arrival of his extreme upper register. (If you're wondering where 'Ah, mes amis' is, as it is not in the programme proper, read on.) The long excerpt from Bellini's Capuleti, sung by the character Tybalt, enabled a certain immersion in the music, Flórez's recitative and arioso were lyrical and, importantly, strong. Phrases were shaped beautifully throughout; and, while he enjoys a clear rapport with his audiences, there is no Pavarotti-like showcasing of the top C's.
The move to Donizetti brought an aria from the little-known Rita, an opera subtitled 'The Beaten Husband' that Donizetti wrote in a mere eight days in 1841. Opera lovers might well know John Brownlee's version on his Delos disc; Flórez took the spontaneity of the live event and ran with it, the 'tra-la-la' element a delight. The aria has a lovely 'B' section, lyrical and legato, his pitching when in tandem with the woodwind, perfect. The aria has a lovely false ending, relished to the maximum by all. Edgardo's aria from Act III Scene 2 of Lucia showcased the LPO's excellent quartet of horns, while the trumpet and trombone pronouncements carried huge weight. Flórez revealed a complete other side in this powerful passage. Lucia as an opera is a masterpiece through and through – here we felt that aura of greatness from first to last.
It is indeed lovely when singers of the stature of Flórez bring us arias from little-known operas, reminding us that there is so much outside of the core canon that is worthy of our attention. Oberto, written in 1839, was Verdi's first opera – the first of many. 'Questi plausi' is sung by the character Riccardo, plus a here-absent chorus, right at the beginning of the opera (only the Overture and a chorus precede it). Flórez shaded the lines beautifully, particularly at that all-important word 'amor', rejoicing too in a beautifully free, open-throated delivery. Contrast Flórez's way with that 'amor' with, say, Stuart Neill on the ASMF Decca recording; we are in a different league. It was lovely, too, how Goetzel underlined the care in Verdi's scoring at the end, the little felicitous touches that make this characteristic soundworld so special. From the second act of I Lombardi, Oronte's 'La mia letitzia infondere … Come poteva un angelo' contrasted beautifully.
I found it interesting that Goetzel took the Carmen Prélude as quickly as he did, robbing it of its Gallic charm in its middle section. No problems in that direction in Gounod's 'Salut! Demeure chaste et pure' from Faust (we got the introduction 'Quel trouble …' too, although the programme implied we might not). Here, it was the solo violin of Pieter Schoeman and the solo cello of Pei-lee Ng that shone, Schoeman's contributions were particularly radiant, an equal counterpoint to Flórez and almost as vocal as he.
The Carmen Prélude was, indeed, a prelude of another sort, ushering in familiar territory to almost all opera lovers. After Faust came Werther and 'Pourquoi me réveiller,' lower strings ideally veiled and with some superb harp contributions from Rachel Masters. The orchestral separator here was the Intermezzo from Manon Lescaut (with some lovely contributions from solo cello and also the solo viola of Richard Waters).
Ending with 'Che gelida manina' from Bohème is a guaranteed gateway to encores and, indeed, after Flórez's beautifully sculpted account, we moved to the unscripted bit. The one many must surely have come for, 'Ah mes amis' from Donizetti's La fille du regiment, was first up. The accuracy of the top C's was astonishing, especially given their staccato delivery: he hit the bull's eye each and every time. There followed Flórez and his guitar for a bouquet of Italian songs – as well as his signature song 'Bésame mucho' – before 'Nessun dorma' brought the entire audience to its feet for an affectionate farewell.
A rather odd feature was that the main body of the hall looked to be sold out, but in the choir stalls sat a (select?) three people (not together, either) which expanded to around double that (still less than ten) in the second half. On another note, ushers were kept busy trying to prevent mobile phone recordings and the suchlike, as is the nature of these events (plus there was a particularly ill-timed notification ping in one of the silences in the first overture): the photos are a modern illness very much of the moment, an attempt to capture the uncapturable while simultaneously distancing the person doing the recording from the moment itself. Those who simply listened and engaged with the surrounding energy, in contrast, were richly rewarded.
Colin Clarke