United Kingdom Weill, Rachmaninov, Stravinsky: Simon Trpčeski (piano), London Symphony Orchestra / Lahav Shani (conductor). Barbican Hall, London, 28.2.2019. (CC)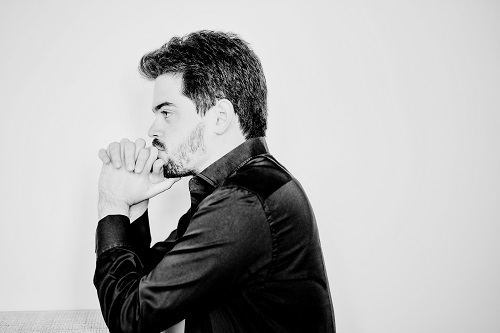 Weill – Symphony No.2 (1934)
Rachmaninov – Rhapsody on a theme of Paganini, Op. 43 (1934)
Stravinsky – Petrushka (1911, rev. 1947)
A figure unexpectedly appearing on-stage to give an announcement rarely bodes well, and so it was here. Kathryn McDowell, CBE (Managing Director of the LSO) brought news for those who did not know of the sad death of André Previn, a conductor who had been, of course, so closely associated with the London Symphony Orchestra in the past, as Principal Conductor from 1968 to 1979. In 1992, Previn became the LSO's Conductor Laureate and in 2016 Conductor Emeritus. Referencing Previn's wide musical tastes – he would surely have approved of the present programme – as well as 'that' classic sketch with Morecambe and Wise which people 'of a certain age' would remember (guilty as charged), she gave an affectionate tribute to a musician of incredibly wide talents, from film to composition to pianist and, of course, conductor.
Israeli conductor Lahav Shani, born in Tel Aviv in 1989, has been making waves in the conducting world; he is also a fine pianist (of which more later). In September 2018 he became youngest-ever Chief Conductor of the Rotterdam Philharmonic Orchestra (succeeding Yannick Nézet-Séguin) while in the 2020/21 season Shani will have the honour of succeeding Zubin Mehta as Principal Conductor of the Israel Philharmonic Orchestra. On top of all that, in the 2017/18 season, Shani took the post of Principal Guest Conductor of the Vienna Symphony Orchestra. Shani's link with the Israel Philharmonic began in 2008 when, as pianist, he was soloist in Tchaikovsky's First Piano Concerto (under Mehta). Tonight was his LSO debut.
Shani has a fabulous technique; he conducted the Weill from memory, and not a gesture was wasted. His knowledge of his scores is obvious, as is the respect the orchestra held for him. The choice of Weill's Second Symphony was inspired. No one would claim this as a 'great' work, but it is a fine one, recognisably Weill but on symphonic, non-vocal, canvas. Cast in three movements, Shani sculpted the first beautifully, tuttis incisive, teasing out a simply gorgeous oboe solo (Juliana Koch). Talking of solos, the central Largo features an important trombone solo, played here with great assurance. This beautifully constructed movement came off as impressively eloquent before the scampering rondo finale, full of sardonic wit, was delivered with terrific finesse.
Many who are old enough to remember that Morecambe and Wise sketch referenced earlier will also remember Weill's Second Symphony via a fine Philips performance by the Gewandhaus Orchestra under Edo de Waart. Now of course there are multiple versions, including Marin Alsop on Naxos and Swierczewski on Nimbus. The piece is a splendid one, which deserves to be sought out, and gratitude is due to Shani for bringing this piece to London.
Rachmaninov's Rhapsody on a Theme of Paganini featured the ever-engaging Simon Trpčeski, a pianist of huge technique married to strong musicianship all tethered to a real feel for wit in music. Certainly, the latter came across in this performance, along with a real alignment to the work's core. Trpčeski occasionally seemed at pains to underline the facets of the Paganini Rhapsody that are most clearly of the composer's late period. His sound on this occasion was fuller than I remember, but the clarity of articulation is still all there. Distinguishing this particular performance was an incredibly strong partnership between pianist and conductor, dovetailing exact, tricky corners all in place. A special word for the strong contributions, too, of the LSO leader on this occasion, Carmine Lauri. The famous eighteenth variation had space but retained momentum; the very end a cheeky raising of the eyebrow. A tendency to stamp his foot was the only blot on the landscape. There was an encore, too: Tchaikovsky's Dance of the Sugar Plum Fairy in a piano duet featuring Trpčeski and Shani. Unexpected, and fabulous fun.
The (shorter) second half boasted solely the 1947 revision of Stravinsky's Petrushka in a performance that confirmed the world-class virtuosity of the LSO but also the imagination of Shani. Flute accents almost duetting with that cripplingly high cello melody near the opening offered but one example. Orchestral balance was phenomenal, whether it be in the grounding of some passages in the very present lower strings or in the realization of Stravinsky's layering techniques. Incisive rhythms in the 'Russian Dance' enabled that panel to be both mobile and vibrant. Stravinsky's gestural way was honoured yet somehow the whole came together brilliantly, the final part – 'The Shrovetide Fair (Evening)' – emerging in a blaze of orchestral white light. At the other end of the scale, the LSO's ability to play continuous semiquavers at a perfectly sustained pianissimo as a bed of sound was miraculous. Principal trumpet Nicholas Betts was in terrific, no-holds-barred form, and a special mention too for the 'third' pianist of the evening, Philip Moore, whose contributions here had plenty of swagger.
Shani's was a Janus-Petrushka, looking both ways: rhythmically, the Rite seemed only a tiny step away at times; at others, it was the lush, Rimsky-influenced orchestration of Firebird that surfaced. For Shani, it seems, there is not a straightforward progression Firebird-Petrushka-Rite; instead, the works bleed into one another with Petrushka as central pivot.
A fabulous concert. Shani is a powerful – and powerfully intelligent – musician, of that there is no doubt. The world seems to be his oyster; and so it should be.
Colin Clarke