United Kingdom A Century of Music by Women Composers – Music by Lili Boulanger, Judith Weir, Rebecca Clarke, Grace Williams: Madeleine Mitchell and Cerys Jones (violin), Konstantin Lapshin (piano). Dora Stouzker Hall, Royal Welsh College of Music and Drama, Cardiff. 8.3.2019. (GPu)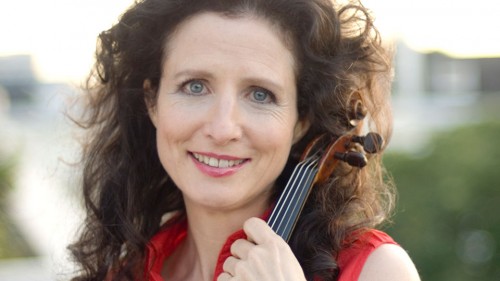 Lili Boulanger – Nocturne
Judith Weir – Atlantic Drift
Rebecca Clarke – Nocturne for Two Violins and Piano
Grace Williams – Violin Sonata; Rondo for Dancing, for Two Violins and Accompaniment
Violinist Madeleine Mitchell is a consistently adventurous musician. Her recital programmes (whether in the recordings studio or the concert platform) most often focus on new, or 'lost and recovered' music. This lunchtime concert, which marked both International Women's Day and the launch of Mitchell's latest CD, was no exception. In terms of the first 'occasion', the concert was entitled A Century of Music by Women Composers; it also included performances of two works which also appear on the new CD (Grace Williams – Chamber Music [NAXOS 8571380]).
Playing alongside fellow violinist Cerys Jones, who studied with Mitchell when a postgraduate, and her frequent accompanist Konstantin Lapshin, Mitchell presented a characteristically enterprising (and thoroughly engaging) programme which included more than one piece one might reasonably describe as 'unfamiliar'. The skill and enthusiasm of all three musicians made them persuasive advocates for all of the music.
The two earliest works in this necessarily very selective representation of a century of music by women composers were both nocturnes. (How many lunchtime concerts, unless they were piano recitals, can have included two nocturnes?). The first piece performed was the Nocturne for Violin (or Flute) and Piano by the remarkable Lili Boulanger (1893-1918). Boulanger was a child prodigy –  Fauré, a family friend, realized that she had perfect pitch when she was only two. She was attending classes at the Paris Conservatoire, with her older sister Nadia, when still only four. However, from these early years onwards she was badly affected by chronic illness and died at the dreadfully early age of 24. The Nocturne was – according to a note in her own hand on the score – 'composed September 24th and 25th, 1911'. Though it is by no means derivative (even though Boulanger was still in her teens when she wrote it), there is something of Debussy and Ravel in the piece, a work of great beauty – especially considering the youthfulness of its composer. In the little more than three minutes that it takes to play, it encompasses great tenderness and a degree of melancholy (which never comes close to sounding like self-pity). Mitchell, whose tone was exactly right for the piece and Lapshin gave a fine and – without betraying its gentle manner – powerful reading of the piece. Both the comfortable intimacy and the assurance of their performance surely owed much to the regularity with which these two musicians have worked together.
The second of the nocturnes was Rebecca Clarke's Nocturne for Two Violins and Piano, for which Mitchell and Lapshin were joined by Cerys Jones. Though Clarke (1886-1979) had a much longer life than Lili Boulanger (she died in her 90s), she too had many difficulties to overcome. She was the daughter of a German mother and an autocratic American father, who expelled her from the family home in 1920, leaving her effectively penniless. She became a professional viola player – and a very successful one too, playing with the likes of Casals, Heifetz, Thibaud, Rubinstein and others. Naturally this limited the time and energy she could give to composition. In the middle years of her life she suffered frequently from depression,
Her Nocturne (written c.1908) was intended as the third movement of a Suite for Two Violins and Piano. The work was long assumed to be lost or destroyed. However, c.2000/2002 the first three movements ('Danse Bizarre', 'Prelude' and 'Nocturne') along with an incomplete 'Finale', were discovered in a box of papers in the possession of the Clarke estate. The three completed movements had their first performance in London in 2003, given by violinists Lorraine McAslin and David Jurwitz, along with pianist Ian Jones. The scores were published for the first time in 2012. Although written while Clarke was a student of composition at the Royal College of Music, all three pieces sound far too mature to be described (dismissed?) as 'student work'. Clarke's Nocturne is darker and more inward-looking than Boulanger's. Mitchell and her colleagues didn't do full justice to the haunted and troubled opening of the piece, though they were much more successful in the later parts of the composition (which takes more than 8 minutes in performance), with the two violins superbly 'together' and Lapshin's support always adroit. There was, indeed, playing of beautiful delicacy in the closing passages.
Between these two nocturnes we were treated to the three pieces which make up Judith Weir's exhilarating Atlantic Drift, a set of duos for two unaccompanied violins. Weir's own notes on Atlantic Drift (I quote from the 'Composer's Notes' on the Boosey & Hawkes website) tell us that 'the music of these violin duos has been influenced by the centuries-long flow of traditional music from the British Isles to North America and back again'. The first piece, 'Sleep Sound Ida Mornin'', begins with a slow and plangent introduction, before the traditional tune is heard. Mitchell and Jones played with disciplined energy and perfect ensemble, both in the opening section and in the boisterous treatment of the old tune. Of the second piece, 'Atlantic Drift', Weir writes, 'the melody is original, though clearly influenced by the music and perpetual tides of the Hebrides'. This beautiful music is deeply poetic and richly evocative. It is striking that this 'original' music sounds as fully 'traditional' as that of the other two directly folk-derived pieces in the set. Weir, evidently, has not merely been 'influenced' by the folk traditions, she has absorbed them and made them part of her own musical voice. The last of the three pieces, 'Rain and Mist are on the Mountain I'd Better Buy Some Shoes', is in four short sections, adding up to six or seven minutes in performance. Its witty title is glossed thus, if gloss be needed, by the composer: 'The title suggests that although the Gaels of yesteryear were rich in poetic expression and the beauties of nature, they were otherwise not very affluent'. All four sections are based on a fragment of Gaelic song from the Isle of Barra and the idioms and moods of Gaelic song imbue every bar of the piece, to which Mitchell and Jones were splendidly responsive. Some might argue that Mitchell, who describes herself as 'half-Welsh' and Jones (born, and based, in Cardiff) are naturally endowed with sensibilities attuned to such music. I am, however, skeptical about such pan-Celtic thinking, which seems to underplay the 'learned' musicianship of these two violinists.  (Incidentally, a recorded performance of Atlantic Drift by Mitchell and Jones can be heard on Mitchell's CD Violin Muse [DIVINE ART DDA 25160]).
'Welshness' had another kind of relevance to the two works which closed the programme, both by Grace Williams (1906-77), born on the South Wales coast at Barry, not far from Cardiff. Madeleine Mitchell herself rediscovered the manuscript of Williams's Violin Sonata (composed 1930, revised in 1938). In her programme note for this concert, Mitchell writes 'I discovered the manuscript when researching violin music at Tŷ Cerdd (The Music Information Centre for Wales) a couple of years ago. I was interested to read the composer's handwritten note on the cover '2nd movement worth performing, 1st and 3rd not good enough'. In fact the Sonata proves to be an impressive work, though in some ways it sounds like the work of a composer who hasn't fully integrated her 'influences' into a voice of her own; in the opening and closing movements one hears affinities with Bartók, whereas the second movement owes much more to Vaughan Williams – under whom she studied at the Royal College of Music. The first movement (Allegro molto ritmico) was driven hard – though not inappropriately so. The central movement (Andante sostenuto) had, by way of contrast, an elegant languor. The third (Allegro scherzando) was full of vigour and a seemingly confident authority. The Sonata as a whole, despite the reservation about stylistic inconsistency made earlier, made a considerable impression. Williams, when observing, in the 1950s, that only the 2nd movement deserved performance was surely being excessively self-critical. Mitchell and Lapshin gave the Sonata its first public performance, in 2017, at Bangor in North Wales in connection with an international conference entitled Women's Work in Music. It was fitting that this perfomance should have taken place in the Royal Welsh College of Music and Drama, since Williams taught composition there for a few years in the 1950s.
The concert closed, joyously, with the slight but delightful Rondo for Dancing by Williams. It was written in 1970 for publication (in 1972) by the Guild for Welsh Music in an album of violin teaching pieces. Barely two minutes long, it fizzes with energy (I can't have been the only one in the audience who would, indeed, have liked to dance to it!). In the concert we heard the two violins accompanied by Konstantin Lapshin at the piano. The new CD of Williams's Chamber Music (details in the first paragraph of this review), contains the alternative version for two violins and cello, alongside Mitchell and Lapshin's performance of the Violin Sonata.
Glyn Pursglove