United Kingdom Northern Ballet's Victoria: Dancers of Northern Ballet, Northern Ballet Sinfonia / Jonathan Lo (conductor). Sadler's Wells, London, 26.3.2019. (JO'D)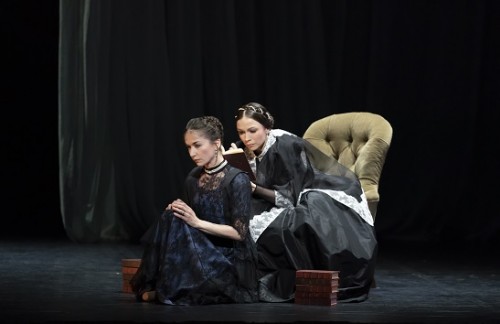 Production:
Choreography, Direction and Scenario – Cathy Marston
Music – Philip Feeney
Set and Costume Design – Alastair West
Dramaturgy and Scenario – Uzma Hameed
Cast:
Victoria – Abigail Prudames
Albert – Joseph Taylor
Older Princess Beatrice – Pippa Moore
Young Princess Beatrice – Miki Akuta
John Brown – Mlindi Kulashe
Although created to mark the 200th anniversary of the birth of Queen Victoria, Cathy Marston's new, two-act ballet is as much about Victoria's youngest daughter, Beatrice, as it is about the Queen herself. Marston and her dramaturg, Uzma Hameed, frame the narrative around Victoria's personal diaries, which, after her mother's death, Beatrice spent years transcribing and sometimes expurgating.
Starting with a deathbed scene, in which Victoria's adult children kiss her feet in indication of her royal status, the first act shows Beatrice taking down volume after volume of her mother's red-covered diaries from the shelves on which they are stored. What she reads provides the material for the dance: Victoria's late-in-life relationship with John Brown, her 'Highland ghillie'; Victoria's adoration of her dead husband, Albert.
What also interests Beatrice, as she reads, is her younger self. As in Cathy Marston's Jane Eyre for Northern Ballet last year, as in Wayne McGregor's Woolf Works (2015), for which Uzma Hameed was also the dramaturg, in Victoria a woman comes to 'own' the past by sharing the stage with herself when young.
It might be this dual focus, Victoria and Beatrice, that explains the ballet's overall lack of dramatic intensity. So much of it is exposition. Jane Eyre was guilty of the same fault, but that ballet could always benefit from the power of Charlotte Brontë's story. It also included music by Fanny Mendelssohn, Felix Mendelssohn and Schubert alongside that by composer and long-term Northern Ballet collaborator, Philip Feeney. The music for Victoria is by Philip Feeney alone. As such, it gives no sense of period.
There is little sense of period in Cathy Marston's choreography. While Jane Eyre had its 'ball scene', its social-dancing. Victoria is largely expressive, or Expressionist, développé. The pas de deux between male and female dancers show the choreographer's usual focus on female sexuality as 'a little see-saw of the right throbs', as the governess of Henry James's The Turn of the Screw seems to put it. This is achieved through shifts of balance while squatting on pointe (Cathy Marston has a very interesting relationship with the pointe shoe) and frequent emphasis on both the men's and women's erect lower legs. After reading about, and watching, the younger Victoria in one such encounter with Prince Albert on a pink ottoman, Beatrice rips that page out of the diary and tears it to pieces.
Victoria is well-danced throughout by both principals and the corps de ballet (one of the high points is the latter's choreographed representation of the Great Exhibition). Apart from during the pas de deux, however, it is only at the end of the first and second acts that the ballet really captures the attention of the audience: the young Beatrice (Miki Akuta) burying her face in the uniform of her dead husband when it is presented to her; the older Beatrice (Pippa Moore) using her body (her back and head) to urge the grieving Victoria (Abigail Prudames), after Albert's death, to take notice of the baby she is holding in her arms, the baby that is Beatrice.
John O'Dwyer