United States Duruflé, Trumbore: Los Angeles Master Chorale / Jenny Wong (conductor), Walt Disney Concert Hall, Los Angeles, 17.3.2019. (DD)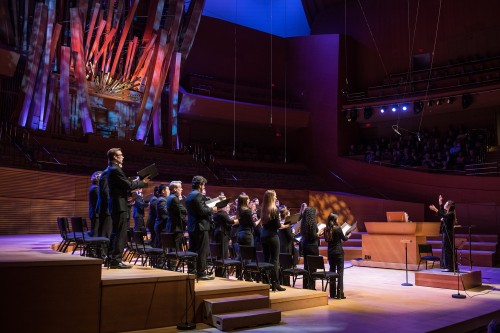 Duruflé – Requiem Op.9
Trumbore – How to Go On
The Los Angeles Master Chorale's concert on a Sunday in mid-March paired two compositions that one might characterize as warmly oppositional: devout and agnostic, pious and lay. The composer of the first, Maurice Duruflé was nothing if not devout: reverently Catholic, choir boy at Rouen Cathedral, organist for Saint-Étienne-du-Mont and Louis Vierne's assistant at Notre-Dame. The second composer, Dale Trumbore, was politely circumspect in her pre-concert talk, describing her religiosity as one that veered toward a kind of pacifistic agnosticism, or at least that is what I gleaned from her considerate and telling pre-concert remarks.
It was a phenomenal concert by the Los Angeles Master Chorale under Associate Conductor Jenny Wong: 'phenomenal' not in the sense of extraordinary – though it was – but rather as a quality both perceptible and tangible in the works' similarities and differences.
The Duruflé was less a vision of an afterlife and more a voice of living prayer. Duruflé lived a long life of devotion and commitment to Christian doctrine, and his comparatively small output is full of sacerdotal compositions. His work is justifiably compared with that of Gabriel Fauré: both centered in their compositional reliance on tonality but equally comfortable in their indebtedness to highly modal Gregorian Chant.
The nine sections of Duruflé's Requiem showcase his effort and attention in dramatically communicating with his congregation. The first section, 'Introit', features the tenors and basses in a chant sequence, while the sopranos and altos echo the chant's ending phrase; the organ meanwhile accompanies the chant with quickened movement and sustained harmonies. The instrumental output is tied together with gentle dissonances that resolve into consonance again and again, while obbligato lines continue to pull the musical momentum towards a soulful peace. It's a marvelous thing that Duruflé does. The second section brings harmonic motion into a kind of stasis of repose which Wong and the singers pulled off beautifully. Without a break, Duruflé then delivers the 'Kyrie'. Lord have mercy!
It is music of powerful gentleness, yet often circumspect in its delivery. The few climaxes that occur cannot help but move even the most jaded listener. Special attention should be given to the 'Sanctus', and especially organist Namhee Han, whose fleet finger work skittered nimbly about as angelic sopranos and altos attended to their holy business. Jessie Schulman's rendition of the 'Pié Jesu' with Cécilia Tsan's cello accompaniment was amazing. I was somehow moved as much by the single tone recitations in the 'Lux aeterna' against the oddly shaped rhythmic melodies that served as a textual counterpoint.
As usual, the 'In paradisum' that completes the Requiem moved me to tears. Nor was I alone, as the Master Chorale led the entire audience (there must have been sinners among them!) into a stunning F-sharp-major whisper of a chord to conclude the concert's first half.
Dale Trumbore's How to Go On, written for a large choral ensemble, took its title from a line by poet Barbara Crooker, and concerns itself with the question of how we humans confront death, what we know about mortality and, perhaps more importantly, what we don't know. In the eight movements that explore the human relationship with this inevitability, Trumbore's work, designed in an interestingly flexible order that actually changes from performance to performance, asks (and perhaps answers for some) the question of the human meaning of death. It's a brave undertaking, especially for a professed agnostic.
As noted, the composer's text, and hence the music, is indeterminant in the order of its presentation except for the opening and closing movements. The conductor is allowed to arrange any of the interior movements, aside from the last one, as he or she thinks proper. (Trumbore, incidentally, chose her texts from three highly regarded poets: Barbara Crooker, Amy Fleury and Laura Foley). The music itself is gorgeous: tone clusters that comfort, declamations that suggest rather than insist and a sonority with an atmosphere of veiled mystery throughout.
Trumbore's modus operandi delights in her composition's indeterminacy, and Wong exercised her interpretive options, changing the order slightly from the written program, and even choosing the notes for some of the solo passages. The composition, and by extension the composer, asks the question: Isn't this the actuality of death? There is no recipe, no given order, no rhyme nor reason; we are simply born, lead our solitary lives among others, die, and the rest the story is that which is lived in-between.
If one chooses to, or even embraces, the randomness of the life process (and here I am assuming that the process of How to Go On is both living and dying), the composition's design is random and directional, but also indeterminate, universal and unique. I have no more paradoxes to wedge into this analysis. The Master Chorale seemed to have embraced the work to its core, and it was truly a piece where the irrational indeterminacy was a necessity, not an option.
One line stuck in my brain: 'I am looking at pale blue ponds of melted ice', or at least that's what I heard. This wonderful creation is over, and I am still looking.
Douglas Dutton