United Kingdom Mozart, The Magic Flute: Chorus and Orchestra of Opera North / Robert Howarth (conductor). The Lowry Theatre, Salford Quays. 5.3.2019. (RJF)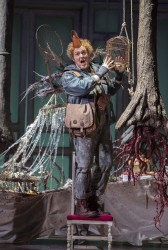 Production:
Director – James Brining
Set & Costume designer – Colin Richmond
Lighting designer – Chris Davey
Choreographer – Tim Claydon
Cast:
Pamina – Vuvu Mpofu
Tamino – Kang Wang
Queen of the Night – Samantha Hay
Sarastro – John Savournin
Papageno – Gavan Ring
Papagena – Amy Freston
Monostatos – John Findon
It seems a strange period in the domain of British regional opera companies. Not so many years ago Opera North, itself a spin off originally from English National Opera, together with Welsh National Opera thought it made economic sense to share productions as exemplified by staging's of Donizetti's L'elisir d'amore and Rossini's Barber of Seville. It could be a little boring for reviewers, but generally the viewing public did not mind as long as money, be it grant or tickets, covered expenditure. Nowadays there tends to be unplanned duplication. In 2018 Opera North put on its first ever performances of Verdi's Un ballo in maschera with Welsh National Opera following with a new production this year whilst, in the same three-month period, both companies are putting on The Magic Flute, albeit that in Wales it is an umpteenth revival, and unlike the new production under review, it can more easily be recognised as Mozart's creation.
The matter of recognition is not merely a matter of the language chosen for the performance, English by Opera North in Jeremy Sams's translation, but the manner in which the opera's story is related by the staging. In the present case it was highly unusual from its start and continued so until the end. I have never seen a performance of this opera previously involving so many young children, often gratuitously engaged. I can see the point in the opening dumb show to the drama played out in the musical prelude; the latter music at full force, as monsters threaten a lone child on a bed. Perhaps what follows is her dream or nightmare after putting on a record? Perhaps all their relatives and friends contributed to the near full house at The Lowry, a relatively unusual, but welcome, situation to say the least. How any operatic ingénues coped with the convoluted complexities of the story (sung without titles) I do not know.
This Magic Flute production was the first opera from James Brining, artistic director of Leeds Playhouse, with whom Opera North have collaborated in the past. His designer's concept of easily movable walls and a bed were a constant throughout as the story evolved to fit within his concept. Masonic allegory played a huge part in scenes involving Sarastro and his followers. As Sarastro, and master of the lodge, John Savournin was apologised for as suffering a cold and the asset of his tall physical presence did not compensate for some lack of lower note sonority that might otherwise have been present. However, the spoken and sung projection of the singers was generally commendable. The singing and acting of Gavan Ring as Papageno was a strength throughout, whilst Kang Wang as Tamino, sometimes seemed in doubt as to what he was doing and why. As with his Alfredo, with Welsh National Opera last autumn, he sings strongly, but lacks something of the grace of phrasing that marked out his Nemorino in Donizetti's L'elisir d'amore when a student at Manchester's Royal Northern College of Music. John Findon as Monostatos made little impact. Of the ladies, South African soprano Vuvu Mpofu stood out. Her vocal range and variety of tonal nuance overcame some producer restrictions, as when she was supine on the bed at one of her appearances, adding variety of tone, good diction and variety of phrasing to good vocal range. Samantha Hay's Queen of the Night lacked physical impact, a director's failing in respect of her entrances – rather than the singer's – as her pinpoint notes sailed into the auditorium. Amy Freston's pert Papagena was a suitable companion for Gavin Ring's Papageno.
In the overture conductor Robert Howarth started rather too loudly as the young girl put on her record, but quickly toned the volume down as he got the feel of the theatre and thereafter supported his singers admirably whilst also doing full justice to Mozart's music. The chorus contribution in this work is predominantly male, and they sang with pleasing power and sonority, whilst also playing a full part in their acted involvement.
Nevertheless, overall I was disappointed by this production as I do not believe it shows Mozart's final singspiel anywhere near its best.
Robert J Farr