United Kingdom Various composers, Scottish Ensemble's Continental Drift: Kevyan Chemirani, Bijan Chemirani, Sokratis Sinopolous (guest musicians), Scottish Ensemble, Jonathan Morton (violin/director), Summerhall, Edinburgh, 10.3.2019. (SRT)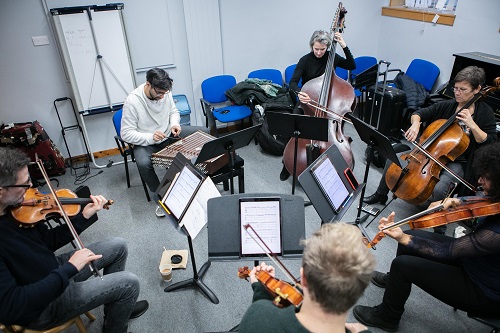 Continental Drift – Music from east and west, from Purcell & Rameau to Persian and traditional Greek
Jonathan Morton's Scottish Ensemble are used to pushing boundaries and exploring crossovers through their concert programmes, though the advance publicity for this Continental Drift concert series made me suspect that this was a leap in the dark even for them. 'Whilst celebrating the distinctive individuality of many artistic voices… we will also seek out common threads, echoes, resonances.' Wonderful, but what on earth does it mean?!
Turns out I wasn't far wrong. Morton told this (pleasingly full) audience that, while it had been a long time in the planning, this programme had only really come together in the last two days and that this was its first outing. 'It's very fresh', he said, and it felt like it.
The five string players teamed up with musicians from Eastern traditions to explore music of west (mostly Baroque, including Purcell and Rameau) and east (Bartók, Persian and traditional Eastern European), and to see what happens when they merge them together.
It is an exciting prospect and, broadly, worked very well. Three special guests added some star quality. Iranian Kevyan Chemirani played the santoor (a bit like a dulcimer) and zarb (hand-held goblet drum), while his brother Bijan played the zarb and frame drums (a bit like a tambourine). Next to them Sokratis Sinopolous, from Greece, played the lyra, a small stringed instrument that dates back to antiquity.
The chemistry between them and the Scottish Ensemble was combustible and hugely exciting. Kevyan's own compositions featured heavily, sometimes evocative of the mysterious east of bazaars and mosques, and sometimes jazz-inflected, with seven or nine beats in a bar and an irrepressible dance spirit.
I especially liked the sequences where all musicians and instruments would play a mix of eastern and western pieces run into one another, where the boundary line between them was so blurred as to be almost imperceptible. That is what bands and concerts like this are designed to do, and to make us wonder just how different they really are. At times it felt just a little pleased with itself – the improvisations went on for long enough to outstay their welcomes a little – but the sparkle of the energy and the revelation of the interplay was well worth it. If, in the final analysis, I am not entirely sure what I learnt from it then I got the strong impression that that wasn't really supposed to matter (or that it was the wrong question to be asking!).
Touring to 15 March. For full details click here.
Simon Thompson