Switzerland Wagner, Tannhäuser: Soloists, Chorus of the Zurich Opera, Philharmonia Zurich, Axel Kober (conductor), Zurich Opera, Zurich. 23.3.2019. (JR)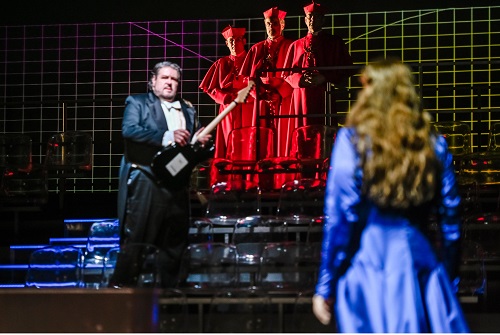 Production:
Director – Harry Kupfer
Sets – Hans Schavernoch
Costumes – Yan Tax
Lighting – Jürgen Hoffmann
Chorus master – Ernst Raffelsberger
Choreography – Philipp Egli
Cast:
Tannhäuser – Stephen Gould
Elisabeth – Lise Davidsen
Venus – Tanja Ariane Baumgartner
Hermann – Mika Kares
Wolfram von Eschenbach – Stephan Genz
Walther von der Vogelweide – Iain Milne
Biterolf – Ruben Drole
Heinrich der Schreiber – Martin Zysset
Reinmar – Stanislav Vorobyov
Young Shepherd – Sen Guo
This Tannhäuser is a revival of the Harry Kupfer production first seen in 2011, with Peter Seiffert in the title role and Anja Harteros as Elisabeth in the 2013 revival. The production is something of a mish-mash, though an entertaining one in the main. The opening Venusberg scene is set in a pole-dancing club, frequented by not only long-term resident Heinrich Tannhäuser but occasional visitors such as Bishops, other clergy, Police and Army Chiefs and members of the local Establishment. Act II takes place in a sterile TV studio, perhaps getting ready for the Thuringian run-up to the Eurovision Song Contest – though the lavish interior of the Wartburg is projected onto the back wall during the competition. Trumpeters on stage and servants are dressed in medieval garb. The Singfest is a poor man's Die Meistersinger; though these are Minnesänger not Mastersingers. Act III finds Elisabeth waiting forlornly in a drab grey East German (DDR) railway terminus, for Heinrich to return on the train from Rome.
Costumes entertain: scantily-clad dancers in the luxury brothel of the Venusberg, bright red cassocks for the Bishops, Army chiefs with their shiny row of medals; and the Knights either in DJ or as natty golfers, pursuing the innocent pleasures of golf as opposed to Tannhäuser's naughtier escapades. Tannhäuser wears a long, rather grubby leather coat and embraces an electric guitar – presumably to depict an aging rock star fuelled by and addicted to a heady cocktail of sex and drugs.
The 2013 revival was conducted by Marc Albrecht; this time round Axel Kober was in the pit. Kober is General Music Director of the Deutsche Oper am Rhein, based in Düsseldorf with an offshoot in Duisburg. He conducted Tannhäuser in Bayreuth in 2014 and 2015, adding the Der fliegende Holländer. In Berlin he is a firm favourite for all Wagner; he will soon be in Vienna for an entire Ring. No surprise then that he was completely in control of the performance and the orchestra was on cracking form. As too was the chorus; the men in particular savoured their full-bodied contributions.
Stephen Gould is, without doubt, one of today's leading Wagnerian heroic tenors. Tannhäuser has been his signature role for some while; he says it is easy to sing, and this was his 100th performance in the role. Gould has power and stamina to spare in this role; he is always twice as loud as all those singing round him. His cries of 'Erbarm dich mein!' struck the heart. My one cavil is that he lacks some beauty in the voice.
Norwegian dramatic soprano Lise Davidsen compared very well with Anja Harteros. She has dramatic chilling top notes, with no shriek, perfect intonation and sheer vocal power. Although she only came to prominence a few years ago (Davidsen is still only 32), she has already sung Freia and Ortlinde in Munich, Frankfurt and at Covent Garden; and Ariadne in Glyndebourne, Aix and Vienna. She makes her debut in Bayreuth this summer as Elisabeth alongside Stephen Gould.
Tanja Ariane Baumgartner was another relative newcomer, making her debut in the role of Venus and her debut at Zurich opera house, though she was born not far away on the banks of the Upper Rhine. Her rich, deep mezzo tones were a glory, though perhaps she is not (yet) in the Kasarova class. Bayreuth, Frankfurt and Chicago have already seen her as Fricka and Antwerp has seen her Kundry.
Rootering was a let-down six years ago; this time round, Finnish bass Mika Kares as Hermann, the Landgrave, was a commanding presence both physically and vocally.
German singer Stephan Genz hails from Erfurt, down the road from the Wartburg in Eisenach. His baritone was insipid, though he sang 'O du, mein holder Abendstern' with sufficient grace. In his defence, Genz was audibly suffering from an attack of hay fever – an apology was made at the start of Act III but the damage had been done. In 2013 Michael Nagy stepped in for an indisposed Thomas Hampson. In 2011, in this role, it was Michael Volle, no less.
All the minor knights hit the spot: Scottish Iain Milne's sturdy tenor was particularly fine, Ruben Drole the ever-popular local favourite, regulars Martin Zysset and Stanislav Vorobyov never put a foot wrong. Sen Guo, the shepherd, sang her famous 'Frau Holda kam aus dem Berg hervor' to virtual perfection; not easy as far as intonation is concerned, being unaccompanied, except by occasional cor anglais interjections.
Wolfram von Eschenbach apart, this was a Tannhäuser to savour. The house was packed, Wagner is always a box office success; can one look forward to a possible fourth revival?
John Rhodes