Spain Berlioz, La damnation de Faust (concert version): Orfeón Pamplonés, Mariinsky Theatre Orchestra / Valery Gergiev (conductor), El Baluarte, Pamplona, 16.3.2019. (JMI)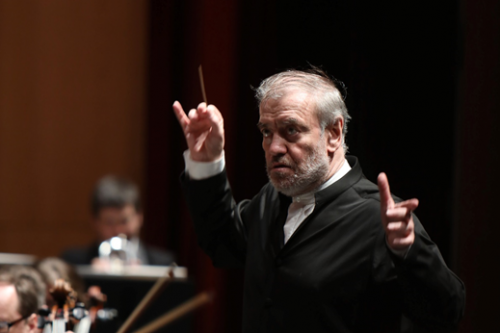 Cast:
Faust – Alexander Mikhailov
Marguerite – Julia Matochkina
Méphistofélès – Mikhail Petrenko
Brander – Oleg Sychov
Hector Berlioz is one of the major composers in the history of music, but his operatic works are not always as popular as his symphonic poems or his symphonies, in particular the Symphonie fantastique. La damnation de Faust is a great work with some truly inspired passages such as the Hungarian March, the 'Invocation à la nature' and the beautiful aria 'D'amour l'ardente flamme'. If you add to this the orchestration and a brilliant use of the chorus, it is easy to see how important the work is. However, something seems to be missing for it to be a general favorite, and one might start by asking if it is an opera or an oratorio. In fact, the work premiered in a concert version, and it took almost 50 years for it to be performed on stage.
The major attraction at this concert was the presence of Valery Gergiev, the great conductor of the Mariinsky Theater in St. Petersburg. Every year he makes several European tours which usually have a tight schedule, and for several years now he has included a visit to Pamplona. He appears to have a very positive impression of the Orfeón Pamplonés, which was invited to perform for the first time at the 2018 St. Petersburg's Festival of the White Nights – and sang La damnation de Faust.
This Pamplona concert met the high expectations that had been raised: Valery Gergiev is one of the best conductors today, and he did not disappoint. His reading was superb, especially in the second part where he carried out a very delicate conducting – almost chamber music-like – in which the emotion, a fundamental ingredient in any opera, was strong. Under his baton was the amazing Mariinsky Theater Orchestra and the Orfeón Pamplonés – the women, in particular – also did extremely well.
The character of Faust was played by tenor Alexander Mikhailov who has a beautiful and well-handled voice, although he did have some trouble with projection. The best singer in the cast was mezzo-soprano Julia Matochkina as Marguerite, with a lovely, homogenous voice. She sang with good taste throughout, and especially in her main aria.
The role of Méphistofélès was nicely played by bass Mikhail Petrenko who often takes part in the Mariinsky operas, and there was a fine 'Song of the Rat' from bass Oleg Sychov as Brander.
José M. Irurzun