The Royal Opera's Jette Parker Young Artists Programme is delighted to announce two new Women Conductors Courses beginning in May 2019, in collaboration with the Royal Philharmonic Society (RPS) and National Opera Studio (NOS).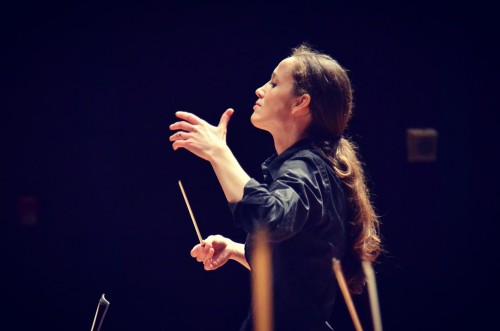 It has been six years since celebrated conductor Marin Alsop became the first female to conduct the Last Night of the Proms in 2013, and, following a successful pilot programme in 2018, the Royal Opera House is committing to playing a key part in changing the landscape for female conductors across the globe by hosting two courses which seek to place women at the heart of classical conducting for opera and ballet.
The vision for both courses is to provide women conductors with new opportunities to develop their conducting skills, and to provide much-needed opportunities for female conductors to achieve the same status that male conductors have had for decades.
Celebrated conductor Jessica Cottis, who will lead the week-long opera course said: 'I am delighted to be leading the Royal Opera House Women Conductors course this year. A week-long immersive programme, it has been designed to give women working as conductors the opportunity to develop on a deep level the fluency of their technical and musical skills for conducting opera. The initial idea for these courses was pioneered by Alice Farnham back in 2014, and I look forward to nurturing, encouraging and mentoring the next generation of talent and continuing to advocate for both access and balance within the classical music industry. The future is bright!'
The Royal Opera House continues to raise the profile of female conductors across its repertoire. In 2018 Sian Edwards conducted The Royal Opera's Coraline at the Barbican, Keri-Lynn Wilson went on to conduct Barrie Kosky's Carmen on the mainstage at ROH, and, to launch the new Linbury Theatre in January 2019, Jessica Cottis won plaudits for conducting the world-premiere of The Monstrous Child.
Antonio Pappano, Music Director of The Royal Opera said: 'After successful pilot projects, we are now excited about developing and implementing two new courses for women conductors across both ballet and opera. We are fortunate to be working once again in partnership with NOS and RPS and hope, that by working together, we will encourage and nurture female talent as well as secure long-term change for the industry as a whole.'
The two-day ballet course is aimed at conductors with an interest in the specific demands of working with dancers and an orchestra, exploring how to communicate musical ideas in collaboration with choreographers. The course explores how conducting for dance differs from approaching operatic and symphonic repertory. The two-day ballet conductors course will be led by Birmingham Royal Ballet's Principal Conductor Paul Murphy. Also on hand will be Alice Farnham, founder of the RPS Women Conductors initiative, and current Jette Parker Young Artist Conductor Jonathan Lo.
The week-long opera course will cover score preparation, approaches to alternative repertory, conducting recitative, co-ordinating singers and instrumentalists and develop a deeper understanding of successful music-making in opera. The week concludes with a chance to conduct singers and an ensemble of professional musicians at the Royal Opera House. The week-long opera conductors course will be led by Jessica Cottis, who recently The Monstrous Child at the Linbury Theatre and of Mamzer Bastard at Hackney Empire. She will teach alongside Mark Shanahan, Head of Music at the National Opera Studio. He will focus on the conducting of Mozart, while Jessica will specialize in how to approach a contemporary score.
The Royal Opera House is committed to ensuring that women conductors are positioned alongside male conductors, ensuring an equitable future for women on the podium in the classical world. The courses are provided free of charge, thanks to the generous support of Oak Foundation, and open to both UK and non-UK female applicants.
The Women Conductors Course for ballet will take place on 18 and 19 May 2019 at the Clore Studio, Royal Opera House, with six places available, and a few observer places. The opera course will take place from 1 to 5 July 2019 at the National Opera Studio in Wandsworth, and at the Royal Opera House in Covent Garden. A total of 12 places are available, with a maximum of six observer places.