Spain Verdi, Il trovatore: Soloists, Coro de la A.A. del Teatro de la Maestranza, Real Orquesta Sinfónica de Sevilla / Pedro Halffter (conductor). Teatro de la Maestranza, Seville, 20.3.2019. (JMI)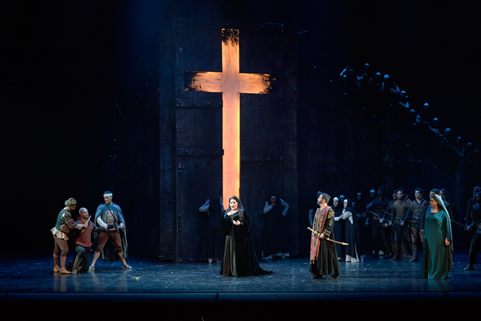 Production:
Director – Stefano Vizioli (original), Lorenzo Nencini (revival)
Sets and Costumes – Alessandro Ciammarughi
Lighting – Juan Manuel Guerra
Cast:
Manrico – Piero Pretti
Leonora – Angela Meade
Azucena – Agnieszka Rehlis
Count di Luna – Dmitry Lavrov
Ferrando – Romano Dal Zovo
Ines – Carolina De Alba
Ruiz – Gerardo López
It has been more than two years since I last attended an opera performance in Seville. Curiously, both then and now the protagonist of the opera was the same: soprano Angela Meade. In 2016 she sang the part of Anna Bolena, and this time she was Leonora in Il trovatore.
This Verdi masterpiece has not been staged here for some 18 years, and the result was generally positive: a traditional production and a competent musical performance by the orchestra and singers. The Stefano Vizioli staging comes from the Teatro Verdi in Trieste, where it was premiered in November 2009; it has since been performed in a number of Italian, French and Belgian opera houses. This classic production is set in the time of the libretto, and the sets consist of two large staircases which move appropriately to place the action for the different scenes. The costumes and lighting are both correct.
The stage direction is rather routine, adding only a few extras like swordsmen who carry out their fights on stage. The least credible aspect is how Azucena is handled: she is supposedly Manrico's mother but more closely resembled his sister here, if not his daughter.
The musical direction was in the hands of the house's Artistic Director, Pedro Halffter.  His conducting was marked by a lack of tension and slow tempos on many occasions. Both the orchestra and chorus did well.
The best singing of the evening came from soprano Angela Meade in the part of Leonora. Manrico was played by tenor Piero Pretti, who again demonstrated his attractive voice, well-handled and homogeneous throughout the tessitura. He is one of the best Italian tenors of the moment, but his biggest problem is a lack of expressiveness. The aria 'Ah! si, ben mio' was not brilliant, but the always highly anticipated 'Di quella pira' was good (although it must be added that he sang only one verse).
Mezzo soprano Agnieszka Rehlis was a pleasant surprise in the part of Azucena. She has an appealing voice and appropriate volume, and sings with expression. The Count di Luna was played by Dmitry Lavrov who is not what we usually identify as a Verdi baritone.
The young bass Romano dal Zovo with his sonorous voice was well-suited to the role of Ferrando, and the secondary characters were nicely played by Carolina de Alba and Gerardo López.
José M. Irurzun