2019 Elgar Festival: 30 May – 2 June 2019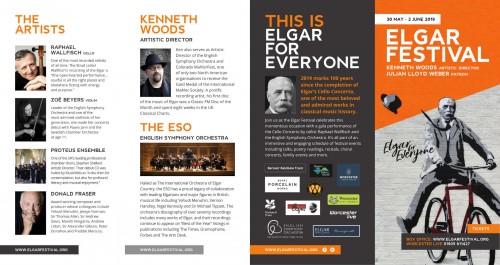 Festivals abound in the UK and here's another one and one specific to a composer with an international reputation yet inextricably associated with England and Wales and with the city of his birth. Straddling the end of May and the start of June this year the City of Worcester and the English Symphony Orchestra hold the 2019 Elgar Festival.
This is a four-day event – a crescendo leading to the celebratory eminence of a gala concert on the Saturday evening, 1 June. Even so it does not eclipse Sunday 2 June's 11am violin and piano concert of works by David Matthews and sonatas by Debussy and Elgar at Huntingdon Hall and an evensong at the Cathedral at 4pm.
The gala concert is held at Worcester Cathedral at 7.30pm on 1 June. Elgar's Cello Concerto is played by Raphael Wallfisch. Also on the programme are Elgar's Sea Pictures in an arrangement by Donald Fraser and Vaughan Williams's Fifth Symphony. The arrangement of Sea Pictures renders the usual soprano solo, as written by the composer, to a choir. The choir's role is assumed by the Worcester Cathedral Chamber Choir. Sea Pictures, in this form, has been recorded by Avie. The English Symphony Orchestra are conducted by Kenneth Woods.
Thursday, Friday and Saturday, preceding the Gala Concert in the Cathedral, are crowded with events, several of them free. They include the chance to play Elgar's piano at Henry Sandon Hall, a Cello Day, also at Henry Sandon Hall, when young cellists from across the region gather with cellists of the English Symphony Orchestra and conductor and cellist Kenneth Woods for a day of cello master-classes. This culminates in a free cello ensemble performance at 4:00 pm. There's an Elgar in Song event at the Elgar School of Music where, in a lunchtime recital, you can hear the voice and piano version of Sea Pictures. A family concert at Rogers Theatre, Malvern College includes the BBC Ten Pieces version of the Enigma Variations. Elgar Chorale At The Firs (held at Elgar's Birthplace) offers coffee and a concert featuring works by Elgar, Vaughan Williams and Rutter. Pomp and Poetry at The Firs is lead by playwright Peter Sutton. The Proteus Ensemble at Worcester Cathedral Chapter House offer some of the highlights of Elgar's choral music. There's also an initial Evensong at Worcester Cathedral and a pre-concert conversation by Donald Fraser and J.P.E Harper Scott.
Click here for a full roster of the concerts and events and click here for the Festival website.
For tickets click here or email elgar@elgarfestival.org
Rob Barnett