Spain Verdi, Falstaff: Teatro Real Chorus and Orchestra / Daniele Rustioni (conductor), Teatro Real, Madrid, 23 & 24.4.2019. (JMI)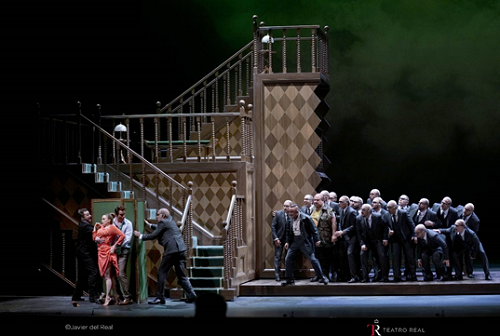 Production:
Director – Laurent Pelly
Sets – Barbara Limburg
Costumes – Laurent Pelly
Lighting – Joël Adam
Casts:
Falstaff – Roberto de Candia/Misha Kiria
Alice Ford – Rebecca Evans/Raquel Lojendio
Ford – Simone Piazzola/Ángel Ódena
Mrs. Quickly – Daniela Barcellona/Teresa Iervolino
Nannetta – Ruth Iniesta/Rocío Pérez
Fenton – Joel Prieto/Albert Casals
Meg Page – Maite Beaumont/Gemma Coma-Alabert
Doctor Cajus – Christophe Mortagne
Bardolfo – Mikeldi Atxalandabaso
Pistola – Valeriano Lanchas
Giuseppe Verdi's final opera has returned to the Teatro Real after an absence of 17 years. The protagonist then was a young Ambrogio Maestri, who became one of the best Falstaffs of the recent past. The result of the two performances I attended this time was uneven: the first cast fell short of what can and should be expected from a theater like Teatro Real, which claims – and rightly so – to be one of the most important in Europe. The second evening's cast was much better.
This new Laurent Pelly staging had two main problems. On the one hand, there is the fact that opera lovers have a fresh memory of Robert Carsen's outstanding production which has been seen in theaters such as La Scala, Covent Garden and the Metropolitan, from where it was also broadcast. The other problem lies with moving the action to the present: Falstaff's character does not really work in current times. It is true that Robert Carsen also set the action in a more recent period, but he placed it in the 1950s, and the difference is remarkable.
Pelly's production is fun at times, and what works best is the stage direction, especially for the Ford mansion scenes. The sets are somewhat irregular: the opera begins in the Albergo della Giarretiera on a minimal stage that later opens up to show a big apartment house at the back. The Ford mansion features a whole series of stairs which help to enliven things, especially when Falstaff is inside the house. Finally, Windsor Park is surprising, and not in a particularly positive sense: it is a bare and very dark stage, and there is no oak. The costumes are modern and colorful for the women, but less so for the men, and the lighting does not take sufficient advantage of the generally dark environment. All in all, it's a production with amusing moments, but it doesn't equal other works by Laurent Pelly.
The musical direction is fundamental in Verdi operas, but it is especially important in this last opera by the Swan of Busseto. The Teatro Real chose to place the young Italian conductor Daniele Rustioni in the pit, and his reading too was somewhat irregular. In the first part he fell short in terms of delicacy, inspiration and nuance; he improved in the park scene, which was the best part of his conducting. There was life and joy in this last scene, both of which I missed in a good part of the first two acts. Overall, his reading improved on the second night I attended. Both the orchestra and the chorus gave strong performances.
Sir John Falstaff, il Pancione, was played by Roberto de Candia, whose acting was better than his singing. Today there are two great interpreters of Falstaff, to which we could add a third: Bryn Terfel, Ambrogio Maestri and, perhaps, Carlos Álvarez. It is not acceptable that Teatro Real did not cast any of the three. They initially announced Nicola Alaimo and Roberto de Candia for the part, but Nicola Alaimo cancelled which meant Roberto de Candia moved to the first cast. He cannot meet the vocal demands of Falstaff as he is neither a bass baritone nor a Verdi baritone but rather a lyric baritone.
The second cast featured the young Georgian baritone Misha Kiria, of whom one knew little beforehand. In my opinion, he has a brilliant future: he was much more convincing vocally than Roberto de Candia the day before. Kiria's voice is more important, perfectly adequate for the character of Falstaff, and he was a remarkable performer. We will be hearing more from him.
Alice Ford was played by British soprano Rebecca Evans, who was correct although not particularly brilliant. Her voice has a certain appeal, but there are some uncontrolled sounds. Raquel Lojendio as the second Alice Ford was also correct though she lacked vocal weight on occasion. I was surprised to see that she has been announced to sing Lisa in La Sonnambula within a month, since this character has little to do in vocal terms with that of Alice Ford.
Ford was played in the first cast by baritone Simone Piazzola, who seemed insufficient in the part. He has had problems in recent years that have affected his voice in terms of quality and, above all, amplitude. In the second cast, Ford was played by Angel Ódena, who was better. His voice is clearly bigger, but he has a tendency to push his instrument as if he were afraid that he would not be heard.
Daniela Barcellona was a disappointing Mistress Quickly. Her low notes lack the necessary sonority to face Falstaff. Her always expected 'Reverenzas' were rather poor. Teresa Iervolino in the second cast did well: she is not the ideal interpreter vocally, but she did better than her colleague in the scenes with Falstaff.
The young couples in love were good in both casts. In the first, Ruth Iniesta demonstrated an attractive voice as Nannetta, and Joel Prieto as Fenton also had a voice suited to the role. Rocío Pérez left a very favorable impression as Nannetta in the second cast: her appealing voice offered some beautiful pianissimi at the top of the range. Albert Casals did well in the part of Fenton.
Maite Beaumont was a fine Meg Page, while in the second cast Gemma Coma-Alabert was satisfactory.
In the secondary characters I would highlight the performance of Mikeldi Atxalandabaso as Bardolfo, who was excellent from start to finish. Valeriano Lanchas was a sonorous Pistola, although sometimes a bit coarse, and veteran tenor Christophe Mortagne did nicely as Doctor Cajus.
José M. Irurzun