United Kingdom Against the Stream: Ivan Putrov (artistic director and producer) and guest dancers, Paradisal Players / Samuel Burstin (conductor), London Coliseum, 7.4.2019. (JO'D)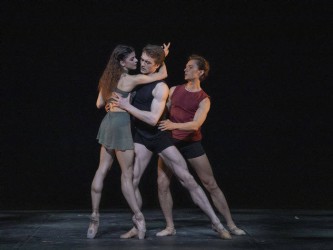 Choreography – Serge Lifar, Vasili Vainonen, Jerome Robbins, Kenneth MacMillan, Frederick Ashton, George Balanchine, Rudolf Nureyev, Twyla Tharp and Agrippina Vaganova
Dancers – Tyler Angle, Matthew Ball, Mathieu Ganio, Marcelo Gomes, Katja Khaniukova, Maria Kowroski, Joaquin De Luz, Mayara Magri, Hannah O'Neill, Ivan Putrov, Kate-Lynn Robichaux, Dimitry Zagrebin and students from English National Ballet School
After focussing intensely on the male dancer for several years in the Men in Motion programmes at Sadler's Wells and the London Coliseum, artistic director, dancer and producer, Ivan Putrov, turns his attention to choreographers 'who gave new life to dance'. Yet the ruling passion is strong, and two of the three male solos (both originally performed by Mikhail Baryshnikov) slotted into this informative survey of eight pas de deux are among the highlights of the evening.
Jerome Robbins's Suite of Dances (1994) sees the fleet-footed Joaquin de Luz, in leisure wear, responding as if spontaneously to the music of J.S. Bach, played in all its colours by an on-stage cellist. This choreographer's experience of Broadway musicals allows for an exhilarating mix of entrechats and somersaults, arabesques and cartwheels. Even in a solo, Robbins's distinctive sensitivity to a dancer's arms and hands, above all hands, is evident.
Although a duet, performed here by Kate-Lynn Robichaux and Marcelo Gomes, Twyla Tharp's often odd Sinatra Suite (1983) includes a solo section for the man that is not odd. A recording of the poignant 'One For My Baby' plays; Marcelo Gomes, in 'iconic' male formal attire, tells with his expressive body the story of the song.
Of the pas de deux, the most assured are perhaps the two extracts from work choreographed in Soviet-era Russia. Katja Khaniukova and Dimitry Zagrebin bring a requisite and much applauded 'earthy passion' to the fouetté and tours en manège of Vasili Vainonen's Flames of Paris (1932), and to the Diana and Acteon Grand Pas from Agrippina Vaganova's La Esmeralda (1935). Soviet-era neoclassicism begins to look, and Riccardo Drigo's music begins to sound, rather grim; but they let you appreciate the easy flow of Katja Khaniukova's dancing, the happy congruence of upper and lower limbs.
Serge Lifar's Suite en blanc was created in Paris in 1943. Its pas de deux, performed by Hanna O'Neill and Mathieu Ganio (of Paris Opéra Ballet), is close knit and complex, full of slow, difficult balances that begin after the woman is lowered from her partner's shoulders, at the start, to a position on pointe. Sombre music by Édouard Lalo contrasts with the white of the costumes and with the dancers' smiles.
The first encounter between Maria Kowroski and Tyler Angle in Jerome Robbins's In G Pas (1975), by contrast, is across a distance; one that remains present, psychologically at least, for the rest of the piece. To the cool and emotionally distant music of Ravel, the woman uses the bourrée to withdraw from her partner. At the end he carries her off the stage; but her extended arms as she rests her hands on his shoulders, her vertically extended leg, the direction of her gaze, all work to maintain her air of self-absorbed separation. In the pas de deux from the Diamonds section of George Balanchine's Jewels (1967), to much 'warmer' music from Tchaikovsky's Third Symphony, Maria Kowroski may consistently elude and evade the ardour of her partner (Marcelo Gomes); but in the final moments she allows him to take hold of her hand and kiss it.
Hanna O'Neill and Mathieu Ganio look rather awkward in an extract from Rudolf Nureyev's Cinderella (1986). This might be the fault of the choreography, created for Nureyev himself and for Sylvie Guillem. Nureyev was one of the original dancers in Kenneth MacMillan's Images of Love (1964), along with Lynn Seymour and Christopher Gable, which is performed on this programme by Matthew Ball, Mayara Magri and Ivan Putrov. The two men danced together effectively in the Men in Motion of 2017. They complement each other again in this three-way tug-of-love, literally, which shows MacMillan's use of the stage floor and of dancers (a man and a woman, this time) being dragged across it.
Mayara Magri and Mathew Ball return for the Awakening Pas de Deux from Frederick Ashton's Sleeping Beauty (1970). In the programme notes, Ivan Putrov says that to describe Ashton as 'against the stream' is 'perhaps stretching it'. He is included for the 'musicality and invention' of his choreography. A better display of what characterises Ashton, as far as going against the stream is concerned, might be the semi-naked Ivan Putrov's performance of the 'male-on-a-pedestal' solo, Dance of the Blessed Spirits, created on Anthony Dowell, to Gluck, in 1978.
John O'Dwyer