United Kingdom Mozart and Beethoven: Philharmonia Orchestra / Herbert Blomstedt (conductor), Royal Festival Hall, London, 14.4.2019. (AS)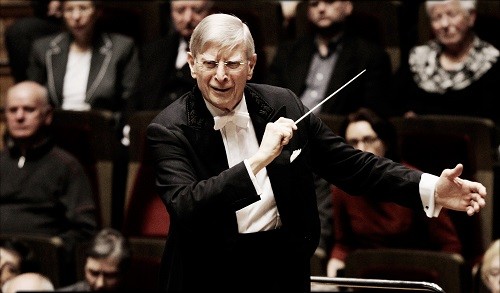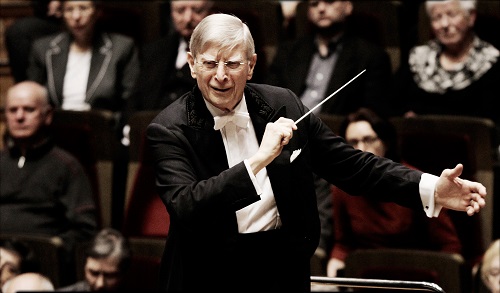 Mozart – Symphony No.40 in G minor, K550
Beethoven – Symphony No.3 in E flat, Op. 55 'Eroica'
It was in 1967 that Benjamin Britten surprised an Aldeburgh Festival audience with a performance of Mozart's Fortieth Symphony that observed every possible repeat. When his recording of the work was released the next year, it had to be spread over one and a half sides of an LP: all previous issues had fitted the work on one side. Over half a century later views about the desirability of taking repeats have changed and they are observed much more frequently. But to take all the repeats   in the Mozart symphony, as Herbert Blomstedt did in his performance, creates an imbalance. Even with the exposition repeat taken, the first movement becomes about half the length of the elongated second movement, and the finale, with both halves repeated, is also longer than the first movement. Aside from this issue, Blomstedt's performance had many virtues. He used a moderately-sized body of strings. His was a fairly gentle reading, elegant and with a certain old-fashioned warmth of expression. The second movement's unusual length was ameliorated by a fairly brisk, one-in-a-bar tempo, that seemed as time went on not to be in any way hasty, such was the graceful nature of Blomstedt's conducting. The Minuet and trio were taken quite quickly too, the trio nicely shaped without any drop in tempo. The finale perhaps lacked the quality of intense drama that can be generated in it, but it had a satisfyingly classical strength.
Naturally the string section was brought up to near full strength for the 'Eroica' Symphony, and from the outset the tension and energy that Blomstedt generated was quite striking, as was the quality of clarity in the playing. As in the Mozart, his tempo for the opening movement was quite quick, but did not seem at all hurried, and a touching quality of humanity and warmth was found in Beethoven's innovative and extraordinary invention. The sense of tragedy in the second-movement funeral march was certainly present, but it wasn't pursued too far, as can sometimes happen. The music-making was poised yet concentrated, balanced and logical in expression. A swift, rhythmically propulsive Scherzo and trio gave way without pause to a magnificently constructed finale. The introduction had a nice anticipatory quality, urgent but still poised. The Prometheus melody came into being with a satisfying sense of release, and the variations on this theme were brilliantly contrasted within a structure that had superb balance and logic as well as passion. The rush of energy generated in the coda was quite remarkable.
Thus, Blomstedt's second concert with the Philharmonia Orchestra in the Festival Hall was just as distinguished as his first had been three days previously (review click here). The playing of the orchestra had an impressive depth of tone throughout and was technically immaculate. It really sounded as if its great days of yore had come back again. The remarkable nonagenarian conductor had touched the players' souls, so it seemed.
Alan Sanders