Finland Alban Berg, Wozzeck: Soloists, Finnish National Opera Chorus and Children's Chorus, Finnish National Opera Orchestra / Hannu Lintu (conductor), Finnish National Opera, Helsinki 27.3.2019. (GF)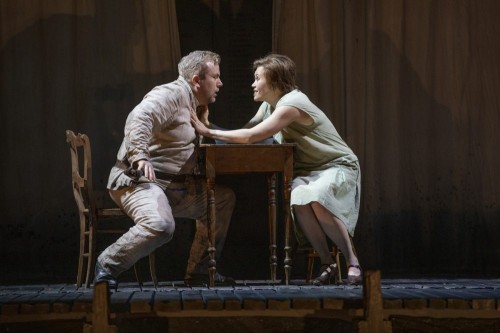 Production:
Director – Sir David McVicar
Revival stage director – Daniel Ellis
Sets and Costumes – Vicki Mortimer
Assistant to costume designer – Helen Johnson
Choreography – Andrew George
Lighting design – Paule Constable
Re-lighting of the revival – Chris Maravich
Cast:
Wozzeck – Olafur Sigurdarson
Marie – Helena Juntunen
Captain – Hubert Francis
Doctor – Tapani Plathan
Drum Major – Daniel Brenna
Andres – Ilkka Hämäläinen
Margret – Anna Danik
Idiot – Simo Mäkinen
First Apprentice – Nicholas Söderlund
Second Apprentice – Jussi Merikanto
Soldier – Roland Liv
Marie's son – Rafael Lundberg
With its many themes of social maladjustment, mobbing, moral conflicts, jealousy, violence, murder, oppression and humiliation, Wozzeck is probably the cruellest opera in the standard repertoire – and at the same time possibly the opera most viewers can relate to as mirroring our own time. Still, the background is far from recent. Georg Büchner wrote his unfinished play Woyzeck in 1836 – 1837, based on real events some years earlier. After his death the fragments were put together, reworked and published in 1879 but the work was not staged until 1913 in Munich. When it was played in Vienna the following year, Alban Berg saw it and immediately felt that it was the ideal basis for an opera. He set to work but the war broke out and not until after the war did he find time to continue, finally completing and finishing his opera in 1922. Then it was another three years before it was premiered on 14 December 1925 at the Berlin State Opera under Erich Kleiber. It was an instant hit, somewhat to Berg's dismay, since his aim was to shock the audience with his ultra-modern music. But the story and the uncompromising music caught the viewers and listeners by the throat and has continued to do so for more than 90 years. The music is still 'difficult', the Sprechgesang still exotic and the story still touching.
When the Finnish National Opera for the first time mounted this seminal work it was in David McVicar's production, originally created for Chicago Lyric Opera. How far Daniel Ellis's revival direction deviates from the original I do not know, but it is a taut, intense performance, even more engaging thanks to the wise decision to play it as an integrated unit without intervals. The intensity never lets up. Most of the action takes place on a narrow strip of the stage – the audience is very close to the action and between the fifteen scenes a low curtain is closed and opened by invisible hands. The production is realistic, you could call it kitchen sink realism, and there is a very tangible sense of shabbiness. The Doctor's coat is blood-stained, and it all looks like a society in disintegration. The cocky Captain just looks ridiculous when he puts on that little toy helmet. The dance party in Act III is spasmodic like a death-dance. And a gloomy gravestone towers threateningly – the Unknown Soldier's? But the soldiers in the barracks neither look nor act like heroes. The drunk Drum Major's maltreatment of the defenceless Wozzeck goes on without anyone intervening. It is a cruel world with little humanity.
Beautiful singing is generally of secondary importance in this work, but expressivity is central and I would say that the cast is well inside their roles. Australian Hubert Francis is a spectacular, turgid Captain who bosses about but deep inside is a weak character. Daniel Brenna's boisterous Drum Major is also strongly defined and he has the heroic ring for the role. Tapani Plathan is one of many good Finnish basses on the international circuit, and as guest as the grandiose Doctor he has both the stature and the voice needed. But of course it is around Wozzeck and Marie that everything rotates, and Icelandic baritone Olafur Sigurdarson, who was a very good Rigoletto in Helsinki a year and a half ago, is a sensitive, vulnerable and brooding Wozzeck – who also has the animal ruthlessness in his attitude towards Marie when he realises her deceit. Helena Juntunen, so good as Helena in Fagerlund's Autumn Sonata, is just as sensitive as Marie and she delivers the most beautiful singing of the evening. And we mustn't forget Rafael Lundberg in the mute role of Marie's son.
Hannu Lintu keeps all the musical strands together from the pit and the playing of the orchestra is excellent. I truly hope that opera lovers in Helsinki will take the opportunity to see this masterpiece. I attended the second performance and there were several empty seats in the stalls. It is a cruel and at times disgusting story but life is not always a rose garden. This production, however, deserves roses aplenty.
Göran Forsling